Home Page
3 December 2006 November 2006
GENERAL (This page)
EDUCATION Part 1
MILITARY Part 2
OCCUPATIONS OTHER THAN MILITARY Part 3
DESCENDANTS : Part 4
Son: Christopher "Chris" Frederick Hahn
Daughter: Elizabeth "Betsy" Lee Hahn
Grand-daughter: Beverly "Bev" Anne Hahn
Stepdaughter: Diane "DJ" Torrey
Stepson: Duane Gifford Torrey

AHNENTAFEL CHART (ANCESTORS) Par 5
FAMILY PHOTOGRAPHS Part 6
INTERESTS AND HOBBIES/INTERESTING PERSONALITIES Part 7
FAMILY PETS Part 8
FRIENDS Part 9
NATIVE AMERICAN Part 10
RESIDENCES, CABINS Part 11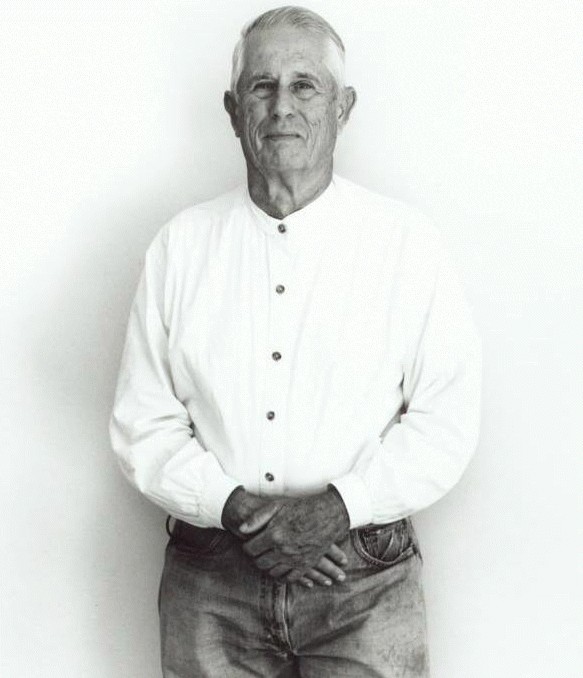 Thomas Hahn at age 72 in 1998 at Shepherdstown, Jefferson County, West Virginia. (Hahn Collection)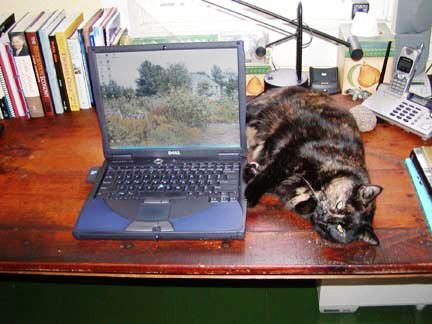 Tom's Cat, Swift Kitty, at Amherst, New Hampshire 2004 (Photo by Tom Hahn)
Thomas "Tom" Frederick Hahn is the son of Walter "Walt" Frederick Hahn and Florence Vivian Torgeson. He was born on 6 November 1926 in Topeka, Topeka Township, Shawnee County, Kansas. (City of Topeka, Kansas, Kansas Department of Health, Certificate of Birth, Kansas Board of Health Registration No. 2148:
Thomas Frederick Hahn born 5 Nov 1926 father Walter Frederick Hahn and mother Florence V. Torgeson. Time of birth 12:02 a.m. 6 Nov. 1926 [but shows on records as 5 November, which is his legal birth date ] at the St. Francis Hospital on West Sixth [Avenue], Topeka, KS ["on a snowy Saturday," [so said his mother].)
Topeka was a nice place to grow up. The capital of Kansas, it was probably around 75,00 population when I was growing up there. Almost everything to be had or needed and yet easy to get around in buy foot or bus of by bicycle.
Paraphrased from a Topeka newspaper:
The town was founded on 5 December 1854, when nine men met in a crude log cabin just south of the Kansas River and debated on whether to build a fort of a town. They were businessmen from the East who had a common goal: to found a new town on the Kansas River. Kansas Indians owned the land that is now the site of Topeka to the year 1825, when they ceded all their lands to the United States. That year the site was given to the Shawnee Indians, who had become a menace to settlers in the Ohio Valley. [With good cause since that was their land, after all.] In 1854, the land once again passed into the public domain. a move that made the founding of Topeka possible. The Indian villages noted by te founders prior to their historic meeting were a common site near early-day Topeka. In 1850 a settlement of some 1,000 persons existed at Topeka. [To be added to.]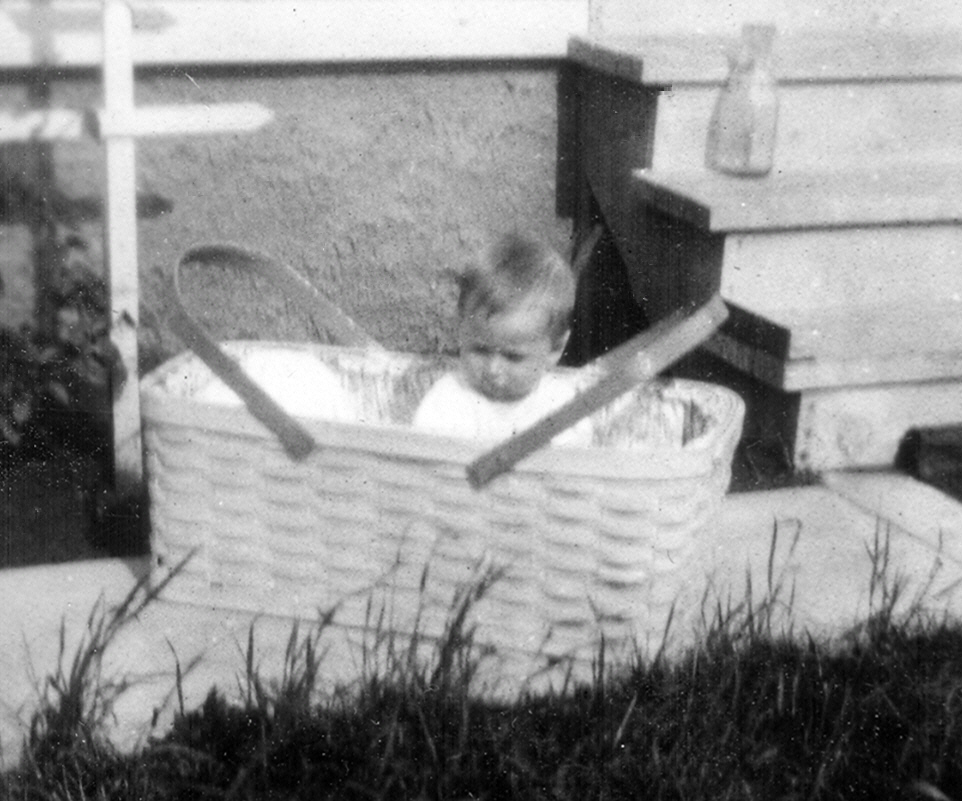 Tommy at the Back Steps of his Parents House at Topeka, Kansas ca1927. Note the milk bottle --perhaps with a note in it--waiting to be replaced by a full one by the milkman. (Hahn Collection)
He was christened at:
The Trinity M. E. [Methodist Episcopal] Church March 26 1927, Minister Rev. E. T. Rice, Friends present Mr. and Mrs. McAllister [his paternal aunt, Myrtle Mae (Hahn) McCollister, and her husband, Gerald "Mac" McAllister]; Mr. and Mrs. Thomas Torgeson [his maternal grandfather, Thomas Torgeson (Torgei Torgeison), and his maternal grandmother, Margaret "Maggie" Louise Owen Torgeson, Mr. and Mrs. C. F. Hahn [his paternal grandfather, Christian "Chris" Hahn and his paternal grandmother, Martha "Mattie" Frances (Defries)], Mr. and Mrs. L. [Leslie] F. [his paternal aunt Mary Louis "Lou" Hahn and her husband, Leslie], Mr. and Mrs. E. O. [Edward Oscar] Hahn [his paternal uncle and his wife, Ida Marie Jenkins], Mr. and Mrs. L. "Lonnie" Hiefner [friends of his parents].
Tom's mother stated that he was christened, along with his cousins Barbara Ann Hahn, Dorothy Nadine McAllister, and Martha Mae Beckman, in March 1927. (Baby Book of Thomas F. Hahn ) He was named Thomas after maternal grandfather, Thomas Torgeson, and his maternal great-grandfather, Thomas Torgeson (Taral Torgeison). Frederick--after paternal grandfather, Christian Frederick Hahn, and his father, Walter Frederick Hahn.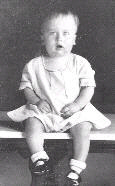 Tommy Toddler ca1927 ( Hahn Collection)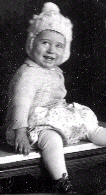 Another Tommy Toddler ( Hahn Collection)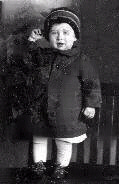 And yet Another. The three photos above were taken at The Little Shop Studio at 630 Kansas Avenue, Topeka, Kansas. (Hahn Collection)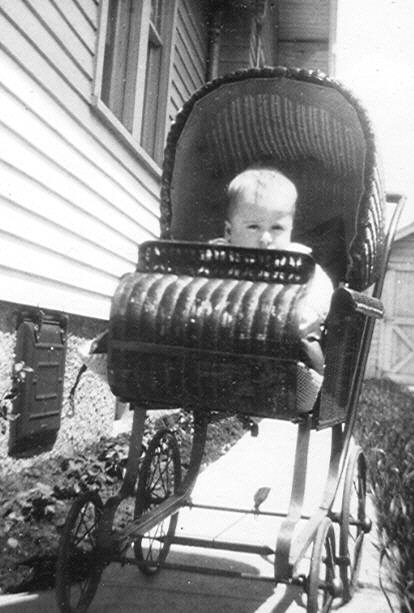 Tommy in Perambulator at his Home in Topeka, Kansas ( Hahn Collection)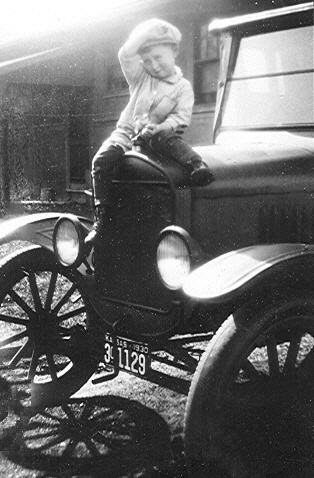 Tommy Sitting on his Father's Ford Car. Note the 1930 Kansas license plate 30[?] 1129. The 3 stands for Shawnee County. The counties were designation by the population therein at the time. Wyandotte County (Kansas City) being "1" and Sedgwick County (Wichita) being "2." (Hahn Collection)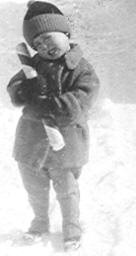 Tommy with Christmas Cane ( Hahn Collection)
Encyclopedia.com has this to say about Topeka, Kansas:
City (1990 pop. 119,883) [about twice the size of when Tom Hahn was growing up there], state capitol and seat of Shawnee co., Kans., on the Kansas River, incorporated 1857. In a rich agricultural region, it is an important shipping point for cattle and wheat and a wholesaling, marketing, and processing center for farm products. There are insurance businesses, printing and publishing firms, grain mills, meatpacking houses, and plants that make tires and rubber products, shoes, and cellophane. A ferry was established there in 1842 on the Oregon Trail. The city was laid out in 1854 by Free State Settlers from Lawrence and New England and was founded as the center for C. K. Holliday's projected railroad (the Atchison, Topeka, and Santa Fe.) A short-lived Free State constitution was framed in the city in 1855. Topeka was selected state capital when Kansas was admitted to the Union in 1861. It is the seat of Washburn Univ. of Topeka. A city of broad, tree-shaded streets, Topeka has the museum and library of the state historical society, the Mulvane Art Museum. the state library, a notable Episcopal cathedral, and a park system that includes a beautiful rose garden. The capitol is designed after the one in Washington, D.C. During the 20th cent/ Topeka was an important city for psychiatric research and therapy; the world famous Menninger Clinic, a treatments center for mental illness, was there from 1919 to 2003. Forbes Air Force Base is nearby. Columbia Encyclopedia, Sixth Edition, Copyright (c) 2004.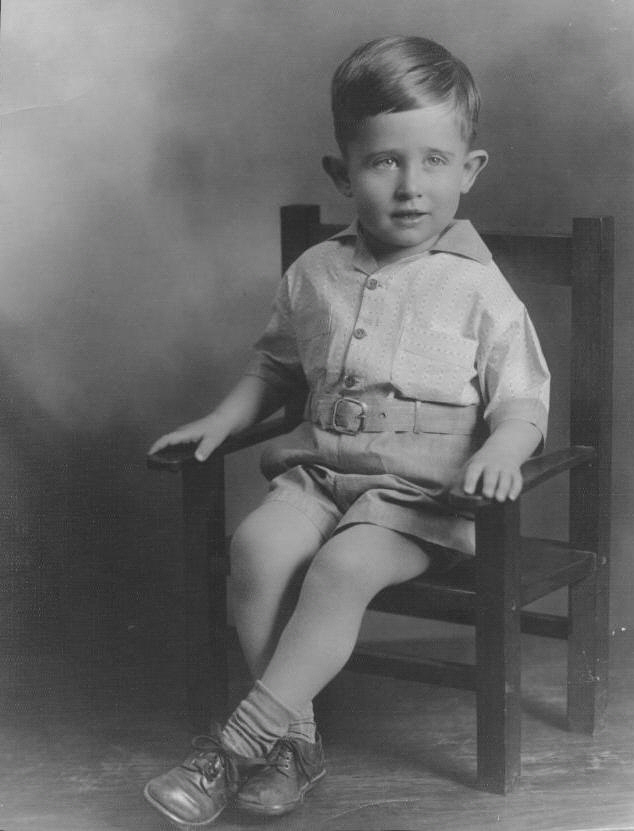 Tommy Hahn, at About Age 2 ( Hahn Collection)
Thomas "Tommy" Hahn grew up in Topeka, Shawnee County, Kansas in a nice neighborhood with good neighbors at 1120 (now Southwest) High Avenue in a type of a house known as a "bungalow." The design was probably from a Sears & Roebuck/Montgomery Wards, or similar, catalog. The house was built by his grandfather, Christian "Chris" Frederick Hahn, a carpenter and a house contractor, with the help of Tommy's father, Walt Hahn.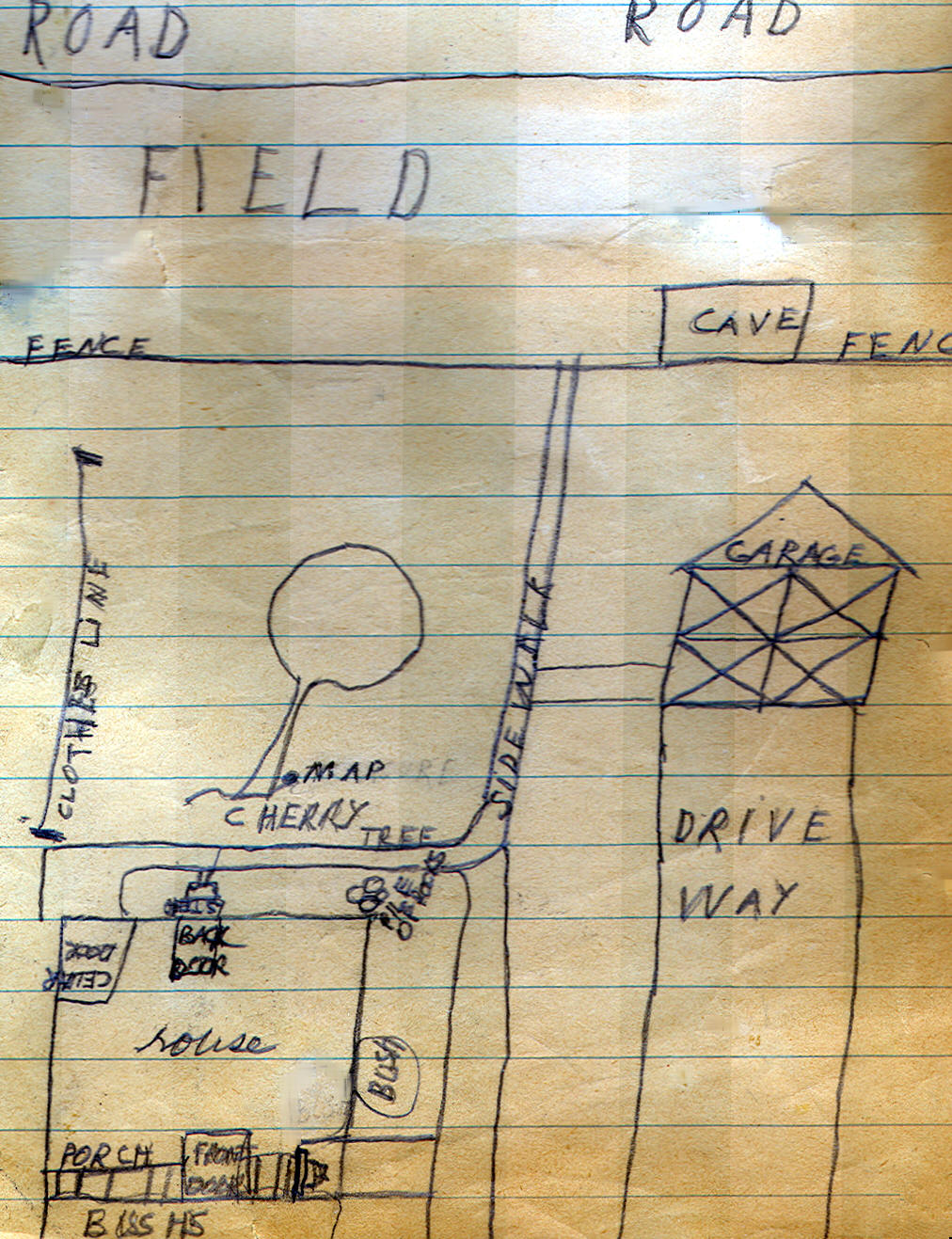 Tommy's Version of What the House and Property Looked Like (Hahn Collection)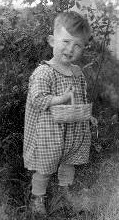 Tommy Hahn Picking Flowers at his Home in Topeka. (Hahn Collection)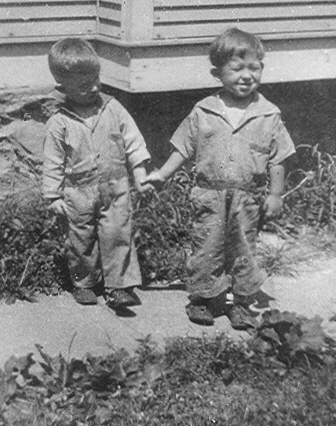 Tommy and Bobby Barlow, possibly at Kansas City, Missouri. (Hahn Collection)

For about a year "Tommy" lived with his parents in Kansas City, Jackson County, Missouri, where his father worked in the Post Office. The Walter Hahn's lived about a mile-and-a-half from their respective parents on West Seventeenth Avenue (earlier known as Euclid Avenue) and -- in general -- various brothers and sisters. The Hahn and Torgeson Families in Topeka were close and each a part of the others daily life.

Calhoun Bluffs, Near Topeka. My family went camping in the late 1920s to early 1930s. (Hahn Collection)


Tommy Helping Daddy Paint, 1930 (Hahn Collection)



Tommy Hahn Age 4, c1930 (Hahn Collection)

Letters sent at age 5 by Tommy Hahn to his parents, Florence and Walter Hahn, when they were in Atlantic City, New Jersey, at a Letter Carriers Convention in 1932. They took advantage of the trip to see other parts of the country going from, and back to, Topeka, Kansas. During this time, Tommy spent one week at his Aunt Louise's (Hahn) Beckman, one week at his Aunt Marie's (Jenkins) Hahn, and one week at his Aunt Myrtle's (Hahn) McCollister. This second letter was written was he was at his Aunt Myrtle's. The printing isn't great, but on the other hand, he would not enroll in Kindergarten for another five months.


Tommy sitting on the Hahn Family 1932 Chevrolet c 1933 (Hahn Collection)


Tommy Hahn and Nancy Taggart (left) and Mary Taggart in front of Tommy's House on 1120 High Avenue in Topeka (Walt Hahn Photo)


Tommy as an aviator on his ninth birthday, 5 November 1935 (Walter Hahn Photo)


I got the steam engine and heard "Santa" (Dad) and his helpers (Uncles) testing it the night before.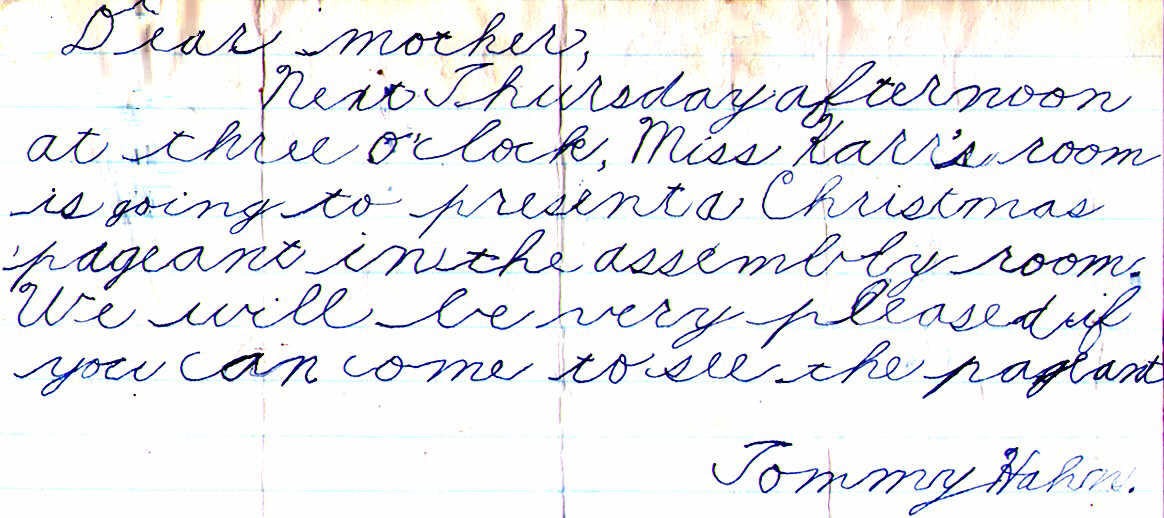 Note says: "Tommy's first ink writing. Christmas 1935. (Hahn Collection)

Tommy Hahn on his back steps in Topeka. The photo was probably taken in 1936 because of the Landon-for-President campaign buttons on his cap. His Uncle, Ed Hahn, worked in the campaign for Landon, so the "Sunflower" campaign buttons were readily available to the family. Little did Tommy know that about seven years later he would be a co-speaker at a Kiwanis or Rotary luncheon after he (Tommy) returned from being Superintendent of State Police at Boys State at Wichita, Kansas. (Walter Hahn Photo)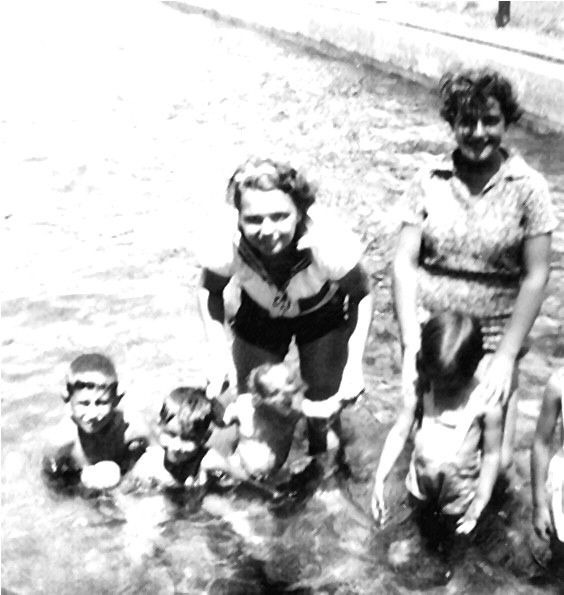 Children's Park 1936 (Hahn Collection) Children's Park was about six block's from the 1100 Block on High where we lived. At that time, several of the Topeka Parks had nice swimming pools such as this one. It looks like a neighborhood gathering at the pool with Mary Ella and Wilma Higgs in the rear, and front, left-to-right, Tommy Hahn, Jimmy Speck [who died young of pneumonia], Mary Taggart?, Dale Higgs, and Nancy Taggart?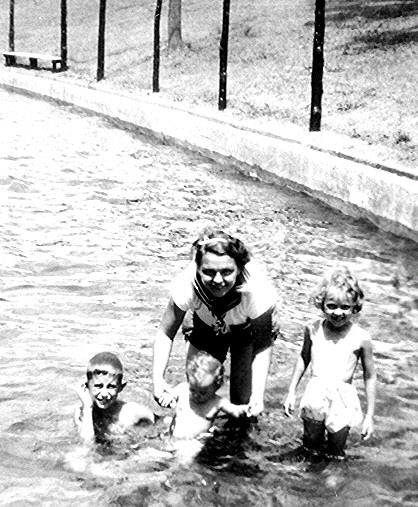 (Right) Mary Ella Higgs and Nancy Taggart?, and front, left-to-right, Tommy Hahn, Mary Taggart?, Nancy Taggart? (Hahn Collection)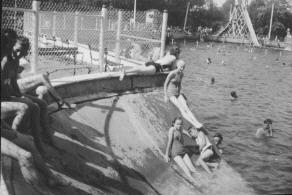 Gage Park Swimming Pool, 1930s ( Hahn Collection)

Tommy Hahn on Gape Park Pool Wheel, 1936 (Hahn Collection)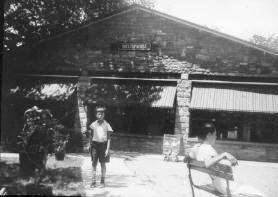 Gage Park Shelter House, 1936 (Hahn Collection)
The park system in Topeka was wonderful, partially due to programs like the Works Progress Administration. About five blocks to the west was Washburn Park where I played tennis and we kids generally messed about the little creek and the small shelter house. The bank of the creek was a source of fishing worms, a hard-to-find commodity in the dry summers of the 1930s. To the north east about eight blocks was Children's Park, with a nice pool and picnic tables. The largest and best park in Topeka was Gage Park. We were so fortunate to have it. The Shelter House was partially enclosed, commodious, and a wonderful place for family, church, and group picnics. The zoo was a later addition and was a very nice facility for a city the size of Topeka.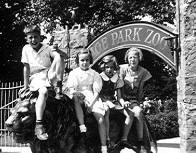 Hahn Cousins (left-to-right) Tommy Hahn, Marty Beckman, Barbara Hahn, and Dorothy McCollister at the Gage Park Zoo in June 1936. here was a pair of these much-sat-on lions at the entrance to the zoo. (Hahn Collection)
There was a nice, small lake with rental boats and a bandstand for evening concerts. In the late 40s an other little lake, West Lake, was added. It was used for fishing and ice-skating. Ample softball fields provided much entertainment for group and church leagues. Our Trinity Methodist Episcopal Church had a team. Our family attended many of the could be rented for family or group picnics. The Rose Garden and other gardens were also memorable. The greatest attraction by far was the SWIMMING POOL. It was the best municipal pool that I ever encountered. In the photograph above are two of my cousins, Becky Beckman and Marty Beckman and I lounging at the side of the pool and my father, Walt Hahn, in the water to our right., In the background can be seen the great slide that was a challenge to the young swimmer. There was also a great water wheel in the middle of the pool. Alas, the pool is gone, but not the wonderful memories.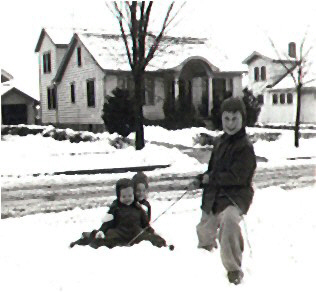 Tommy Hahn with Mary (left) and Nancy Taggart at 1120 High Avenue (Photo by Walter Hahn)
Thomas Hahn's Native American name is Strong Swiftwater (Minneluzahan: Lakota. Kschippeheleu: Lenape - Delaware). Vernal Cross (deceased), medicine man of the Pine Ridge Lakota Sioux in the Fall of 1981, bestowed the Lakota name. He gave three English versions from three Lakota dialects. Strong Swift Water, one of the three, was chosen after consultation with Kansas Delaware Chief, Wanda Weeks, in 1981. In an 30 October 1981 letter to Thomas Hahn she said, "They [the Delaware], have a word for Strong Swift Water (KSCHIP-PE-HE-LEU). I like Strong Swift Water." Among his nicknames are: Tom, Tommy, Tommy Boy by his cousins, Thomas (or Tommy) Titmouse, the Little Admiral, Swift. He was known in the Republic of China as Han (or Han Yin), Da Fu (Mandarin) and "Tiger Hahn."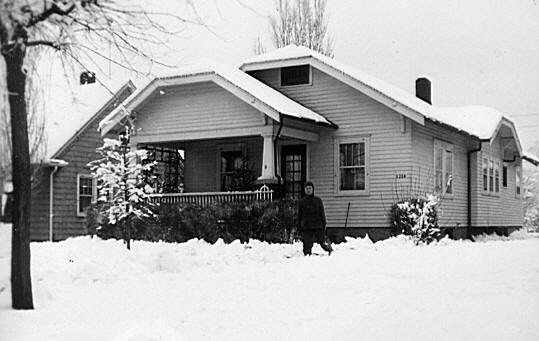 Tommy in the Plentiful Snow of Kansas 1935 (Hahn Collection)

Florence and Walt Hahn on the Back Steps of their Home in Topeka. Note the milk ,bottles on the step and the cellar door to the right and my bedroom window above. (Hahn Collection)


Mary Taggart's Birthday Party 1936 at her Home at 1128 High Avenue in Topeka. Back row third from left, Tommy Hahn, fourth from left Georgia _____. Front row from left, Dale Higgs, Donna Jean ______ (Georgia's sister), Nancy Taggart, Mary Taggart. Need some help with the others. Georgia and Donna Jean lived with their grand-parents [Goldner's?] in the house in the rear. The Hahn House was the second house from the left (north) of the Taggart's. (Hahn Collection)


Tommy in front of Trinity Methodist Episcopal Church 1939 (Hahn Collection) The Christian Hahn Family, for the most part, went to this church in the 1930-1950s. When the church closed, my folks joined the University Methodist Church.

Newspaper Item 1938: Tommy Han entertained with a buffet supper and line party Friday night in celebration of his twelfth birthday. Present were: Dean Beck, Barton Brown, Bobby Carnahan, Phil Gilman, Walter Diehl, Carl Von Wolf, Dale Higgs, and Tommy.


Tommy Hahn and Dale Higgs and Unknown Toddler--perhaps someone in the Speck Family as that was their driveway, next door to Raymond and Minnie Higgs' Home in 1939 (Hahn Collection)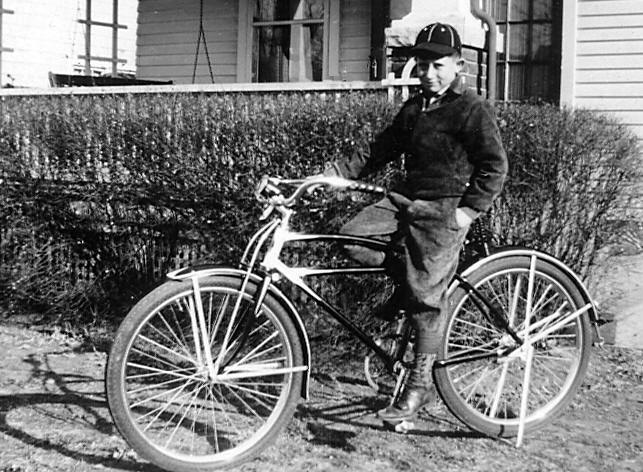 Tom on His Bike in front of his Home in Topeka ca1938-1939.
Note the swing on the front porch porch swing. My bike was my "wheels to freedom" in Topeka. Only two kids I knew later in high school had their own cars. With my bike I could go anywhere. Why did I always choose a girl friend in Oakland or East Topeka when I lived on the west side of town? (Photograph by Walter Hahn)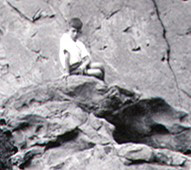 Tom Hahn at the Garden of the Gods in Colorado about 1939 (Walt Hahn Photo)
News Item in Topeka Newspaper c 1941 - Take Purse and Money
Mrs. Leonard Goff, 410 Gratton Street, was relieved of a purse containing seventy-five cents, a car key and a house key while waiting for a bus at Sixth and Branner Streets. Tom Hahn of 1120 High Avenue, saw two youths run and gave chase. He chased one youth two blocks and caught him. Bu the boy caught was the wrong one. The boy with the purse got away. A couple of interesting points: The among of money carried carried in that day and no fear of being shot or stabbed by the robbers and is often the case today. I was easier being a "hero" in the "good old days."
Scouting
One of my interests as a boy was scouting. I never advanced very far in their scheme of things, but I had a lot of fun at it. One of the nicer parts was the camping. Here is a post card to my folks postmarked "Jun 17 1940" while I was at Camp Shawnee at Lake Shawnee near Topeka:
Dear Mom & Pop

I have been having a lot of fun. When you come out bring me something good [to eat]. Roy [Menninger] and I have been sleeping [tenting] together. [Roy later became the head of the Menninger Clinic at Topeka.] I have been playing with a boy I like a lot name Ralph. [I believe that Ralph is the person in a photo at the Recruiting Station at Kansas City when we were embarking on our "Navy careers," see Military.] Charlie [Wright] has let me help him in the Canteen. [Charlie was later the Mayor of Topeka and a lifetime mentor.] I went canoeing this morning. Tom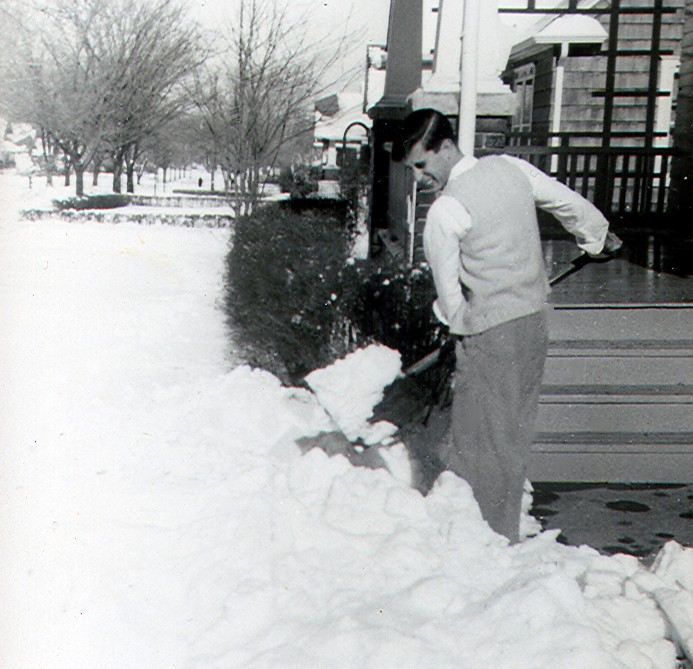 Tom Shoveling Snow at his Parents Home on 1120 High in Topeka . From the time I left home in 1944 to go to college until my mother moved from this house thirty some years later, I visited Topeka to visit my parents and then my mother, with or without my family. (Hahn Collection)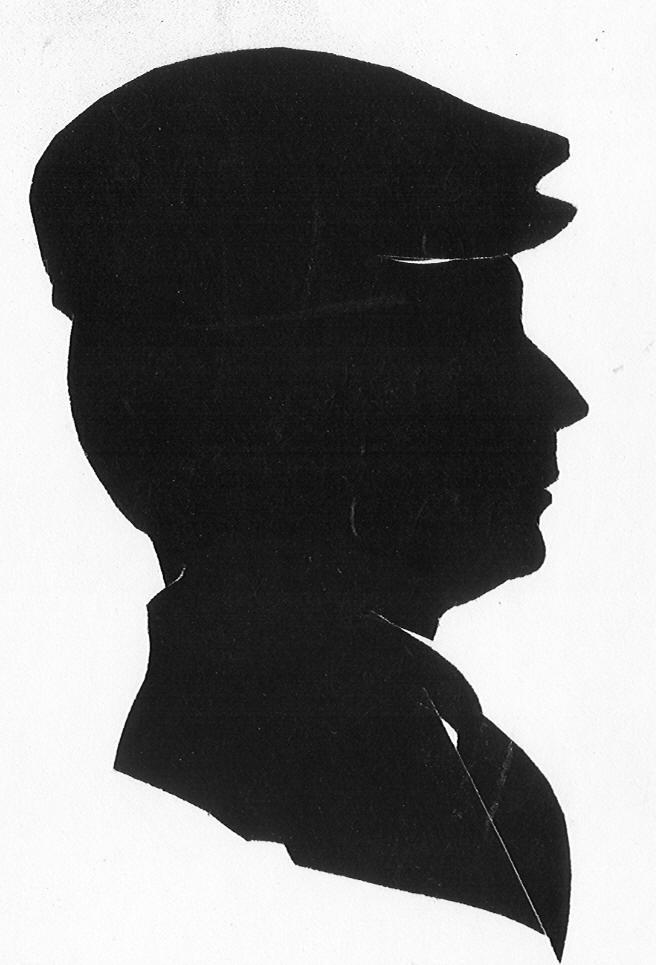 Disney World, 1980s (Hahn Collection)
Memories
Times New Roman 14 point. Web copy 28 March 2005. Photo check A. TH