Home Page
1 January 2007
Tom Hahn Family - Part 7
ACTING
My experience with acting is very limited, although I although thought that I would be interesting to give it a try. My first attempt was in Topeka, Kansas at Radio Station WIBW during Library Week in about 1934 when I played the part of Pinocchio in the radio version of "Pinocchio. While attending Randolph Elementary School in Topeka, I was in a play called, _____, but I remember little about it. And, when in Boswell Junior High I was in a play called _______. I will have to check on the name.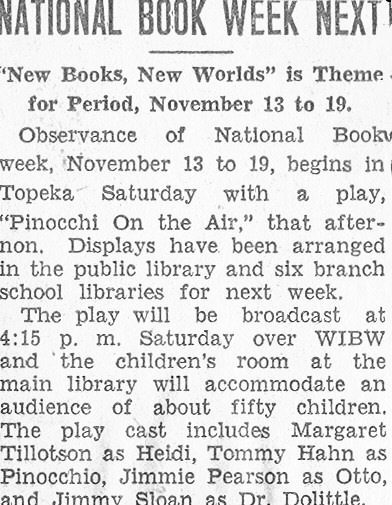 My next experience was sort of an odd one. When working, about 1955, for Army Intelligence G-3/Signal Corps Intelligence Agency in one of the old buildings -- the former Army Department building --near 17th and Constitution Avenue Northwest, I often walked around in back to the Washington Monument Mall during my lunch hour. One particular day I walked up to the Lincoln Memorial, when they were filming "The Solid God Cadillac." Not having had lunch and being a lunch break for the cast, some one invited to share the spread of food they had there. When the call came, "Back to the set," I was swept along with the others as I didn't want to admit that I was having a free lunch. As I recall, as was a bit late getting back to work. To my disappointment, when I saw the movie I saw that they had either removed the entire sequence or the episode in which I played a part the the crowd. I like to think that someone recognized me and realized they would have to give me a lot of money for the wonderful acting that I did if they left me in!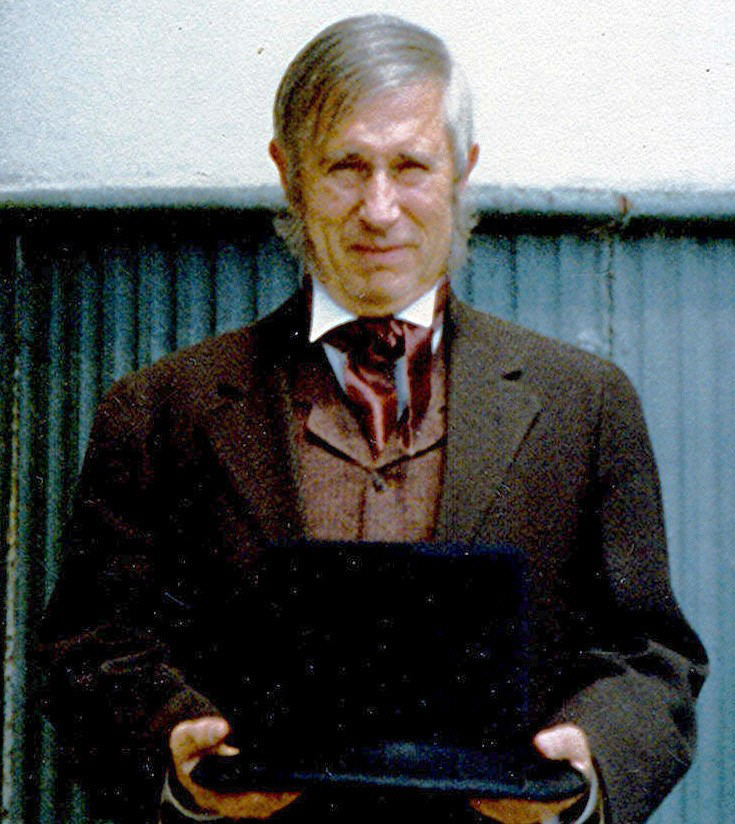 Tom Hahn, Member of the Cast of the Public Broadcasting Movie, "Puddin' Head Wilson, by Mark Twain, Starring Ken Howard. Filmed partially, as here, at the Court House at Charles Town. West Virginia. Though this was a bit part, it was enjoyable to watch the production as it unfolded and to have a better appreciation for the patience it took on the part of the actors to do the same scene over and over. (Hahn Collection)
BIRDING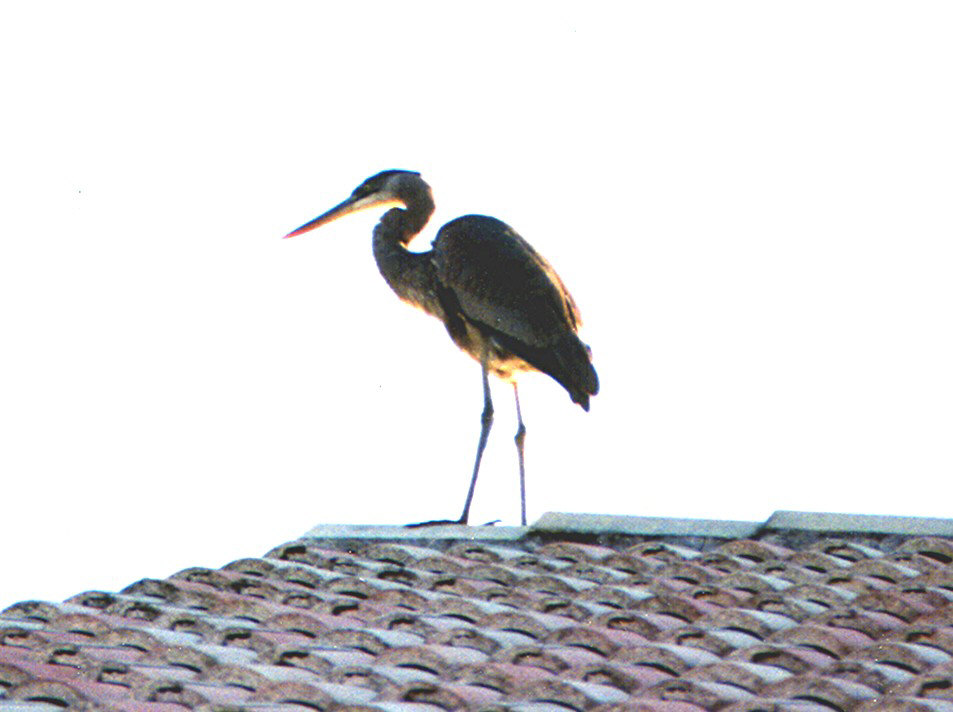 Great Blue Heron at Sunrise at Sabal Springs, Fort Myers, Florida, February 2006 (Tom Hahn Photo)
CANALS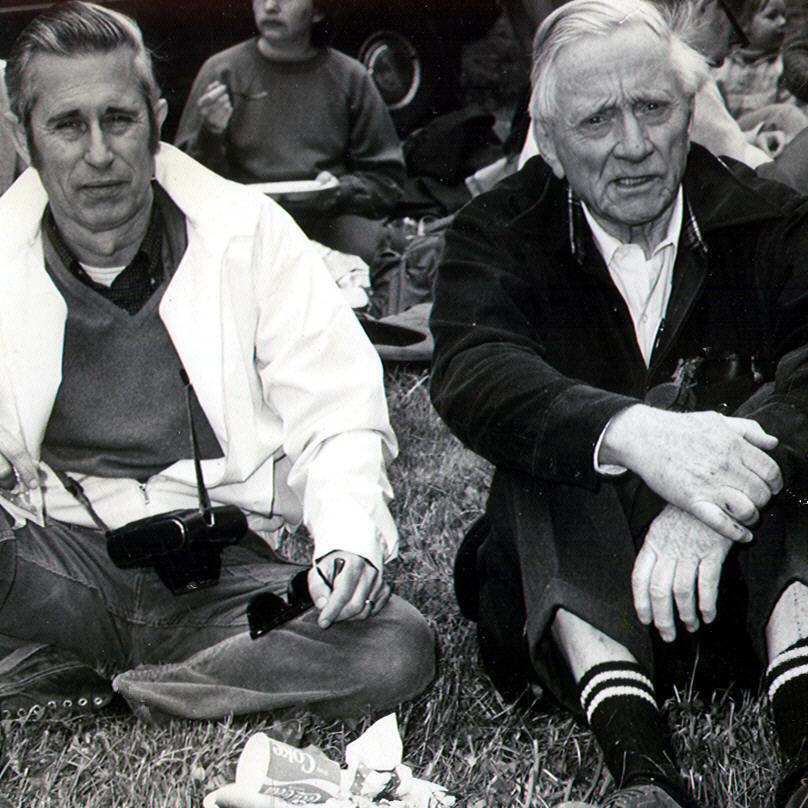 Tom Hahn & Supreme Court Justice William "Bill" O. Douglas, Chesapeake and Ohio Canal Hike in the 1970s ( Hahn Collection)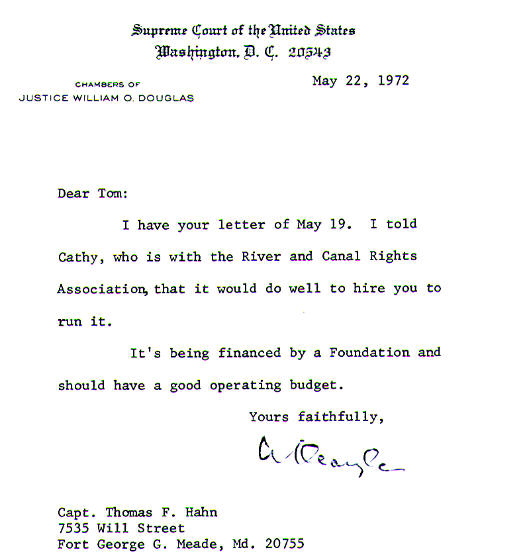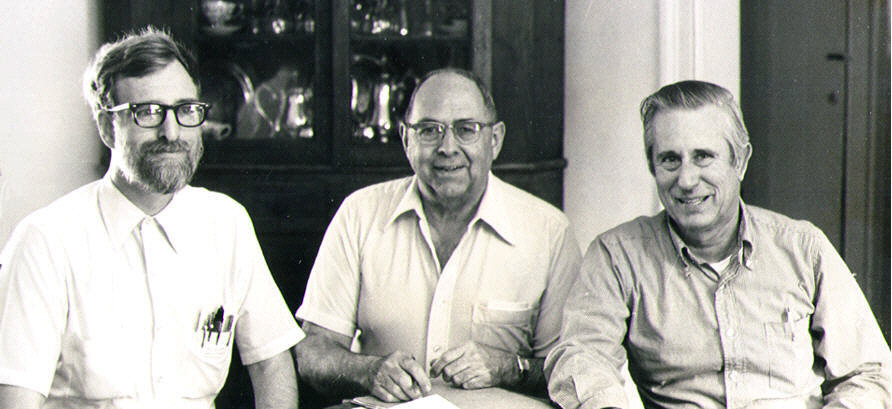 The Founders of the American Canal Society and the International Canal Society at Shepherdstown, West Virginia
(Left to right) Dr. William "Bill" E. Trout of Richmond, Virginia, Founding Secretary and Treasurer; William "Bill" Shank, P.E., Founding Vice President; Captain Thomas "Tom" Hahn, U.S. Navy (Retired), Founding President and Editor, American Canals (Hahn Collection)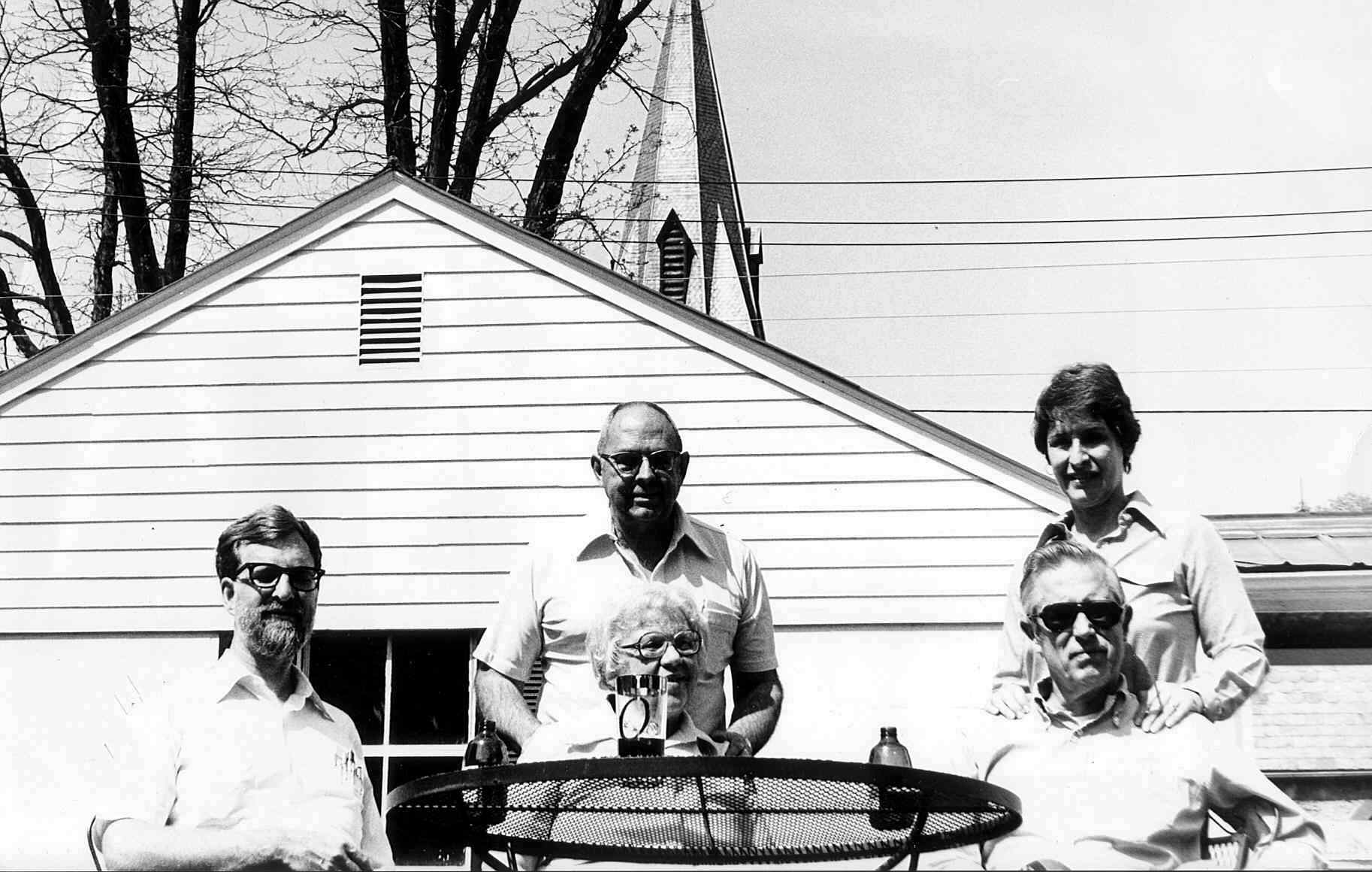 American Canal Society Founders/Officers and Spouses Shepherdstown, West Virginia ca1970s. (Left-to-right: William E. Trout III, PhD, Secretary-Treasurer, William H. Shank, P.E. Vice-President (with Ruth Shank), Captain Thomas F. Hahn. US Navy (Retired), President/Editor American Canals with Nat Hahn) (Tom Hahn Collection)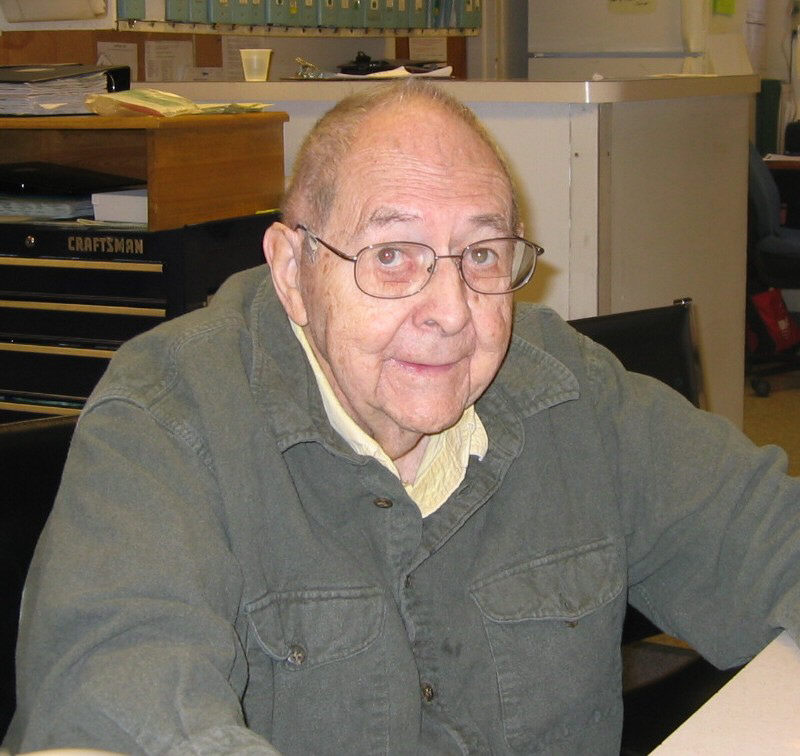 Bill Shank at 90 in 2005 (Hahn Collection)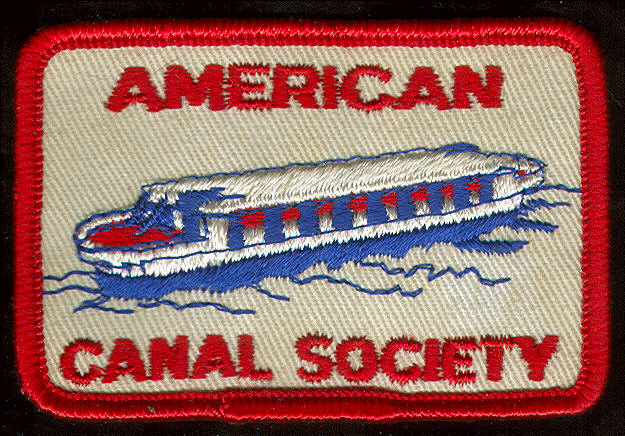 American Canal Society designed by Tom Hahn. (Thomas Hahn Collection)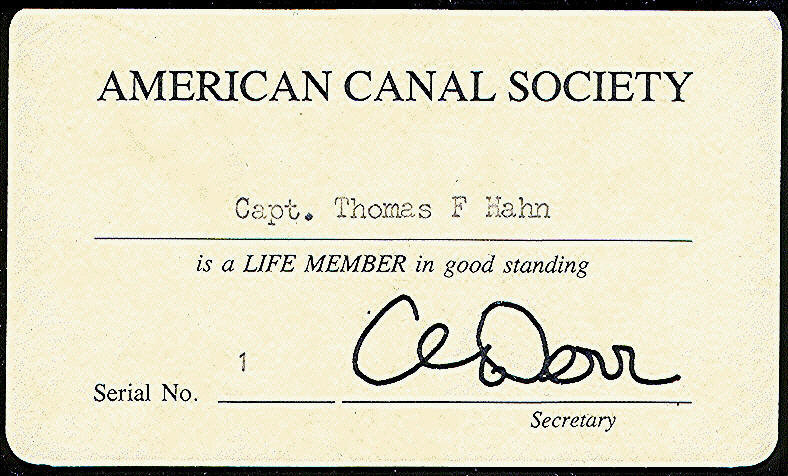 As the Founding President, Tom had the first Lifetime Membership. Charlie Derr was the later- long-time Secretary.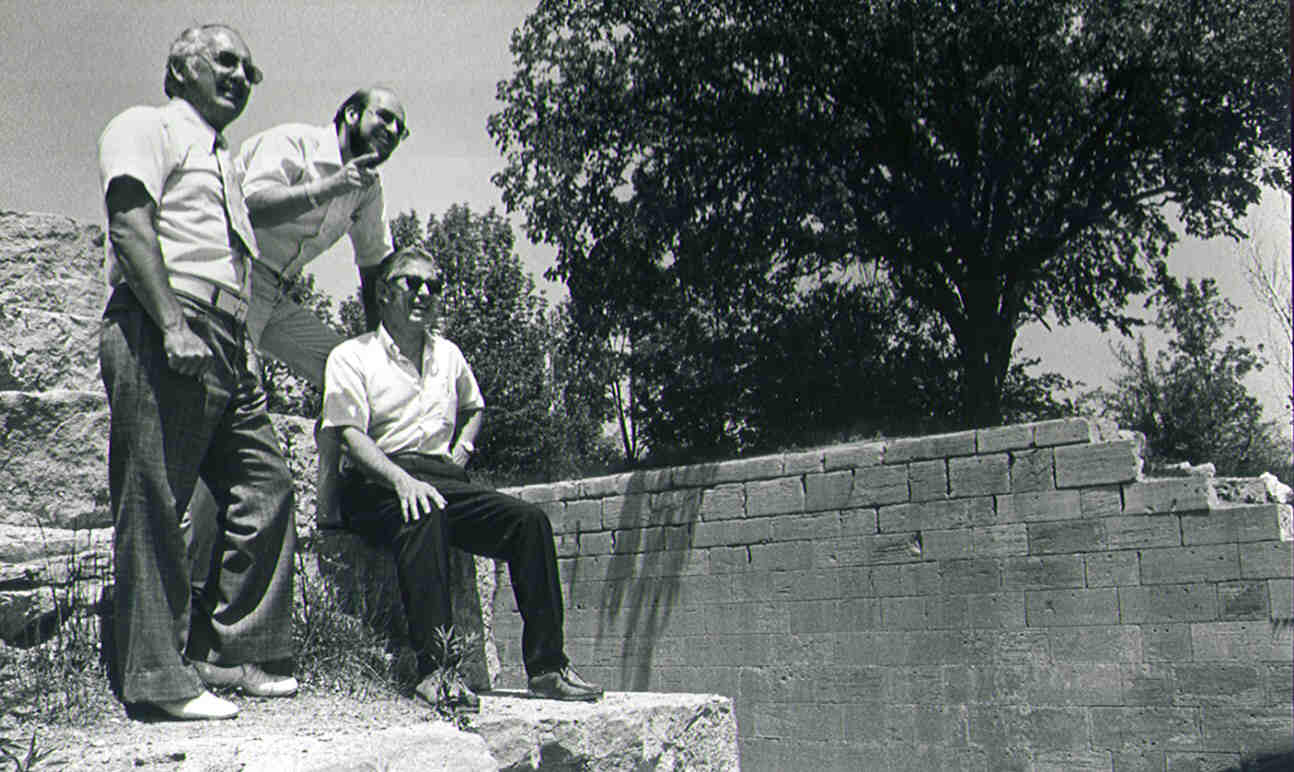 Tom Hahn and Interested Canadians at a Lock of the Historic Welland Canal. As President of the American Canal Society, Tom went to the area to help promote the preservation of the Welland Canal and to create an interest in Canadians to form a Canadian Canal Society
England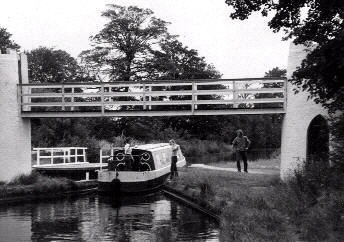 Left-to-right, Nathalie Hahn, Betsy Hahn, Duane Torrey in the Boat Mary Jane at Drayton Footbridge, Birmingham, & Fazeley Canal, England (Photo by Thomas Hahn)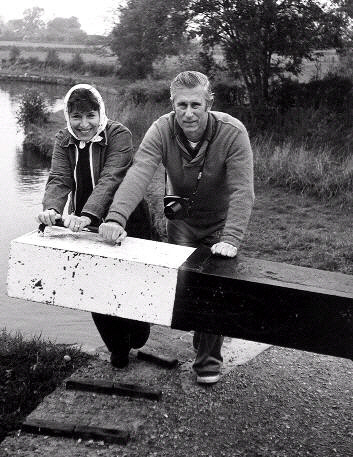 Tom and Nat Hahn Pushing a Balance Beam on an English Canal ca1980s (Photograph by William H. Shank, Thomas Hahn Collection)
FRENCH MOROCCO, Port Lyautey.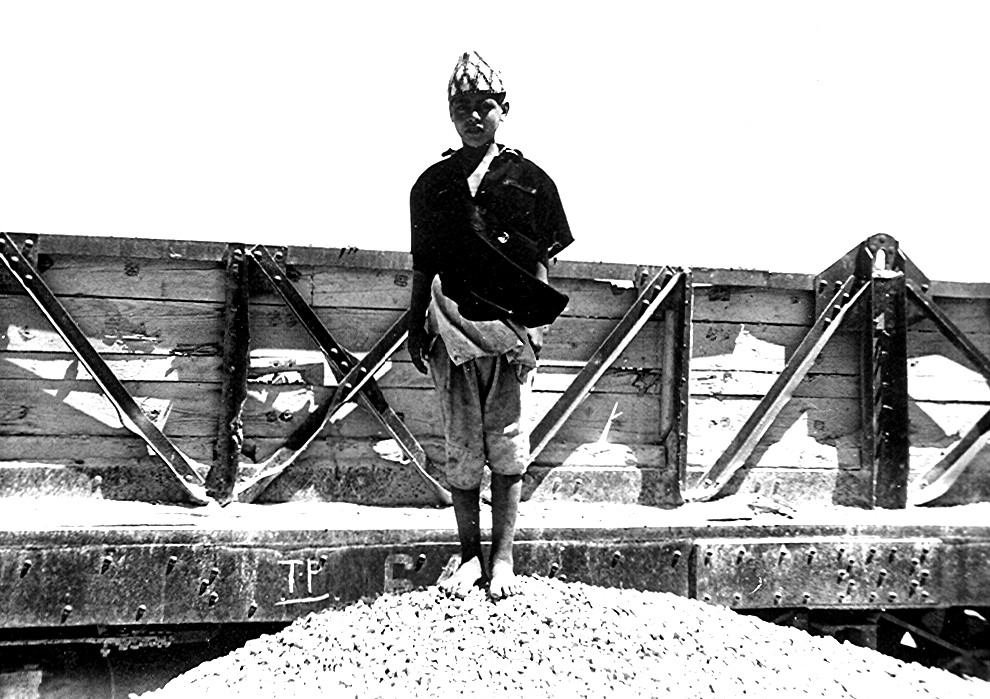 Hosein, an Interesting Arab Boy at Port Lyautey, in 1950 (Tom Hahn Photo)
FISHING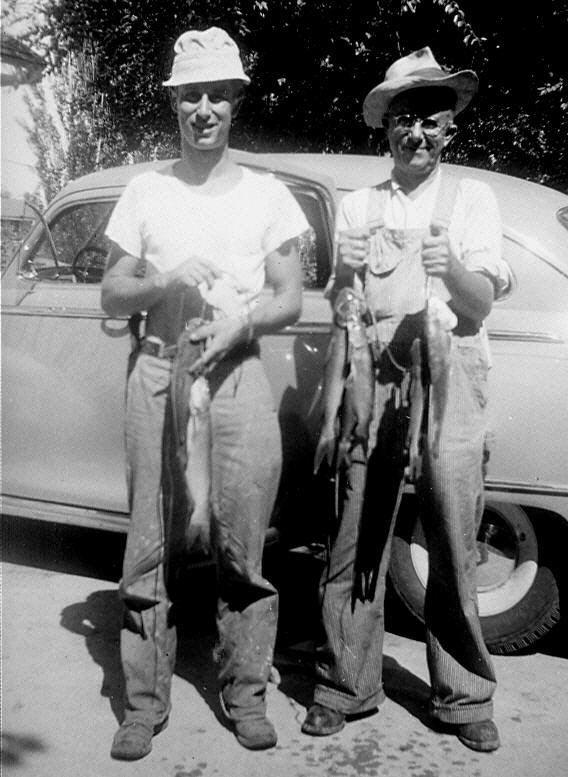 Tom and His Dad, Walt Hahn, Home from Fishing. Because the fish seem to be channel catfish, they had probably been to The Delaware River (Thomas Hahn Collection)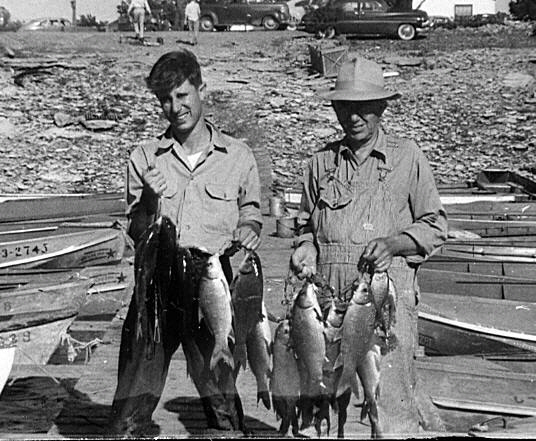 Tom and Walt Hahn at Possum Kingdom Lake. We had gone therefor the bass and crappie fishing. As that didn't turn out to well, Tom discovered that he could lower a cake of cotton meal off the dock and attract the carp, some of which are shown here. Although the family was disdainful of eating carp Tom fixed them in a special way and served them as carp. The family thought that they were delicious. He placed the excess carp in a horse watering trough and traded them off for beer. (Hahn Collection)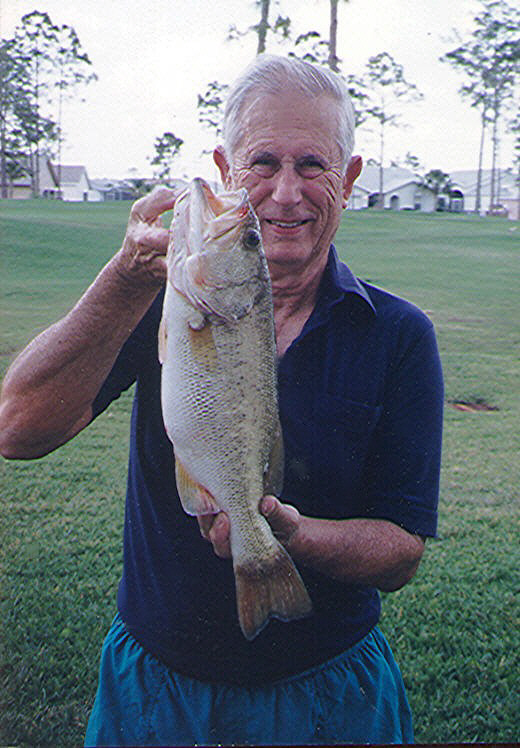 Sabal Spring, 2000. In the pond back of our house. Any fish caught go back in the water.

GARDENING
At one time when I was a boy in Topeka, my dad had a vegetable garden, but it was before I was old enough to do any of the panting or any of the work involved. For digging holes and caves I do know that the ground was very hard and compact and difficult to work. It was not until I had the first house in Falls Church Virginia on Gallows Road and some room that I was able to have a real vegetable garden and to enjoy planting trees. Being in the Navy, I always had he situation of when planting trees of never seeing them to maturity. But the first vegetable garden was a joy. There was a horse stable just down the road, so I had all the free manure that I could use and some beautiful vegetables as a result.
Where we live in Fort Myers we have very little in which to plant anything, so I resort mostly to pots for flowers and have only a few citrus and mango trees. One bulb that we enjoy annually are the amaryllis given to us by Etts Snyder, a friend in Shepherdstown, West Virginia. Here they after having bloomed for several years in April of this year, 2005.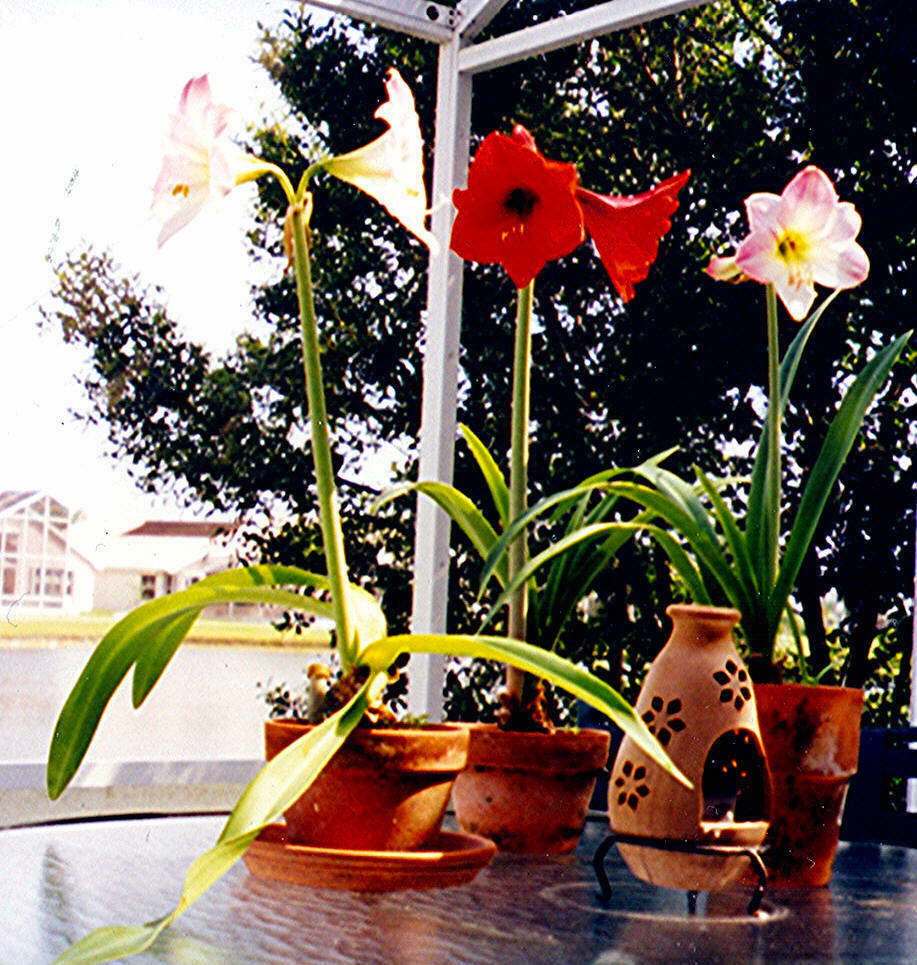 HUNTING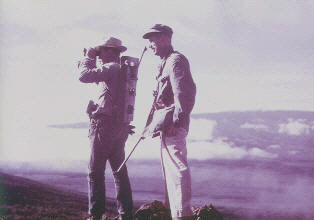 Tom Hahn with guide, Hasegawa, hunting sheep on Mount Mauna Kea, Hawaii in 1963. Hunting on Mauna Kea could be done only with a licensed guide. The terrain was rocky, like a moonscape, and it was there that NASA trained astronauts for moon landings. The weather would be surprisingly cold for Hawaii. On my first trip there at 10,000 feet it was snowing! That in spite of sunny Hilo below in the distance with the temperature in the 80s. (Hahn Collection)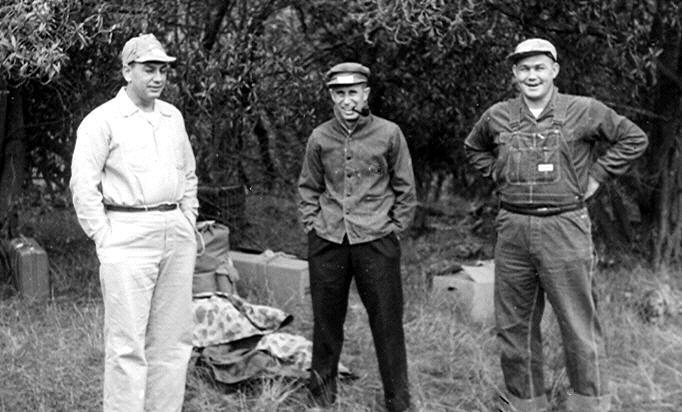 Tom Hahn with hunting party of Island of Hawaii, 1963. As chairman of the hunting committee of Honolulu Rod and Gun Club he organized hunting trips to the Big Island. ( Hahn Collection)
Members of a hunting party ready to embark in a C-47 from Hickam Air Base at Honolulu to Hilo, Hawaii in 1963 (Hahn Collection)

Tom Hahn hunting for sheep on Mt. Mauna Kea, Hawaii. Note the stark, rocky terrain. (Hahn Collection)
INTERESTING PERSONALITIES
William O. Douglas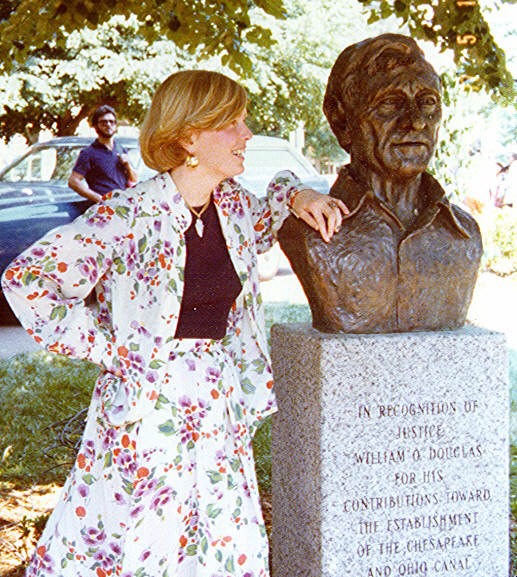 Cathy Douglas, Wife of Associate Justice William O. Douglas, May 1977, at the Dedication of his Bust at Lock 3 of the Chesapeake and Ohio Canal at Georgetown, Washington, District of Columbia. Cathy was a wonderful woman. I enjoyed hiking wit her several times on the C & O Canal. (Tom Hahn Photo)
The inscription reads: "In recognition of Justice William O. Douglas for his contributions toward the establishment if the Chesapeake and Ohio Canal National Historical park.
The Mongolian Connection
In the 1950s, as I recall, a National Geographic writer, Jay Johnston wrote an article about the Chesapeake and Ohio Canal for the National Geographic Magazine. In it he wrote of Justice Douglas's relationship with the canal. At the time, I think I was in the Navy in the Republic of China with the Taiwan Defense Command, but I had talked with Jay on several occasions.
On my return to Washington in 1960, I was on the staff of the National Security Agency at Ft. George G. Meade, Maryland. One day, while waiting for a streetcar in front of the Mayflower Hotel, I think it was, Jay Johnson hailed me and sought my assistance. He said that Justice Douglas had written an article about Mongolia for the National Geographic, and that Owen Lattimore, an authority on China and Mongolia, was assisting him on the article. Jay said that he, as the staff editor assigned to the project, and the National Geographic had questions about Mongolia left unanswered by the Douglas-Lattimore team. Jay mentioned that I seemed to have a lot of contacts, and did I happen to know anyone who knew anything about Mongolia, so that they could make necessary changes and get on with the project?
It so happened, that I was at the time, as a sideline to my normal job, I was taking lessons in the Mongolian language from Prince Urgunge" Peter" Onon, who was also with the Agency. So, I told Jay that I could probably assist him. Prince Onon was an interesting man. To my knowledge, another person and I were the only Americans then studying Mongolian in the United States. There was a Mongolian linguist and authority at another agency named Stu Buck.. Studying on a one-to-one basis with "Peter" Onon, as I called him, was a very interesting experience. I learned much of his life and that of the Mongolian people, then under Communist Rule. It from Peter that I began my interest in shamanism in Mongolia, a subject about which he wrote later. Mongolian, an Urgo-Altaic language, is very difficult. The script is difficult, to learn, so we skipped that to concentrate on the spoken language. We used Russian-language based books and we used Mandarin Chinese as our teaching-learning language. Later on, I helped Prince Onon with his book, Smoke from the Yurt. When I left him, he gave me a nice tribute --I think--in Mongolian script. Someday I will have someone translate it into English to learn the truth.
Prince Onon (born 1919), Dilowa Hutukhtu--the Living Buddha of Mongolia, and Prince Gombojah "John" Hangin, under the auspices of Owen Lattimore, had in the period 1948-1950 been taken from Outer Mongolia, then under the control of the Communists, and brought to Baltimore. The Dilowa was in Baltimore at the time I knew Prince Onon, and when Hangin was at the London School of Economics, as I recall. Lattimore was involved in one of the "espionage scandals" instigated largely by Senator Joe McCarty -- assisted by Richard Nixon -- in his "investigations." In 1950, I believe, McCarty called Lattimore "the top Soviet espionage agent in The United States." Lattimore denied the charge and tried to show that he was framed in his book, Ordeal by Slander. I believe he was later cleared of the charge, but the controversy regarding Lattimore remains.
The ironic thing about the situation was that, as a Naval Officer on the staff of the National Security Agency, it would have been inappropriate for me to have any association with Owen Lattimore. A meeting with him would have taken care of much of the problem, of course, but that was out of the question. Therefore, here we were the Douglas-Lattimore team against the Douglas-Hahn team, without the former team's knowledge. Because of Justice Douglas's concern with Mongolia and the Mongolian people, I took Prince Onon to visit Justice Douglas in his chambers where we had a very cordial conversation. Douglas was unaware to the end of Onon's (and my) involvement with the article. In appreciation for Prince Onon's work, the Geographic presented him with an honorarium. In celebration thereof, Peter Onon took me to a very nice Chinese restaurant to celebrate our "victory." I have not seen him to this day, some forty-five years later; I have not been in contact with him. After that tour at NSA, I went to Hawaii, then to The Republic of the Philippines and to the Vietnam War, to our station in Maine, to our headquarter in Washington, and then, as a member of the NSA staff as a navy captain. I did not check on Onon's whereabouts at the time, as I did not seem to have a particular interest in doing so. I discovered later that he and Hangin were involved with Lattimore at the Johns Hopkins University in Baltimore, and that both became prominent writers. Prince Onon was a true a prince," and I have fund memories of our two-year association. I wonder if he overcame his "guilt" of wasting precious water while taking a shower?
I had occasion to meet Owen Lattimore a bit later. One day I read an article on Lattimore in the Washington Post in which it said that Lattimore was to speak on China at an African-American Church in Northeast Washington. I decided to go. After the lecture, there was a tea and a reception for Lattimore. It was still inappropriate that I have contact tact with him. So, as I went through the reception line in leaving, I told him, in Mongolian, that I had come all the way from Ulan Bator, [the capital of Outer Mongolia] to hear him speak. I glanced back, briefly, as I departed through the door, to note the look of surprise on his face! It was the only use to which I had put my study of the Mongolian language. However, it was worth it!
LAW ENFORCEMENT
Some place early in my naval career, as an officer, I applied for Navy Post Graduate Training in Law School and subsequent assignment to the Judge Advocate General. I was not selected. As an aside, I applied for many things along the way; often I was not selected, but sometimes I was. A change of that kind for any one of those field, would have taken me in an entirely different direction and probably changed the course of my life, as well. For example, it was probably just as well that I was not selected for one, in particular. Being trained as in Naval Intelligence and having graduated from the Naval Intelligence School as a Russian Linguist and Translator, and having served in the capacity of an intelligence analyst in Soviet Affairs, I applied for a job as being placed inside the Soviet Union as an agent. A highly impracticable thing for a family man to do. I never had a response to that request and I am not sure that it is in my official record. I will check. Unbelievably, this "job" was announced in the Navy's Newspaper, Navy Times !!
As did many naval officers, I served on Courts Martial for the Defense and Prosecution. As a commanding officer, I held my own Commanding Officer's Non-Judicial Punishment (Captain's Mast) and was Convening Authority for of Special Courts Martial.
Deputy Sheriff, Hancock County, Maine
When I was the Commanding Officer at the Naval Security Group Activity, Winter Harbor, Maine, we had activities at the Administrative Site at Schoodic Point, Schoodic Point, our housing in the Town of Winter Harbor, and at our Operations Site at Corea. There was no immediate law enforcement officer available, especially when it involved naval personnel. According, the Sheriff of Hancock County appointed me as one of his deputies to hand law enforcement activities in the county. I remained a Deputy Sheriff for a few years after as spent the summers in Hancock County. This was an unpaid position except for reimbursement of expenses.
Deputy Park Ranger, Schoodic Annex of the Arcadia National Park
The Schoodic Annex of the Arcadia National Park had a Seasonal Ranger (summer), there was no law enforcement officer to handle accidents. hunting violations, etc. in the Annex. The Superintendent of the Arcadia National Park, at Bar Harbor, Maine, appointed me a Deputy National Park Ranger in the Schoodic Annex of the Ranger. This was an unpaid position.
In one of my jobs with the National Park Service, I was the Supervisory Ranger of the Restored Section of the Chesapeake & Ohio Canal National Historical Park at Great Falls, Maryland. A part of that job included the responsibility of being a National Park Ranger.
MUSIC

Tom in Topeka (Kansas) High School Band Uniform at Home in 1942 ( Hahn Collection)

PHOTOGRAPHY

Clouds in Lee County, Florida. Summer 2004. Looking west in the afternoon. (Tom Hahn Photo)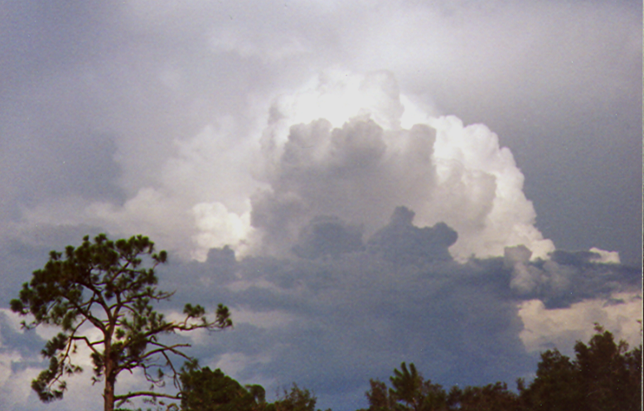 Clouds in Lee County, Florida. Summer 2004. Afternoon. Looking north in the afternoon. (Tom Hahn Photo)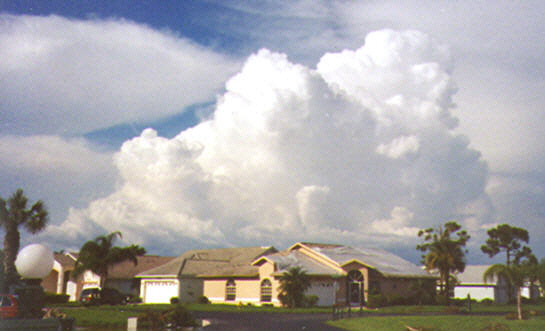 Clouds in Lee County, Florida. Summer 2004. Looking northwest in the afternoon (Tom Hahn Photo)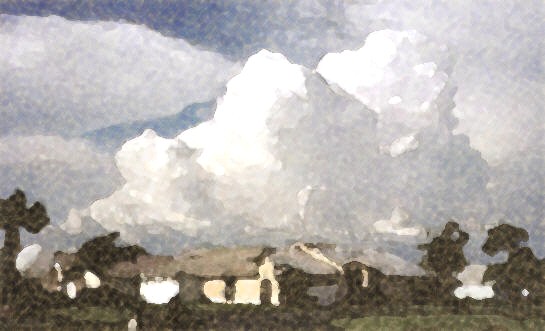 Clouds in Lee County, Florida. Wash version of above image. (Tom Hahn Photo)
SCOUTING (Additions to be made)



Letter from Tommy Hahn to his parents from Camp Shawnee:
Dear Mother:
I have been having a good time at camp but some of the food is rotten. I would like to have a good meal of home cooked food.
I am writing this letter on Charles typewrite. CHARLEY lets me help him in the Canteen. I make his bed every morning. Charley is a swell guy and he lets me buy candy and pop when ever I want to. All the rest of Guys have to buy their pop at seven at night. I go swimming and canoeing every day. I have three targets for my pro marksman in rifling. It rained last night a little. It rained lie heck this morning. I had to get u and fix the tent in the mile of the night.
I have been making handicraft things for Charley to put on a board to show the rest of the fellows what to do. Roy [Menninger] has been making some to. I have mad a bracelet and I have made some other things.
Bring me something good to eat when you come out.
Goodby Tommy
SPORTS
Times New Roman 14 Point. Internet copy 3 October 2004. Photo Check A, but some photos still not in line. TH