[ Home ] [Adams Delawares] [ Baptist Missions ] [ The Big House ] [ Brief History of the Lenape ] [ Chiefs ] [ Delaware Life ] [ E. Okla History ] [ Kansas ] [ Lenape-Delaware Place Names ] [ Life Among the Delaware Indians ] [ McCoy Journal ] [ Old Northwest Confederacy ] [ Pratt Collection ] [ Russian Lenape ] [Stock Stolen] The Indian Journals [ Walam Olum ] [ Wampum Belts ] [Wyandotte County ]
Home Page Table of Contents
13 May 2006
[Line of the Western Frontier Map may need to be replaced. Editor]
HISTORY
The Lenape-Delaware Origin in Modern History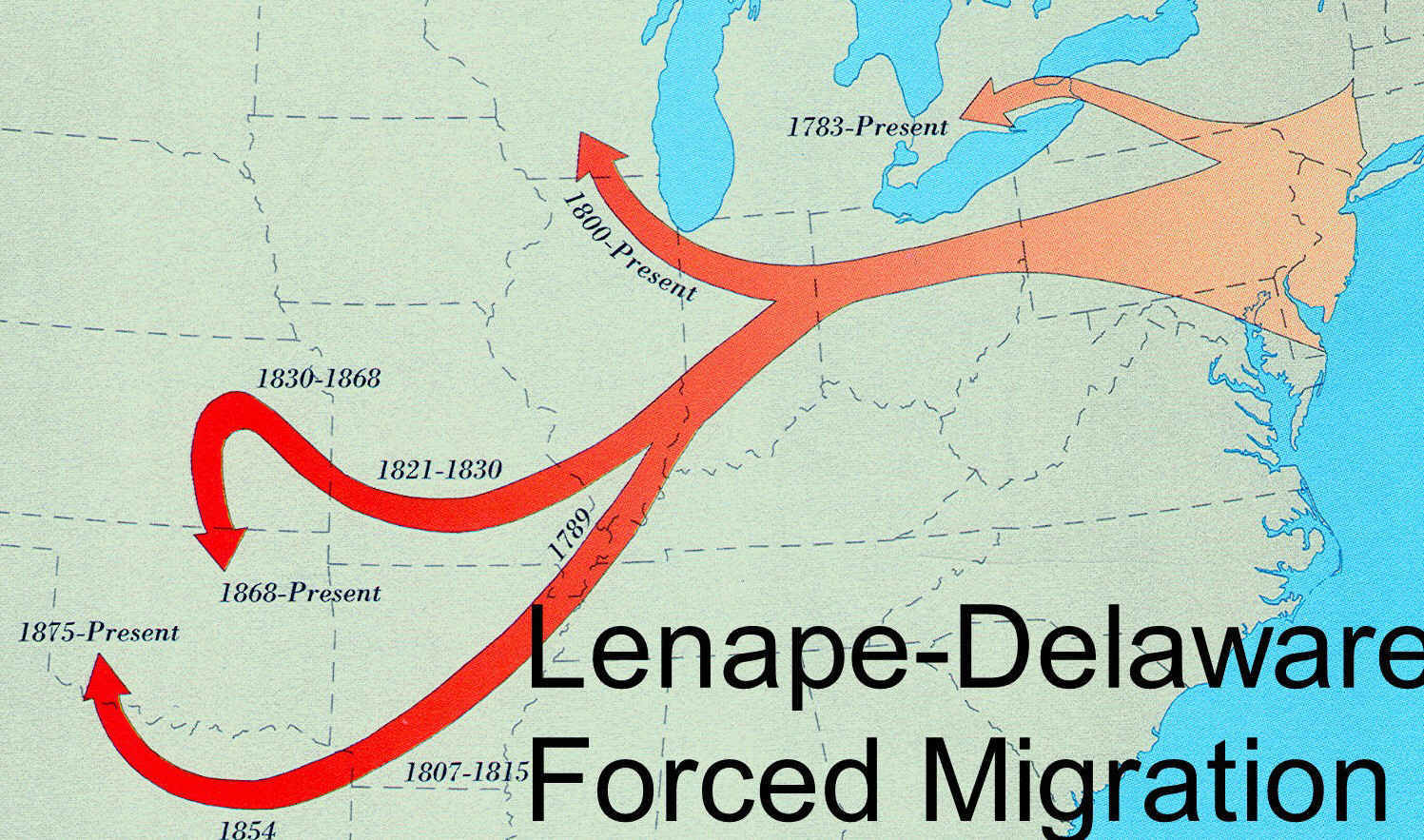 ( From Algonquians of the East Coast, recommended reading for all, with beautiful illustrations)
Map showing the migration route of the Delaware and Munsee Indians. Many Munsee settled in Ontario, Canada and in Wisconsin and Kansas. Large numbers of Lenape finally settled in Oklahoma, following stops in Pennsylvania, Ohio, Indiana, Missouri, and Kansas. The dates are indicated on the map. The "Absentee Delaware," now the Delaware Tribe of Western Oklahoma, veered southwestward' from settlements in Arkansas and Texas, they finally relocated near Anadarko, Oklahoma. One group, the Kansas or Citizen Delaware elected to remain in Kansas.
WHERE WE ENDED?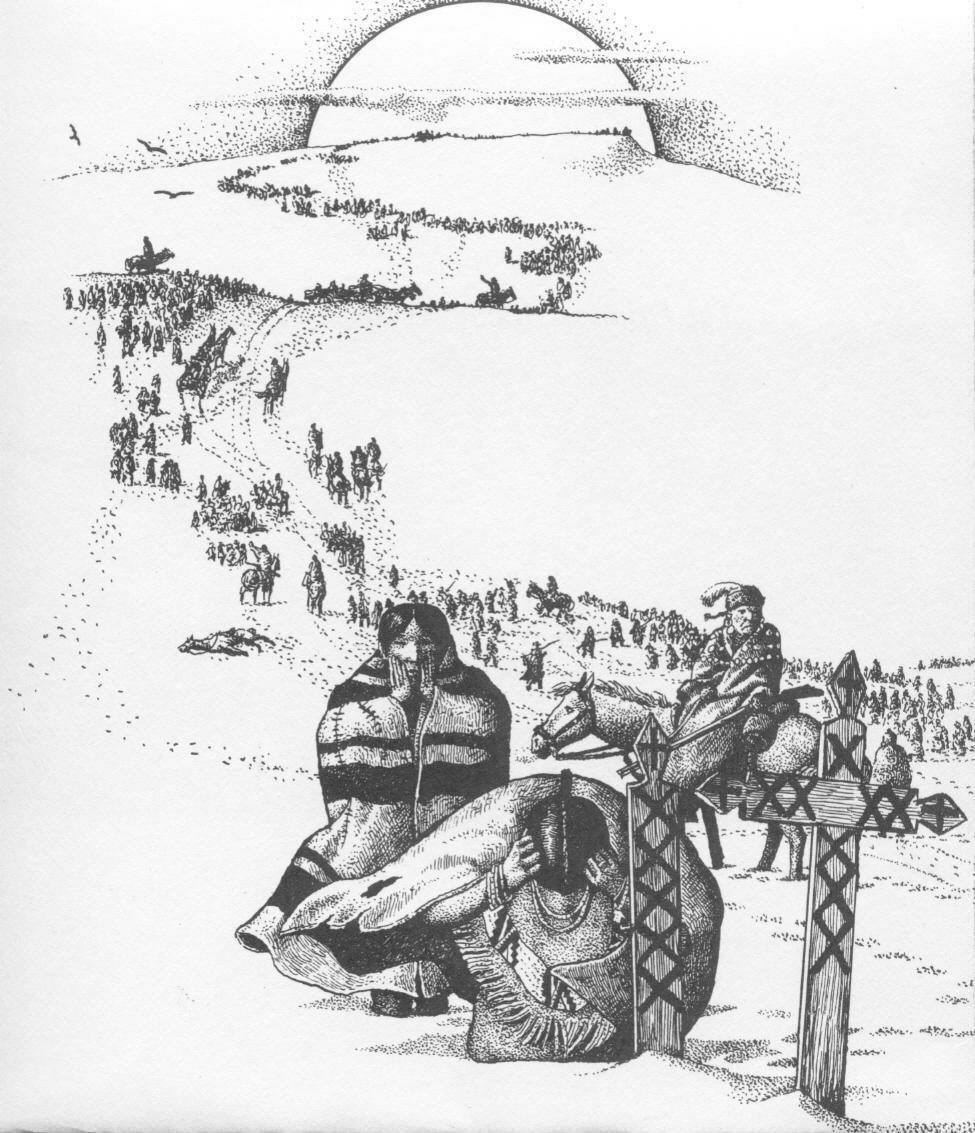 (From Weslager, The Delaware Indian Westward Migration
The Road
Does the road wind uphill all the way?
Yes, to the end.
Will the day's journey take the whole long day?
From the morn to night, my friend.
(Seen by the Editor in a coach from Tamworth to Stafford, Staffordshire, England, on 16 July 2002)
CHEROKEE AREA IN INDIAN TERRITORY WHERE DELAWARE MOVED IN 1867
(Bandeman 1895 Map)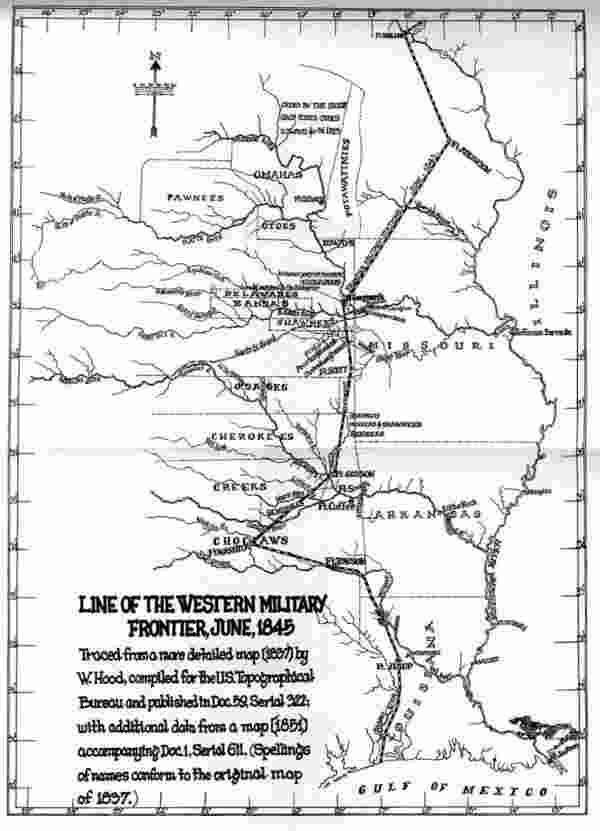 Line of the Western Military Frontier, June 1945 (Barry)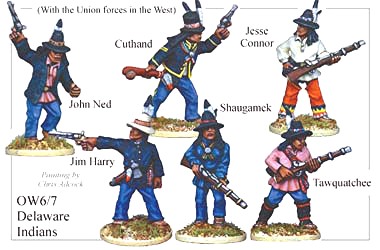 Submitted by Peggy Smith.
Times New Roman 12 point. Copy 3 December 2004. Photo check A. TH