[1842 Roll] [Bulletin Board] [Delaware Rolls] [Grinter Place] [Grinter Reunion] [Kansas Delaware]
FOOLS RUSH IN, WHERE ANGELS FEAR TO TREAD!
William the Conqueror was the 28th Great-Grandfather of your editor, Tom Hahn, but a little humility in genealogy goes a long ways.

AND, you never know what you will turn up in your family research!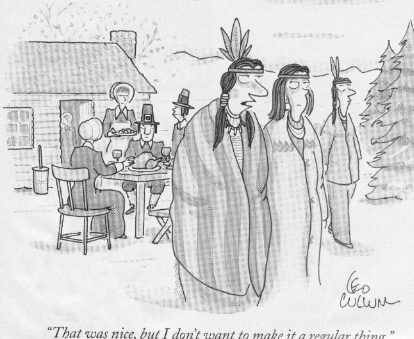 The First Thanksgiving
We will develop a page for Family Histories, Family Group Sheets, and Pedigree Charts. For the time being, I will stuff them in here. This may not work out as it seems to be working well to put this kind of information in the biographies o in the Family Histories. Editor
TONGANOWEI (Howard Ketchum) Descendancy Chart: From History of Craig County, pp. 183-185)
1. Tonganowei (Howard Ketchum), son of George Ketchum, was born 1820 and died in 1868 in Kansas. He married 1. Marie ______, date of birth about 1841; married 2 Nuscarleta (Narcissa), born 1820; married 3 Mary Ann Williams (Williams) (Fish), born 1827, daughter of Widow Matah Gideon Williams
By first wife Marie _____:
2. Louisa Ketchum, born 1840, married Robert J. Lundy, born 1835:
3. Mary R. Lundy, born 1859, married Nidifer
3. Rosa E. Lundy, born 1861, married Chandler
3. Edward E. Lundy, born 1864, married _____
3. Eula G. Lundy, born 1867, married Smith
By second wife Nuscarleta (Narcissa):
2. Pataleka (Rachel Ketchum), born 1842, died 1911, married 1. James Wolfe, married 2 Anderson
3. Henry Wolfe, born 1858, died 191?, married Nancy Elverine
3. Elizabeth Wolfe, born 1860, died 1916, married John Barker
3. John M. Anderson, married Ida ______
3. Anna Anderson, born 1873, died 1964, married George Seigle
3. Charles J. Anderson, born 1870 and died 1935
3. Rachel Anderson, born 1878, died 1960, married C. J. Wilkins
3. Nancy Anderson, born 1884, married _____ Nading
2. Waenditiarqua (Nancy Ketchum), born 1845, died 1873, married Arthur Armstrong
3. Johnie Armstrong, born 1866, died 1866
3. Henry Armstrong, born 1870, married 1. Jenny White, married 2 Jane Chapman
2. Simon Ketchum, born 1850, married Shewannakooxqua claims Rachel as a sister and Henry Armstrong as
a nephew
2. Best Quality, born 1852, claims Rachel as a sister and Henry as a nephew

* * *

Times New Roman 14 point. Copy 9 November 2004. Links checked 15 January 2005. Photo check A. TH
This Page Was Last Edited on 10/29/2006