Home Page Table of Contents
7 December 2005
[NEED RECORD HARD COPY. Editor]
DELAWARE ROLLS
[I will add other Delaware Rolls to this folder in the future. Editor.]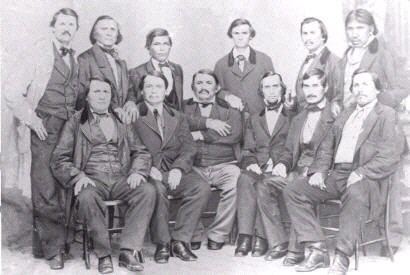 A Group Of Oklahoma Delaware who Participated in Negotiations in Washington, District of Columbia in 1867. (The photograph can be found in the Western History Section, University of Oklahoma and at the Bartlesville Public Library).
Seated (Left to Right): James Ketchum, James Conner, John Conner (Principal Chief), Charles Journeycake, Isaac Journeycake, John Sarcoxie, Sr. Standing (Left to Right): James McDaniel, a Cherokee present at the discussions, Black Beaver, Henry Tiblow (interpreter), John Gill Pratt (U.S. Indian Agent), Charles Armstrong, John Young. The identifications are made in Weslager, The Delaware Indians: A History. Another source, perhaps documentation that accompanies the image, identifies the man standing at the back, right as Andrew Miller.
FINAL ROLL DELAWARE CHEROKEES
According to the alphabetical listing below, they were 196 roll members. Edito)
The full title of this roll is The Final Rolls, Cherokees by Blood, Citizens and Freedmen of the Five Civilized Tribes in Indian Territory, Delaware Cherokees. The roll was prepared by The Commission and Commissioner to the Five Civilized Tribes on or prior to March. 1907 on the authority of an act approved by Congress on 21 June 21, 1906 (34 Stat. L. 325). It appears then, that the listing is composed of the survivors on 21 June 1907 of those on the 1867 Roll.
No. Name Age Sex Blood Census Card No.
| | | | | |
| --- | --- | --- | --- | --- |
| 1. Washington, James | 36 | Male | 3/4 | 1 |
| 2. Lunday, Edward E. | 40 | Male | 1/16 | 3 |
| 3. Marker, John D | 77 | Male | White | 4 |
| 4. Marker, Jane | 58 | Female | 1/2 | 4 |
| 5. Weaver, Mary | 50 | Female | 1/8 | 5 |
| 6. Chandler, Rosa E. 37 | 37 | Female | 1/4 | 7 |
| 7. Nidiffer, Mary R. | 42 | Female | 1/8 | 8 |
| 8. Drum, Ahpahmala | 45 | Female | Full | 9 |
| 9. Pascal, John | 62 | Male | Full | 10 |
| 10. Lunday, Robert J. | 66 | Male | White | 11 |
| 11. Ketchum, Thomas E. | 46 | Male | Full | 12 |
| 12. Hicks, Lucinda O. | 36 | Female | 1/2 | 13 |
| 13. Haff, Mary | 90 | Female | 3/4 | 14 |
| 14. Haff, William | 40 | Male | 3/8 | 15 |
| 15. Haff, Hiram | 40 | Male | 1/4 | 16 |
| 16. Hawkins, Hester A. | 53 | Female | 3/4 | 17 |
| 17. McCamish, Sarah A. | 65 | Female | 1/4 | 18 |
| 18. Smith, Sarah | 41 | Female | 1/4 | 19 |
| 19. Barber, Carrio | 34 | Female | 1/4 | 20 |
| 20. Lumbard, Sarah E. | 40 | Female | 1/2 | 21 |
| 21. Washington, Edison | 22 | Male | Full | 22 |
| 22. Lynch, Alice J. | 47 | Female | Full | 23 |
| 23. Haff, Cyrus P. | 48 | Male | 1/4 | 24 |
| 24. Secondine, John | 52 | Male | Full | 25 |
| 25. Barker, Lizzie W. | 40 | Female | 1/2 | 26 |
| 26. Anderson, Rachel | 61 | Female | 1/2 | 27 |
| 27. Ketchum, Elizabeth | 70 | Female | Full | 28 |
| 28. Wolfe, Henry | 43 | Male | Full | 29 |
| 29. Young, John | 58 | Male | Full | 30 |
| 30. Young, Ella | 41 | Female | Full | 30 |
| 31. Armstrong, Arthur | 62 | Male | Full | 31 |
| 32. Williams, Samuel | 62 | Male | Full | 32 |
| 33, Williams, Mrs. Samuel | 61 | Female | Full | 32 |
| 34. Wilson, Mary | 34 | Female | Full | 33 |
| 35. Bronson, Julia | 44 | Female | Full | 34 |
| 36. Patiacow | 70 | Female | Full | 35 |
| 37. Peterson, Eliza | 37 | Female | Full | 37 |
| 38. Kinney, John | 49 | Male | Full | 38 [?] [Difficult to read] |
| 39. Frenchman | 82 | Male | Full | 39 |
| 40. Pahleeonow | 62 | Female | Full | 40 |
| 41. Thursday, Mary | 53 | Female | Full | 41 |
| 42. Whiteturkey, Albert | 36 | Male | Full | 42 |
| 43. Tanner, Charles V. | 41 | Male | 1/16 | 42 |
| 44. Tanner, Ida F. | 35 | Female | 1/16 | 43 |
| 45. Caesar, Nancy | 57 | Male [sic] | Full | 44 |
| 46. White, Mary | 57 | Female | Full | 45 |
| 47. White, Mary | 59 | Female | Full | 46 |
| 48. McEwin, William | 54 | Male | Full | 47 |
| 49. McEwin, Susan | 42 | Female | Full | 47 |
| 50. Buford, Jane | 40 | Female | Full | 48 |
| 51. Halfmoon, Fielding | 42 | Male | Full | 49 |
| 52. Curleyhead, Albert | 47 | Male | Full | 50 |
| 53. Armstrong, Mary E. | 64 | Female | Full | 51 |
| 54. Adams, Richard C. | 38 | Male | 1/2 | 52 |
| 55. Adams, Horace M. | 36 | Male | 1/2 | 53 |
| 56. Jackson, Colonel | 74 | Male | Full | 54 |
| 57. Jackson, Eliza | 62 | Female | Full | 54 |
| 58. Hallock, John | 64 | Male | Full | 55 |
| 59. Black, Alexander | 41 | Male | Full | 56 |
| 60. Win-da-la-a-qua | 84 | Female | Full | 58 |
| 61.Hall, Julia | 49 | Female | Full | 59 |
| 62. Gordon, Sophia | 39 | Female | Full | 60 |
| 63. Buffalo, Thomas | 45 | Male | Full | 61 |
| 64. Whiteturkey, Robert | 49 | Male | Full | 62 |
| 65. Whiteturkey, Josephine | 39 | Female | 1/2 | 62 |
| 66. Washington, Mrs. Thomas | 102 | Female | Full | 63 |
| 67. Mah-wa-taise [?] Difficult to read | 102 | Female | Full | 64 [Same as above entry?] |
| 68. Overlees, Carrie V | 45 | Female | 1/4 | 66 |
| 69. Sarcoxie, Mary D. | 56 | Female | Full | 67 |
| 70. Elkhair, Eliza | 58 | Female | Full | 69 |
| 71. Wilson, Nancy | 62 | Female | Full | 70 |
| 72. Swannock, Martha | 59 | Female | Full | 71 |
| 73. Lee, Mary | 59 | Female | Full | 72 |
| 74. Easey, William J. | 37 | Male | Full | 73 |
| 75. Easey, Widow J. | 72 | Female | Full | 73 |
| 76. Bascomb, Mary | 52 | Female | Full | 74 |
| 77. Washington, William | 51 | Male | Full | 75 |
| 78. Arnold, Harry | 60 | Mae | Full | 76 |
| 79. Ager, Mary | 40 | Female | Full | 77 |
| 80. Pom-mah-pun-aqua | 49 | Female | Full | 78 |
| 81. Gibson, James W. 40 | 40 | Male | Full | 79 |
| 82.Wilson, James | 57 | Male | Full | 80 |
| 83. Wilson, Libby | 49 | Female | Full | 81 |
| 84. Frenchman, Frank | 46 | Male | Full | 81 |
| 85. Beaver, Eliza | 62 | Female | Full | 82 |
| 86. Yellowjacket, John | 48 | Male | Full | 83 |
| 87. Yellowjacket, Ora | 48 | Female | Full | 83 |
| 88. Big Beaver, Lona-sut-ta | 62 | Male | Full | 84 |
| 89. Wheeler, Robert | 36 | Male | Full | 85 |
| 90. Swannock, Jonas | 36 | Male | Full | 86 |
| 91. Armstrong, Catherine A. | 37 | Female | Full | 87 |
| 92. White, William | 36 | Male | Full | 88 |
| 93. Brown, John | 65 | Male | Full | 89 |
| 94. Miller, Silas | 45 | Male | Full | 90 |
| 95. Bixler, Amanda | 36 | Female | Full | 91 |
| 96. Whiteturkey, Dutch | 45 | Male | Full | 92 |
| 97. Elkhair, Charles | 51 | Male | Full | 93 |
| 98. Elkhair, Susan | 51 | Female | Full | 93 |
| 99. Anderson, Daniel | 44 | Male | 3/4 | 94 |
| 100. Shailer, William H. | 54 | Male | Full | 96 |
| 101. Fall-leaf, George | 40 | Male | 3/4 | 96 |
| 102. Fall-leaf, Eliza | 47 | Female | Full | 96 |
| 103. Ke-ke-she-pa-ke-now | 62 | Female | Full | 99 |
| 104. Spybuck, Mary | 43 | Female | Full | 100 |
| 105. Lewis, Lucy D. | 48 | Female | Full | 101 |
| 106. Wilson, William | 38 | Male | Full | 102 |
| 107. Whiteturkey, Widow | 64 | Female | Full | 103 |
| 108. Paradee, Annie | 35 | Female | 1/2 | 104 |
| 109. Whiteturkey, Samuel | 43 | Male | Full | 105 |
| 110. Ketchum, Watson | 41 | Male | Full | 106 |
| 111. Brown, William | 44 | Male | Full | 107 |
| 112. Brown, Mary | 55 | Female | Full | 107 |
| 113. Parks, John | 43 | Male | Full | 108 |
| 114. Britton, Minnie | 41 | Male | Full | 109 |
| 115. Washington, George | 53 | Male | Full | 110 |
| 116. Washington, Mary | 51 | Female | Full | 110 |
| 117. Fouts, Julius | 50 | Male | Full | 112 |
| | | | | |
ALPHABETICAL CHEROKEE DELAWARE INDEX
(From National Archives and Records Administration, Part 1
http://media.nara.gov/media/images/35/23/35-2229a.gif )
(Submitted by Arlene Micucci Ziegler, from National Archives & Records Administration, Part 2)
Times New Roman 14 point. Photo check A. TH
This Page Was Last Edited on 09/23/2012. Internet copy 3 June 2005. TH