Home Page
6 May 2006

THE MARSHALL FAMILY
WILLIAM H. MARSHALL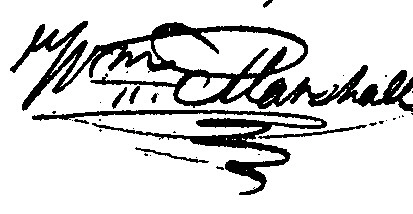 William Marshall's Signature in 1826 (Missouri Historical Society)
His children: Anna Marshall, John Marshall, Mary Ann Marshall, Rosanna Marshall
WILLIAM H. MARSHALL was the son of Henry and Mary Marshall. William's place and date of birth are not known. The middle initial "H" of his name appears a couple of times, and it seems to stand for "Henry, the first name of his father." For example, he is called W. H. Marshall in a letter of 14 April 1858. (Letter of M. M. McCaalin, Osage River Agency, K. T. [Kansas Territory], dated 14 April 1858. He was [also] known in Missouri and Arkansas as "John" or "Old John." (Susan [name to be added] letter to Thomas Hahn on 21 October 1996) His parents appear to have gone from Pennsylvania to Kentucky to Ohio some time after the American Revolution. Because they went to Ohio about 1807, which would have been some time after William's birth, based on his life experience, William was probably born in Pennsylvania or Kentucky. Unfortunately, nothing is known of his boyhood and his early life. His spouse, Wilaquenaho (with various spellings), a Lenape-Delaware, was probably born about 1797. Her English first name was Elizabeth, but she was called "Betsy" and perhaps "Liza." The date of their "marriage" or "arrangement" is not known, but it appears that their first daughter, Anna Marshall, was born in 1820 in Ohio, so they may have been married sometime before that year.
It is known what land William Marshall owned. Being a trader and an entrepreneur, it is likely that he may have owned land in more than one state. There are land records in Ohio pertaining to William Marshall's, but none can be specifically attributed to the subject William/John Marshall. Frank M. Sterrett wrote a 1917 history [The History of Miami County] in which he states that "William Marshall, not Henry, entered the N. W. Quarter of Sect. 22 on 21 April 1806 . . Other lands that COULD apply to our William Marshal are:
John Marshall Twp. Mi Miami Co. (Esther Weygandt Powell, comp., "1806 Tax List," Early Ohio Tax Records, 1816-1825. Genealogical Publishing Co., Baltimore, 1985, p. 114.) [There are other John and William Marshall's for other years in various counties.]

10 March 1811. Marshall, William From the United States of America. Recorder's Book 01, page 141. Section 32, Township 01, Range 11. Staunton Township. The document was signed by President Andrew Jackson. (Source?)

21 July 1821. Marshall, William From Garvey, John. Recorder's Book 04, page 513. Piqua Lot --. [John Garvey was the spouse of William's sister, Ann Marshall.]

15 November 1824. Marshall, William To Garvey, William M. Recorder's Book 15, page 357. Piqua Lot 40. [In the 1840 Census for Troy, Miami County, Ohio, Wm. M. Garvey is listed on the line just below John Garvey. He was probably his brother. [Check Census]

11 August 1830. Marshall, William From Miles, William. Recorder's Book 08, page 325. Section 25 Township 08 Range 04. Newton Township.

19 November 1832. Marshall, William From Hathaway, Richard. Recorder's Book 10, page, 097. Section 20, Township 01, Range 11, Newton Township.

16 January 1832. Marshall, William (A) [Not sure what the letter "A" stands fo. Editor]] Miami [County] 04 08 26. (Early Ohio Settlers: Purchases of Land in Southwestern Ohio, p. 202)

10 July 1832. Marshall, William From the United States of America. Recorder's Book 26, page 547. Section 26, Township 08, Range 04. Newtown Township. It is described more fully in Bureau of Land Management Records: being the "West 1/4 SE" [West 1/4 of the Southeast Quarter], comprising 78.88 acres: (Bureau of Land Management-General Land Records. Land Patent Details, Accession/Serial No. OH0300__.112 Bureau of Land Management Serial #: OH NO S/N State: Ohio)

09 December 1834. Marshall, William From Thornburg, Joseph. Recorder's Book 14, page 830. Section 26, Township 08, Range 04. Newton Township.

28 September 1836. Marshall, William To Coate, John. Recorder's Book 14, page 569; Section 25, Township 08, Range 04. Newton Township.

6 February 1837. Marshall, William to Pearson, Thomas. Recorder's Book 15, page 006. Section 26, Township 08, Range 4. Newton Township.
It may be of interest to plot these locations to show their relationship, one to the other, and to see if they match any other data in this family. The first three entries seem to be the most promising. The later ones in Newton Township, both in location and time, seem to be less likely candidates. There are no known reference to land owned by William Marshall in Missouri, or elsewhere, but it likely that he owned land there as well as in Arkansas and Texas. Curiously, there was a Land Patent issued to a William H. Marshall on 28 April 1895 for 160 acres, described as: 1 SW Section 11, Township 27-N, Range 10-W, 5th PM [Prime Meridian], Missouri, Howell County. It was signed by President Grover Cleveland. (Ibid , Accession/Serial #: MO4370__.313. Patentee Name William Marshall)
William Marshall was a partner of the Connor brothers, the latter of whose story is depicted in Thompson, Sons of the Wilderness: John and William Connor (Noblesville, IN:2nd ed, 1937, Conner Prairie Press). From Timothy Crumrin, Walking The Knife-Edged Path: The Life Of William Conner, "He [William Connor] and a partner, William Marshall, accrued profits not only from their regular trading, but from the extra income provided by land cession treaties." www.connerprairie.org/chfurn.html [More on that relationship should be researched. Editor]
CHILDREN: The "Grinter-Kirby Typescript" of 1957, p. 3, says that William Marshall had four children: 1. Polly Marshall [Mary Ann] married Henry Tiblo [Tiblow] on 8 April 1843. Her name was given as "Polly Marshall" and his name as "Henry Tiblow." (Shawnee Mission Stewarts Book of 1832-1867 provided by Vickie Wilkins). Their children were Eliza Tiblow and Sallie Tiblow.
2. Rosanna Marshall married James C. Grinter (brother of Moses Grinter)
3. Annie [Anna] Marshall married Moses Grinter
4. William Marshall, whose children John Marshall and Rose Marshall were raised by Moses Grinter and Annie (Marshall) Grinter. Rose died in her teens. John took reservation rights in Indian Territory (Oklahoma) in the 1870s, and he died there. Another listing (source not known) that Mary Ann Marshall "Polly,", John M. Marshall, and Sarah Ann Rankin. Lucinda Marshall is now considered to be a part of another family. Wanda Weeks (deceased) "Grandma Annie had one brother and he died, His name was John Marshall." Wanda mentions children that were named in the settlement of her estate. Unfortunately, we can find nothing regarding the estate of Betsy Wilaquenaho Marshall. For more complete information on the children, see the links at the top of the page. One of the official documents providing the names of the children of William Marshall is a letter in 1858 settling a claim that they had against William H. Marshall's Estate:
Letter of M. McCaskin [spelling?]. Osage River Agency [Kansas Territory] 14 April 1858: The claim money [$6000] due the heads of W. H. Marshall is now ready for distribution ... The Power of Attorney ... must be signed by John Marshall, Ann [Marshall] Grinter, Mary Ann [Marshall] Tiblow, and Roseanna [Marshall] Grinter [children of William H. Marshall, with a question as to whether or not John was the son of William Marshall or the son of a possible William Marshall.] Granted, there could have been an additional child or children who might have died between their birth/s and the date of settlement in 1858.
It appears that William Marshall might have gone west to Missouri from Indiana with the same group of Delaware of which Mekinges, spouse of William Connor, Marshall's former business partner, was a part. (Charles N. Thompson, Sons of the Wilderness, John and William Connor ((Indianapolis: Indiana Historical Society, 1937, pp. 113-114)) According to a letter from Rodney Staab to Thomas F. Hahn on 27 October 1996, "From an account book kept by Menard & Valle [traders] from 1829 to 1831 regarding transactions among the White River [Missouri] Delawares, we find William Marshall and Joseph Weaver as two of the 24 whites dealing in some way with the Delawares."
Indian Agent R. Graham, under the St. Louis Superintendency of Indian Affairs, granted William Marshall a license as a trader. [Source needed] At this time, the majority of the Delaware were in the vicinity of Springfield, present Greene County, Missouri.
Pierre Menard said of the Delaware on the White River:
In a letter dated April, 1826, at Kaskaskia [on the Ohio River in Illinois], Pierre Menard wrote to Agent Richard Graham at St. Louis, giving the report of James Pool from the James Fork of the White River [Arkansas-Missouri] concerning the murder of several Delawares. Sixty or seventy Delawares were reported to be at either Anderson's or Nanundagum's Town and only three old men at Roastinger's Town about 300 yards from Marshall's on Finly . . .at a distance of about nine miles he can see the house of La-pa-ni-hile [eldest brother of Captain Ketchum] in flames. (Richard Graham Papers, Clark Collection, vol. 10, Missouri Historical Society, CDH, p. 147)
William H. Marshall had one of the first mills in present Greene County, Missouri on the James River at the mouth of Finley Creek. This may have been in later Wilson Township. There are several references to him and his mill, including the following.
The first grist of corn was ground on a little wing-dam mill that Old John Marshall had on James, near the mouth of Finley Prior to mill building, corn had to be beaten in wooden mortars with a pestle, and these were used to some extent for a long time in preference to the little "one-horse" mills of the new county. (H & A, p. 153) [The full citation of this source will be provided when found]. William Marshall was known locally as "John Marshall" or "Old John Marshall.." For example, "Old John Marshall, who owned the famous mill at the mouth of Findley... (History of Greene County, p. 722) [Need full citation] and "The first mills were Pearson's, five miles east, and John Marshall's, near the Finley (Ibid., p. 726), This is confusing to researchers as there was another John Marshall in the area at the time.]

Mr. Miller too tells us that the first grist was ground at a little wing-dam mill, operated by John Marshall, on James River near the mouth of Finley. This man, Marshall by the way, was a "squaw man" living with the Indians until his death, just before they finally moved from the region. His mill was the same that Ingle had put up on the James, and had been bought by Wilson and moved to the lower location when Ingle was forced to vacate his claim. (F & T) [Looking for the full citation. Editor] In History of Greene County, p. 905, the authors says of the mill that ... many of the settlers considered Marshall's, down on the James, the best. (Ibid., p. 105)

A man by the name of Marshall also came with them [the Delaware Indians, being married to a squaw, with whom he lived until his death, which occurred about the time the Indians were leaving he, and his widow and orphans went to the Territory [in Kansas] with their dusky companions. Mr. Marshall had taken the old mill which had formerly been abandoned by Mr. Ingle, and removing it down the river to a point near the mouth of Finley Creek, where he commenced a plantation. (History of Greene County, p. 153. Marshall did not leave with the Delawares (October 1831), but went the following spring in 1832. Ibid., p. 722. ) [So far we I have found no evidence that William "John" Marshall went to Kansas. Editor]
William Marshall apparently had a trading post at the James Fork of the White River. In a deposition presented at court about 14 July 1870, during the probate of the William Gillis Estate, John Sarcoxie was asked if he knew the names of any white traders among the Delawares at the James Fork of the White River. He replied, "One named Marshall, another named Gillis - that all I knew, eight names of them that was there." Unfortunately, when asked the year that the Delaware moved away from the James Fork of the White River, he couldn't say. (Gillis Probate, p. 232)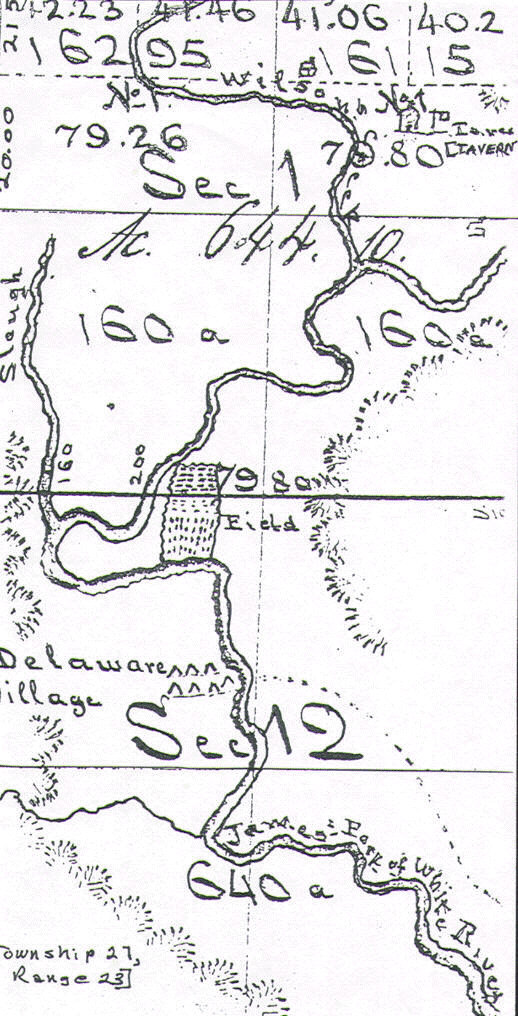 James Fork of the White River, Greene County, Missouri ca.1835, From an original survey of the area as contained on the cover and in the frontispiece of WILLIAM MARSHALL: INDIAN TRADER OF DELAWARE TOWN, published in the Probate File of William Marshall by the Green County Archives & Records Center, 1126 Boonville, Springfield, MO 65803. The map and the map field notes are on microfiche at the Department of Natural Resources in Rolla, Missouri. The description of the map says:
In section 12 was the Delaware Village also known as Delaware Town. The surveyor's field notes, made in 1835, stated that "The Old Indian Village lies . . . on the James Fork of White River. It is inhabited [in 1835?]after the exodus of the Delaware] of whites and is in Ruins a few dilapidated cabins only remain on the site. There are 3 other settlements & Cabins in this Section of the River." [This, in contrast] From the autumn of 1822 when R. I. Holcombe claimed about 500 Delawares moved into Southwest Missouri to the early 1830s. Delaware Town had been a thriving community. By 1835 it was abandoned.

In section 1, although it is difficult to make out, is a structure marked "tavern." There is another building a little further northwest. From the field notes, the surveyor stated "William Dies & Mrs Wilsons Tavern Stand; is in the N. E. Quarter of Section 1. And also 3 other habited cabinns with cultivated fields." Wilsons Creek is west of the Tavern. Also through 1 ran the "old White river road" which was apparentlly an established road hence the designation of "old."
The Center for Archaeological Research at Southwest Missouri State University has conducted four archaeological field schools at Delaware Town and its environs. The Director, Neal Lopinot, PhD noted in an email to Thomas Hahn on 22 December 2004:
As for William Marshall, our main source of information has been a copy of his probate records and miscellaneous documents... [We spent] a little time this past summer around the confluence of the James and Finley rivers, searching for evidence of Marshall's trading post. However, we were unsuccessful in locating anything definitive, due in part to all of the development and land alteration that has occurred on most of the high terraces at the mouth of the Finley. We didn't look for the grist mill, but I know almost precisely where it was located based on the 1835 General Land Office survey records, which contain a record of the mill's location along with Yokum's distillery and home (almost certainly Marshall's trading post prior to his death). The Yokums were in the area during the Delaware period and (I believe it was George) Yokum was noted in one letter dating to 1826 (as I recall) as selling peach brandy to the Delaware. The "Yokum Cemetery" is still intact there, but there are only two headstones. However, the cemetery is relatively large and there are are numerous unmarked depressions. I am not sure where Marshall was buried, but I suspect that he is there, perhaps along with other Delaware and/or slaves from that period.
In another email from another staff member provided to Thomas Hahn on 4 January 2005 more information of the investigation:
We have been taking field schools to the James River for 4 years in search of the village, and have explored and documented other 1820s sites, such as the former location of the Wilson trading trading post. In 2003 we gained access to a filed that we thought had high potential. An we were right! We have thus far located a single house location and excavated a large, interior storage/trash pit. This pit was full of artifacts diagnostic of the 1820s and of the Lenape themselves. Among the artifacts are ceramic sherds typical of the 1820s -- gunflints. bullets and scraps, brass tinkle cones and possible arrow tips, glass beads, silver brooches, animal bones, and a few household items, like nails, glass and knife fragments.

During the summer of 2004, the first week of the field school was spent searching for Marshall's trading post near the confluence of the Finley and James Rivers. We used Marshall's probate to try to locate his trading post and distillery. What we found were farms where the ground had been moved and moved and moved again during the 170 years, making the early historical period very difficult to detect. A bit of historic work on Marshall has been completed but additional research is in order before more fieldwork is done.
* * *

It is not known whether or not Delaware Indians could or did legally own black slaves, as did the Cherokee. It was certainly legal for their spouses to do so, as was the case of William Marshall, spouse of Delaware Wilaquenaho. Marshall's estate papers show that he owned five or six slaves at the time of his death. There is at least one incident where William Marshall may have acted outside the law regarding the ownership or possession of a slave. The full circumstances are not known, but the following was reported in the Arkansas Gazette on 17 October 1826:
Cherokee Nation, Spadrie Bluff, Sept 28th, 1826. Whereas it has been represented to the undersigned. that sundry persons in Arkansas Territory, and others within the Cherokee Nation, have been endeavoring to purchase, traffic for, or procure under color of legal process, certain NEGRO SLAVES, the rightful property of the heirs and legatees of a Cherokee called CONEETOO, deceased; and whereas, the undersigned has been duly appointed Agent and Attorney in fact of said heirs, now this is to forewarn all persons, whatsoever, from purchasing, trafficing for, receiving, or procuring in any manner, or under any pretence, any of said negro slaves. They are now, or recently were with, or in possession of the following persons, to wit: With Tomas Graves (a Cherokee) James, Teany, Silvey, and two children (names unknown)): with a Cherokee called John Leake, Anney and three children (names unknown): with the Widow Otter. (A Cherokee woman), Easter and two children (names unknown): with Major Jolly, principal chief of the Cherokees, one man Frank: with Samuel Hogg, (a Cherokee) one girl (name unknown); and with William Marshall, an Indian trader, near the Delaware Village, one man named Jacob. JOHN DREW, Agent and Attorney in fact for the heirs of Coneetoo, deceased. October 17,
1826.
The Federal Government acknowledged the amount of money that was owed to William Marshall -- and to William Gillis--at the Castor Hill Treaty in on 26 October 1832:
There shall be paid to the said Delawares on their lands, in merchandise suitable to their wants, at the St. Louis cost prices, after the ratification of this treaty, the sum of five thousand dollars. There shall also be paid them the further sum of twelve thousand dollars, to be placed, at the request of said Indians, in the hands of the Superintendent of Indian Affairs at St. Louis, to be by him applied to the payment of debts which the said Delawares have acknowledged to be due by their nation agreeably to a schedule presented in Council, and which sum they wish paid to Menard & Valle of St. Genevieve, for the benefit of William Gillis and William Marshall--The sum of one thousand dollars is also paid them in merchandise and cash, the receipt of which latter sum (of thousand dollars) is hereby acknowledged. (From the Castor Hill Treaty near St. Louis, Missouri).) [William Marshall's business accounts are held in the Menard Collection at the Chicago Historical; Society; the Fort Leavenworth Indian Agency papers 1824-1836, National Archives Microfilm 234, Roll 300; Editor]
There are unsubstantiated reports that William Marshall went with or followed the mainstream of the Delaware Nation to its new home on the Kansas Delaware Reserve about 1830 and that he established a trading post for the Delaware near Grinter's Ferry in present Kansas City, Wyandotte County, Kansas in 1833. The History of Greene County says, I believe, on page 905, that "Marshall did not leave with the Delawares, but went the following spring in 1832." [This reference needs to be checked.] This would have been a natural thing for him to do, that is, to follow his family and established a new trading post. However, there is no documentation to show that he did. This is about the time of his death, so perhaps ill health or other circumstances prevented that from happening. It is possible, of course, that he saw to it that his Delaware family reached their new destination, but that he did not stay. The below item received in August again indicates that William Marshall was in Kansas at some point of time.
Recd Kansas river Augt. 3rd 1830 of William Marshall by the hand of Baptise
Peoria 95lb of good Shaved Deer Skins 25
10 –" do Coon – do 25
A?? Fur Company By Wm Myers Entr [Entered] Dr [December] Kansas 1830 fr Menard &Valle
It is likely that William Marshall died in Greene County, Missouri as that is where his estate was settled. Likewise, we do not know where he was buried. but he he was possibly buried at Delaware Town where he had his trading post. The Center for Archaeological Research at the Southwest Missouri State University has been conducting investigations at Delaware Town. Its director. Dr. Neal Lopinot said in an Email to Tom Hahn on 22 December 2004:
The Yokum Cemetery is still intact there [Delaware Town], but there are only two headstones. However, the cemetery is relatively large and there are numerous unmarked depressions. I am not sure where Marshall is buried, but I suspect that he is there, perhaps along with other Delaware and/or slaves from that period.
We would be particularly grateful if anyone has any information on this subject. Rodney Staab, former curator of The Grinter Place at Kansas City, Wyandotte County, Kansas in his unpublished manuscript, "Grinter Place Historic Site" says: It is unclear whether William Marshall ever actually traveled to Kansas, but my strong suspicion is that Marshall Creek--is named for the Marshall Family." He adds. "The Marshall Family tree is laid out in Goodspeed's 1890 History of Wyandotte County at pages 622-624." This needs to be verified.
This note is out of context, but the "Grinter - Kirby Family History", 1857, p. 3 says: John Marshall & a sister Emily [Marshall] , came to the locale [present Wyandotte County, Kansas] at early date. Emily mar. a Sam Rodgers (a Shawnee Indian; a daughter of them mar. Richard McCamish.

WILLIAM MARSHALL'S ESTATE PAPERS
The date of William Marshall's death is not known, but from a reading of his Estate Papers, it appears to be not later than 11 March 1833, and probably not too much sooner. A search of Death Records of Missouri from Newspapers, 1808 - 1854, does not include a William Marshall or a John Marshall in our area of interest, nor does the 1830 Federal Census. [I have a note that says: "1834 Administration of Estate National Archives Microfilm 234, Roll 300, frames 201-203 Death." A look at that record might be revealing.] William Marshall died in testate. His estate was claimed by his parents and his sisters about 1835. Interestingly, the William Marshall Case was the first case in the history of the Greene County Court. The History of Greene County, p.159 says of the matter:
The proceedings of the first county court may be thus summarized: Samuel Martin was appointed presiding justice for six months. Letters of administration were granted Joseph Weaver and John A. Langles [Langlois] on the estate of John [William? Or had "William" died and his son inherited his share?] Marshall, the wealthy old Indian trader, well known throughout Southwest Missouri in early days, and who had died sometime previously.
The papers relating to the Estate of William Marshall can be found in the National Archives in Microfilm 234, roll 300, frame 515. They have not not be researched by the editor. Among the more informative of Greene County, Missouri records are probate court files. A mainstay of genealogical research, they also provide a valuable record of early events of the county. Tow files are particularly interesting: those of William Marshall probate file (*#7365) and James Wilson probate file (#10269)We have received the Probate File of William Marshall additional from the Office of the County Clerk, Greene County Archives and Record Center, Springfield, Missouri and have begun entering some of it in this record. It will be some time before we get all the pertinent data transcribed. I do not intend transcribe the entire file. The persons who are in his account book have been listed because they are the ones who were present with him at the time. The goods in his account and his inventory have been included to show that types of items that were in use and in trade at that time. Some might find it interesting to compare those items with the items that were in Moses Read Grinter's Trading Post on the Kansas Delaware Reserve about 25 years later. Moses Read Grinter was the spouse of William's daughter, Anna Marshall. (See the introduction to the Papers just below and the listing of Henry Marshall's accounts following that. The material is entitled, William Marshall: Indian Trader of Delaware Town. Probate File with Name Index):
Sections 1 and 12, township 27, range 23 of the original survey map of the area. (Map and field notes obtained from microfiche copies provided by the Missouri Department of Natural Resources in Rolla, Missouri. In section 12 was the Delaware Village also known as Delaware Town. [This town founded about 1800, was about ten miles southwest of Springfield, Missouri.] The surveyor's field notes, made in 1835, stated that "The Old Indian Village Delaware lies ... on the west bank of the James Fork of [the] White River. [The village was located about ten miles southwest of Springfield according to the History of Greene County, p. 721.] That history also said that, "The traders were respectably domiciled." (Ibid.) It is inhabited by one family only of whites and is in Ruins a few dilapidated cabins only remain on the site. There is 3 other settlements & cabins in this section of River." From the autumn of 1822, when R. I. Holcombe claimed about 500 Delawares moved in to Southwest Missouri to the early 1830s, Delaware Town had been a thriving community. By 1835 it was abandoned ... This is the first of a series of Greene County Archives and Records Reference Guides which will be available at the Archives and other places ...

For Greene County the period from approximately 1820 to 1835 was quite unlike any settlement which followed. For some of that time the Delaware Indians had legal possession of the land and occasionally the Osage hunted the area. R. I. Holcombe in his History of Greene County 1883, reports that "after ...1785 [French Voyagers from Ste. Genevieve] made ... explorations ... into this area." Holcombe surmises they came as far west as present day Barry or McDonald counties. Failing to find any "gold and silver" these men reported the presence of lead, and undoubtedly the fur-bearing animals which populated the region. From two of Greene County's probate records can be found important documentation for this period.

For example in 1833 the following notice appeared. "Public Sale at the Store house of Joseph Rountree ... the remaining property of Wm. Marshall dec'd." Another notice announces "There will be sold . . . at the Store House of Joseph Rountree ... Bear, Dear, Racoon, and Other skins, and other articles To Tidious [tedious] to mention." The sale was set for May 1, 1833. [This sale was also probably for the possessions of William Marshall, but one cannot be certain from the language used. Editor]

From William Marshall's probate inventory, which exists in a collection of papers sewn into a small booklet, there is a long listing of the types of goods the man sold. Besides the items one might expect to find Marshall had 15 Machanaw [Makinaw] Blankets. 2 paper Indian trenkets, 2 Tommachawks, 1 Indian Bridle, [1] lot of Bears oil viz [being] 212 [pounds], 4 Dr3ssed Deer Skins, 1 lot of Salt - 1527 [pounds], 28 Otter skins, 1 Lot of Bear Skins 122, 1 [lot] Shaved deerskins - 6297, 1 [lot] hare Red & Gray [skins] - 837, 1 [lot] Racoon Skins - 722 [in number]/ through was a reference to one lot of Wolf, panther cat, and muskrat skins numbering 17.

The administrators of Marshall's estate were Joseph Weaver and John A. Langlois. Weaver came to this area from Lincoln County, Tennessee in 1830. (Holcombe) In their inventory they reported that Marshall had six slaves; a December 15, 1835 document reports their sale. John A McCarrah bought Jem for $550, and John P. Campbell purchased Henry for $601, J. M. Shockley bought Paddy for $310 and Joseph F. Danforth got Charley for $466. Charley was a "Mulatter Man" according to the inventory. There is another reference to him being paid for "Packing skins" and also to "Friend's Boy [possibly the slave of Augustine or William Friend who settled here as early as 1818 according to [Holcombe] for work on skins."

These references to skins give some clue to the large involvement Marshall had in the fur trade. Marshall, James Wilson, and William Gillis also dealt in furs among settlements which included Delaware Town and Cow Skins [on Cowskin Creek]. [The part pertaining to the latter two has been omitted. Editor] Marshall's dealing with the Ste. Genevieve firm of Menard & Valle appear to have been on a much larger scale than Wilson's. According to the account sheet in the file Marshall owed the firm $5398.86 by 18 June, 1833. There was further debt of $2591.32 "for which he became responsible" making Marshall's account with Menard & Valle at $7990.18. An August 1, 1832 notation refers to "Sundry Sent per Indian Saunders." Apparently Indians were involved with the commercial as well as the trapping aspects of the business. William Marshall had credits to his account with the firm to offset his debt. On July 2, 1832, he had sent "Sundry Furs and Skins" totaling $1243,54, On November 6, 1832 credit for 27 Gallons bear oil valued at $23.62.

Obviously Marshall was conducting a large business considering the sparse settlement of the area. Among the items in his inventory were 6 pack saddles and 36 horses and mules. There is a receipt on July 13, 1833, for the "sum of forty one dollars and seven cents for Haling [hauling] a load of paltry from friends [August Friend, probably] on Cow Scin [Cowskin] to Joseph Rountree on James fork of White River." (Delaware Town was on the James fork of White River.) James Wilson had a trading post there as did Marshall. Another receipt of April 8, 1833, showed payment to the same man, Joseph Parten, for hauling 2348 lbs of paltry from "A. Friends on Cow Skin . . . James Rountree at $175ct per Hundred." There is another estate credit of March 1833 account to Wm. Friend & Son "To 32 ft of Berr Skins at 25 feet - 5.00" and one from 1832 to "Roher Burch - August 14 Credit By Skins & Wax 2.58.

The accounts Marshall carried included the names of Ames, Benjamin, Nathaniel, and Madame Kimlerlin [Kimberling] , Joseph Philibert (who with associates from St. Louis carried on a trade at Delaware Town) and William Gilliss. A note of October 6th. 1829, for the $4.50 states "I will pay Mr. Wm. Marshall four dollars & fifty Cents for the Turtle party Dels. for article taking of yours." It is signed :Wm. Gilliss for Am. Fur Company" . . . In the Marshall inventory is another notation which lists "One lot of Indian pledges consisting of Arm Bands [,] breast bands [,] broaches [,] leggins & c & c valued at $2.00. Apparently, Marshall held these items as collateral for credit accounts.

Joseph Weaver and John A. Langlois, as administrators of Marshall's estate, attempted to settle accounts with Menard & Valle. There is a receipt of December 1, 1833, for $5000.00 received by Pierre Menard "surviving Partner of the firm of Menard & Valle" and witnessed by "Joseph Weaver and John A. Langlois . . . September 29, 1834 . . ." was received by Pierre Menard and witnessed Felix Valle and J. N. Amoureux; (The Chouteau, Amoureux, and Valle families were prominent in Ste. Genevieve.) From the sale of Marshall's slaves $736.25 was sent to :Menard & Valle for Value Received St. Genevieve 8 July 1833.

According to Holcombe, James Wilson, William Gillis, and William Marshall all had "Squaw" wives. Weaver and Langlois stated to the Greene County Court that William Marshall had "died intestate so far as they knew . . [and that] they believed the said deceased [had] . . . one Brother living on Red River . . . father and mother . . . living in Ohio, and one or two sisters." The two administrators agreed to "pay over according to law all assets which shall come into their hands." The conclusion drawn from the Marshall administrators statements was that William Marshall had no children. That was not the case.

In a sworn statement Thomas B. Wright said that "dec'd. Acknowledged Said Children to be his Heirs & . . . that he feared that his Children would be cheated of his property . . . Meaning the Children then & there with him begat of his wife Priscilla . . ." Nathaniel Kimberling's deposition, also sworn on march 11, 1833, states he was "acquainted With Wm. Marshall for and about two years and heard him . . . say . . .if it was not for his children he would not work any more but the[y] were being unfortunate half I[n]dians . . ." George Yocum, who swore to have known Marshall for 9 or 10 years reported that Marshall had made the following observations "apparently in much concern viz -that he was . . . [concerned] his children meaning those begat of his wife Priscilla [Note!] would be wronged out of their inheritance of his property in the present unsettled Situation of his affairs . . . " Concerned over the legal status of his wife and children ,Marshall was afraid they would not receive any of his estate. [This is the first time that we have seen "Priscilla" named as a spouse of William Marshall. Is she the same as Elizabeth "Betsy" Wilaquenaho?]

As previously mentioned, there were sales of Marshall's goods at the storehouse of Joseph Rountree. Another probate notice dated 27 March 1833 announced " . . . there will be sold at the House of William Marshall, Deceased, on the 18 of Aprile next . . . Horses Cattle . . . Kitchen furniture [and] one improvement at the Late Residence of . . . Marshall [at the mouth of the Finley according to Holcombe] . . . and one improvement at Old Delaware Town." From these sales, after settling with Menard & Valle, and various other claims such as "James Kimberling for the year 1832 . . . [for] for cutting out flaw in gunbarrel" and to "Joseph B. Murray ten dollars for "feading and takeing care of a stock of Indian cattle . . . Sept 10, 1835," the administrators were able to turn to the claims of the "legal" heirs.

Through the County court William Marshall's father, mother and others petitioned for shares in his estate. It appears that in spite of the depositions given by various of Marshall's associates as to his wishes. Marshall's wife Priscilla [that is, Betsy Wilaquenaho?] and her children were excluded from inheritance. There was no receipt of a widow's dower; perhaps there had been no marriage recognized as legal. Whatever the case, Marshall's other relatives received the estate. Loring R. Brownell. acting as "attorney in fact for the . . . named Heirs, received $2676.78 "being the amount ordered to be [distributed to] . . . the legal Heirs of the said William Marshall . . . and in full of all the heirs . . . except Samuel B. Marshall." Samuel B. Marshall signed for $32,13 "in part" of his share on 24 November 1835, and for $00 in "full" for the remainder.
To date we do not know the full outcome of the probate of William H. Marshall regarding his Indian children. It appears from the document cited below, that they received a part of his estate, albeit some twenty-three years later.
Osage River Agency, K.[ansas] T.[erritory]
April 14, 1858
Friend Robinson: I would [appreciate it] if you would see Henry Tiblow [spouse of William Marshall's daughter, Mary Ann Marshall], and inform him the claim money due the heads of W. H. Marshall is now ready for distribution. It will be necessary for Henry Tiblow to assure [?] an Power of Attorney for the other heads and bring it over himself, and I will pay the amount over to him to receive. The Power of Attorney authorizing him to receive the money must be signed by John Marshall, Ann [Marshall] Grinter, Mary Ann Tiblow and Rosanna [Marshall] Grinter [spouse of Moses Read Grinter]. This paper will be attached to a [portion not included] signed by Henry Tiblow and forwarded to Washington with the original claim [not found] and it will also be authorized by Mr. Tiblow to keep my voucher which is necessary in processing [the] amount. I had cleared up my amount [portion not included] to close of last quarter (mar 31st) preparatory to turning over the office to my successor but he has not arrived as yet, but $6000 of claim money has been credited to my account. [portion not included].

p. 1 Of Probate File. Inventory of William Marshall property decd.. File 10th of May 1833. Jno. Campbell, Esq. [?] Marshalls Estate

p. 2. Amt Brought over
[1] Bay Horse
1 ox waggon
1 Seed horse
1 Bare Share plow
1 Saddle, Saddle Bags & Martaingells [martingales]
1 Black Cow & Calf
1 Red do " do
1 Balld [bald] face Steer
2 calves
1 do
3 3 years old steers
1 Calf
1 White Cow & Calf
1 White face Cow
1 Red Cow Short Tail
1 Red Bull yearling
1 White Cow
1 Yolk [yoke] Steers
1 White backed Cow
1 Yolk Steers
1 Mule Steer
1 White Cow
1 Bull
1 Yolk Steers
1 White hafford [Hereford]
1 Black Cow & Calf
1 White Bell Haffer [Hereford]
1 Yearling
3 Steers
1 Black Bull
1 Red Cow
1 White Steer
1 White Face Cow
1 White Backed Cow
1 Red Cow
1 Red Cow
1 White Cow Red Head
1 Yolk Steer
1 Red Calf
1 Muley Calf
Carried Over

p. 3 Amt brought over
1 Ox & Tongue Chaine
1 Negro boy (Henry)
1 Negro boy (Jerre)
1 Negro boy (Paddy)
1 Negro boy (Frederick)
1 Negro Girl (Betsey)
1 pair hand mill Stone
1 Cart
1 Improvement Call [?] Residence
1 do at the hill
[Some of the items are below were difficult to read and the transcriptions may not always be exact may not be exact]
Cash [$] 266.04 1/4
In Specie 365.00
Bank Note of U. S. Supposed to be Counterfeit Forty Dollars
Note of hand 18.83
1 Note on John W. Burns date Jany 18 - 1833 2.00
1 " " David Jackson on " 16 - 1833 3.10 [?]
1 " " Jesse Blackwell " Dec 18.1832 42.77 1/2
1 Note " James Draper - No date 13.46
1 Note " Aaron Friend date June 28.1832 28.00
1 Note " James Cawfeild " Dec 1832 $14.62 1/2
Py an/4.00 10.62 1/2
1 - do Boring and Borden date March 16- 1832 24
1 - do John H. Clark date Dec 19-1832 15.00
1 - do Samuel Teas date March 19-1832 9.31 1/4
1 - do John Fitch date 11 Dec-1832 [?] 10$ by br/1.00p 9.00
1 - John M. Stephens 5 Jny-1832 13.87 1/2
" Dew [due] bill of Wm. Gillis - date October 6-1829 4.50
The order of Wm. Friend date Sept.20-1832 2.00
Book account after Credit Given
John Tweady's acct 58.36 3/4
Watson Tweady " 14.75
Marshell Tweady - do 13.50
James Kimberlin - do 13.50
Robert Burch - do 3.17
Owen Cawlfield - do 30.28 1/2
Joseph Poter - do 20.22 1/2
John Allen - do 1.76 3/4
Nancy Allen - do 9.23 1/2
John H. Glover - do 36.56 1/4
Benjamin Kimberlin - do 2.39
Nathaniel Kimberlin - do 30.25
Murery [?] )243.79 3/4 8.95 1/2

p. 4
Madame Kimberlin acct 2.65 3/4
James Draper 59.21 1/4
Caswell Beckham 17.81 3/4
Drury Merrit 13.34 1/4
William Freinds 4.68 3/4
Auguston Friends 13.93 3/4
William Feinds (The Fiddler) 5.25
Edmond Tankersly ??.15
John Denton 19.10 3/4
John Fitch 162. 1/2
James Caulfield 15.70 1/4 $146.89 1/4
Isaac Brisco $2.04
John Pennington Senr. 16.79 1/4
Jonathan Denton 3.93 3/4
John Denton 1.48 1/4
Thomas Caulfield 11.04
Thomas Patterson 2.04 1/4
Albert Allen 0.93 3/4
Robert Leather 6.87 1/2
Joseph Price 13.75
Asa Pool 6.57 1/4
Richard Loch 9.58 1/2
Beverly Apperson 354.75
A. S. Reed .50
John Fulbright .25
John Sheperd .25
William Chestnut 430.01 3/4 2.50
Paul Garrison 1.00
Samuel Scott 1.50
Joseph Wamack 4.42
John William Esqr 1.00
Jesse Friends 8.57
James Garrison 1.12 1/2
Charles J. Teas 2.00
Joseph F. Philibert 2.00
Samuel Teas 1.50
John Lock 9.46 1/4
Benjamin Chapman 137. 1/2
Sorris C. Derrison 1.68 3/4
Andrew Friends 1.48 3/4
James Friends .16 3/4
David Williams $43,27 1/4 > 762.1/2
Amt. Carried over

p. 5 Amt. Brought Forward
James Williams Acct 17.62
John Prewit 17.37 1/2
Edward Mooney 1.00 [?]
Spencer O Neals 3.00
Jane Freinds 2.50
Aaron Griffith 1.00
A. S. Bone 1.50
Robert Alexander 1832 18.77
Moses Winter paid this 18 of April 1.50
Robert Alexander 1833 46.29 1/4
Frizell 8.26 $101.81 3/4
The foregoing notes and accounts manny of them very doubtful. Some of them ____ that James Riss [?] gone from this part of the state and also know not where.


p. 6 Store Goods
Amt Brought over
2 Caster hats
2 Rorum do
3 Wool hats
2 Leghorns Bonnets
1 yds [?] Apron Check 24 yds at
1 " do " 44
1 " do " 35
1 " do " 34
1 " do " 37 1/2
1 " domestic 42 3/4
1 " do " 30
1 " do " 35
1 " do " 34 3/4
1 " do " 6
1 " Calico " 29
1 " do " 11
1 " do " 28
1 " do " Curtain 28
1 " Gingham 19
2 " Bleached domestic 68
1 " Calico 4 1/2
1 " Tailored vesting [?] 2 3/4
4 " Brown domestic 124 3/3
1 " Red Ticking 26
3 2 1/2 point Mackanaw Blanket
2 Large Coffee Pots
5 Small do do
2 old pins cups
15 Mackanaw Blankets
4 do do small
1 Cambert Cloth
6 Curb Chains
1 Box hook & Eyes
1 1/2 Doz Brass thimbles
4 1/2 " Saddles [?]
5 augers 19 grs [?]
3 Black Lead pencils
2 Black Smith files
13 Hand Saw do
Amt Carried over

p. 7 6 1/2 Doz Iron Spoons (Table)
15 Sides Comb
17 Cakes Shaving Soaps
1/2 Doz Ridding Combs
1/3 " do do
10/12 " do do
2 " do do
7 " paper pins do
9 Gross Shoes Maker Tackes
1 paper Vermillion pains
3 pr Shoes Burshes
4 Sets Knives
11 pr Scissor
1 coffee mill
2 Tommahawks
1 pr Spures
2 Seal Skin Caps
4 Curry Comb
1 paper Mackeson awls
10 " Warm Tea
6 Boxes Lees Pills
1 do buckets & Steels
1 do beads & Buttons
1/2 Doz Small Scissors
8 Box Blacking
1 paper Sewing Awls
7 Tucks combs
22 Sets Knitting needle
4 Gun lockes set
3 Bridle Bitts
3 Large Tuck Combs
3 Gun Locks
1 pr Cards No. 6
7 Shoes Knives
111 Buckers do
4 do do
5 do do
1 Set Knives & Forks
Amt Carried over

p. 8 Amount Brought Forward
2 paper Indian Trinkets
3 Tuck Combs
1 Pewter Cock [?]
3 Buchers knives
5 Shoes do
1 paper Sewing Silk
1` Doz Scissors
1 Bunch Buttons
3 ps [?] hats Binding
1 pairs Busches
1 Box x 13 ps Bubbon Ribbon?]
1 ps Red Territain [?]
1 pr Steelyeard [?]
1 " Suspenders & Shoes hammers
1 " Saddle Bags
1 Set Bridle Leathers & Crupper
4# [?] Flax Threads
2 Bunches Cotton Thread
1 paper Thread
1 1/2 pr Shoes "
3 Bunches White Beeds
1 ps [?] Bed Ticking 47 3/4 yds
1 " Blue Strowding 6 "
1 " Curtain Calico 25 1/2 "
1 " blue Strowding 12 "
1 " Figd. Muslim 7 "
1 " Calico 26 "
1 " do 29 "
1 " do 19 "
1 " Bleached domestic 9 "
3 prs Socks
12 Cotton Shawls
12 Leather Surcinghrs [?]
9 Worsted do
2 prs Martaingills
4 Bridle
2 Small Glassess
1 Gross Black Button
1 Bunches thread (for shoes)
5 Razor Strops
1 Doz prs Shoes at
Amt Carried Over

p. 9 Amount Brought Forward
2 Craps [?] Robes
13 Black Barcelona Handkerchiefs
1 ps [piece?] Bank up Cords 13 yds
1 " Cotton plade [plaid] 34 "
1 " do do 33 3/4
1 " do do 33 1/2
1 " do do 42 3/4
5 Mackanaw Blankets
1 ps Calico 12 yds
1 " do 9 1/2 "
2 " do 50 1/4 "
1 " do 28 "
1 " do 33 1/2 "
1 " do 3 1/2 "
1 " Strape [striped?] domestic 26 "
1 " Calico 28 1/2 "
1 " do 28 "
1 " do 28 1/2 "
1 " do 8 1/2 "
1 " do 28 1/4 "
1 " do 8 1/2 "
1 " do 16 "
1 " do 3 1/2 "
1 " do 14 "
1 " Staps domestic 33 "
1 " do 14
1 " Checked " 30 1/4 "
2 " Calico 41 "
1 " Checked domestic 30 "
1 " Curtain Calico 17 "
1 " Winbriggs [?] 19 3/4 "
1 " Bed Ticking 11
1 Black Silk Cravatte
46 Cotton Shawls
4 do Handkerchiefs Gingham Straps
1 Mackanaw Blanket
1 ps Calico 30 yds
1 " do 14 "
1 " 28 "
1 Gingham 18 "
1 " Bleached domestic 20 "
Amt Carried over

p. 10 Amt Carried Over
1 Red Strowd
1 ps Red Flanneles 12 1/2 yds
1 Lady Cloke
1 ps Bombazett 28 yds
1 " Red Crap [Crepe?] Lisse [?] 26 1/4
3 Cassimere Shawls
1 ps Straps domestic 48 3/4
10 Silk flax & Bandana Handkerchiefs
19 Cotton Handkerchiefs
22 do do
4 do Shawls
12 do Cravatt
16 do Handkerchiefs
1 ps Bleached domestic 11 1/4
1 " Muslin " [?] 5 "
57 Glass Thumblers
1 pr Scales & weight
1 Bag Shops [?] 5 1/2 [?] at
1/2 Doz Belts (Ladies)
1 Bare Soap
1 Small Brass Kittle
1 Second Size " do
1 Third do " do
1 Large do " do
1 Kegs Alspice
1 Canestor & Indigo
1 Kegs & madden
1 Lot of tallow 42 1/2 at
1 Kegs Ep. Salts 40 [?] at
3 do powder 125 1/2 at
2 " pepper 13 1/2 [w?]
4 " Empty
1 Lot Bees wax 349 [w?]
1 pr Spectacles
4 Frying pans at
1 Lot of Bacon 180 [w?] at
1 do Tallow 63 [w?] at
3 Cap__ [?]
3 Blind Bridles
1/2 Doz Coffee pots
Amt Carried Over

p. 11 Amt Brought Forward
9 Tin Cups
2 do pans
2 prs Shoes
1 Indian Bridle
5 Comum Bridle
4 prs Bridle Leathers
4 prs Martingales
9 Butchers Knives
1 Bare Soaps [?]
20 gross of Augers
7 Bell
one Lot of Bears oil 212 [unreadable]
4 Files
1 Coffee Mills
l Lot of hogs lard Keg & all m 37 1/2 lbs [?] 20 off [?] 17 net
1 Bridle Bitt
3 Curry Combs
1 pr Sturup Prow--
26 Cakes Shaving Soap
2 Set Knives & Forks
19 ostrich Feathers
7 hand Saw files & 3 prs scissors
4 Dressed Deer skins
1 Man Saddle
1 Set of Smith Tools
2 Red & Riggins
1 Lot of Iron 309 lbs at
6 Halter Chains
1/2 Bare Lead 17 1/4 lbs
1 Lot of Steel 54 lbs
1 Small Kettle
1 1/2 Bushel Wheat
1 Barel & of Lot of Teumphy [?]
6 Bed Cords
1 Skillet
1 Lot of Salt 1527lbs
3 1/2 Doz plates at
3 1/2 do Bowles "
5 Sets Cups & Sauce 1 Sugar Bowls & 1 Kitchen etc. [?]
1 ps Plaid 30 1/2 yds at
1 ps Blue Cloth 19 " "
Amt Carried over

[I have decided not to continue the entering of more items. I think that the general reader can see that there were a lot of items in the inventory. There are several more pages to this inventory. Editor]

There is an 1835 document entry in the estate papers that appears to be a summary of the estate of "Colonel William Marshall'" on 9 June 1835 provided by Administrators Joseph Weaver and John A. Langlaws. [As it is difficult to read, some of the data may not be correct]:
To cash in specia [or, special account] [$] 266.00
[1833] To cash in banknotes forty dollars supposed [crossed out to be spurious 365.00
To notes of Hand Sundry 177.64
To amounts of sales and hier of Negroes 4855.00
Belonging to said estate for three months
July 20th. To amounts of additional sales and hires
Negroes and security three months 95.80
Oct 21 The hire of Negroes the 3d/1 months [crossed out] 59.75
Jany 5 The amount of private sale 51.50
[1833] To amount of Indian sales [Grinter?]
[One word illegible] Pierre Menard's [two words illegible] administrators 5000.00
Apr 26 To amount of hier of Negroes on the 3rd day of November 1834 135.00
1834
November 3 To hier of Negroes on the 3d day of November 1834 1150.00
Jany 31st to Hier of By Charley 31st Jany 1835 37.50
___________________
$12126.72
Feby? 21d To amount of sales of Negroes made on the 24th
of ________ 1835 1921.00
To amount of her of Negroes until they were sold19
days [Arrow points to entry after 37.50 above] 6.67
____________________
$14064.59
(Land and Property Settlements of Greene County, Missouri, LDS Microfilm #0940650)
William's estate was divided evenly between his parents and his sisters and brother Samuel Marshall. [William Marshall Estate Papers) It appears that his Delaware children on the Kansas Delaware Reserve also received $6,000 from the estate of their father or from another settlement of William Marshall's account. The following is a copy of a letter that was sent to Mr. B. F. Robinson, the U. S. Indian Agent for the Delaware at the time:
Osage River Agency, K. T. [Kansas Territory] April 14, 1858.
Friend Robinson: I would be glad if you would see Henry Tiblow, and inform him the claim money due the heads of W. H. Marshall is now ready for distribution. It will be necessary for Henry Tiblow to secure a Power of Attorney from the other heads and bring it over himself, and I will pay the amount over to him. The Power of Attorney authorizing him to receive the money must be signed by John Marshall, Ann Grinter, Mary Ann Tiblow [Henry Tiblow's wife], and Roseanna Grinter. [All of these persons were the children of William Marshall, although, there is a question regarding the relationship of John, who may have been son William's son.] This paper will be attached [portion not included in the copy] signed by Henry Tiblow and forwarded to Washington with the original claim, and it will authorize Mr. Tiblow to keep my vouchers which is necessary in processing my account. I had closed up my account [portion not included in the copy] to the close of last quarter (March 31st) preparatory to turning over the office to my successor, but he has not arrived as yet, but $6,000 of claim money has been credited to my account. [Portion not included or not relevant. Very respectively, Maxwell. Mc Caslin (Pratt Papers, Index 142, Roll 5) [The $6,000 mentioned was probably the amount to be paid to the Marshall children.] Unfortunately I have been unable to find "the original claim" mentioned. That document might provide some useful information. [Why doesn't this document include his son, William Marshall? The lack of inclusion of Lucinda Marshall helps to confirm that she was not William Marshall's daughter. Editor]
It appears that William Marshall's estate was also probated in Miami County, Ohio. In any event, there is a William Marshall there whose estate was probated on 21 April 1845. (Miami County Probate Court Index 1807-1850: Case No. 0779, Probate Court Book B, p. 0176) There is a reference regarding William Marshall's that may not have been researched: National Archives Microcopy 234, Roll 300, frame 515 (Fort Leavenworth Indian Agency, 1824 - 1836, the pertinent portion dated about January 1834)
Times New Roman 12 point. Laser copy 9 November 2004. Photo check A. TH