MARGARET "MAGGIE" LOUISE OWEN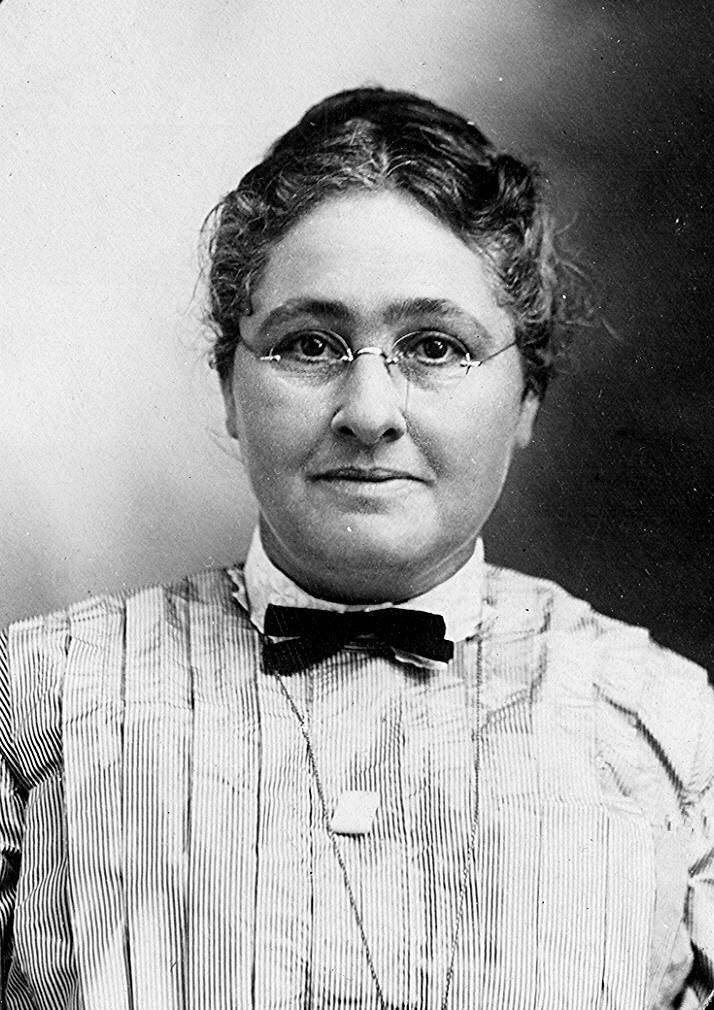 Margaret "Maggie" (Owen) Torgeson ( Hahn Collection)


The Handwriting of Maggie Torgeson from her Bible (Hahn Collection)

Margaret "Maggie" Louise Owen was born on 13 September 1870 at Waverly, Washington Township, Bremer County, Iowa. A note in her Bible says "My birth place, Margaret L. Torgeson." [and in a different hand, probably her mother's, Addaline (Curtis) Owen Varner] "You were born in Waverly, Bremer Co, Iowa." A note from Dorothy (Christensen) Waters [grand-daughter, daughter of Mary "Mae" (Torgeson) Christensen and Robert "Bob" Christensen] to Thomas Hahn also says that she was born in Waverly. However, to date, no birth record has been found for her. It appears that her birthday was later than the enumeration of the 1870 Census at Waverly.
In a letter written by Margaret (Owen) Torgeson in 1939, she included an article that she had written, entitled. "A PIONEER LIFE."
I wrote this one winter night after dad [Thomas Torgeson] passed away. It all seemed so real I had to write it. A Pioneer Life. When I was 1 year old [about 1871] my parents [Owen Anderson Owen and Addaline "Addie" T. (Curtis) Owen] moved to Kansas from Iowa where I was born. My father hired a man to bring us as they were moving out here. There were five families in all moving at that time in moving wagons drawn by oxen. It took six weeks to make the trip. We landed in the Solomon [River] Valley and lived for a time in a sod house with [a] ground floor and when it rained the only dry place was under the table. Our table was home made and our chairs were nail kegs and boxes. It was hard living for a time. Finally my father got a job on the [railway] section. As time wore on he was made section foreman, and that was his work for a good many years. Then he moved to Solomon City, still held his job. When I was between 8 & 9 we were moved to Parkerville, Kansas. For 4 years he was a section foreman, then he took over a job as a grain buyer for a man by the name of Joe Drake. When I was 13 years old my father bought a farm 3 1/2 miles from Parkerville. There was a large family of us, twelve in all. Never was there more than 4 at a time as sickness and death took from our loved ones. I had 5 brothers and 7 sisters. I never had a brother live to be 5 years old... I was married at an early age, 15 [in 1886]. I never had much girl life. I was married a year and 7 months when our first baby girl [Mary Mae Elizabeth Torgeson] was born [in] 1889. Our life was a busy one raising a family and working hard to care for them but we pulled through somehow. My second baby was born, a boy [Floyd Nathan Torgeson]. My how happy, a girl and a boy. We did not stop there. In 1891 another boy [Allan "Al" Nathan Torgeson] came. In 1893 a little girl [Mildred Anetta Torgeson] came to make us happy. In 1907 my father [Orson Anderson Owen] passed away and our oldest girl was married. It sure seemed sad to have it all come at once. One should not feel so when their children marry, but it leaves such a vacancy in the home it takes a while to live it down. In a year's time our oldest boy married. In the meantime we had births and deaths in our family, still we both kept right on working early and late, then sickness and death visited us. We had two little girls died [Mildred Anetta Torgeson and Merle Agatha Torgeson], just one year and three months between them. Another girl [Florence Vivian Torgeson] took sick in another year. I began to feel like I was going to have all my little girls taken. Things took a turn for the better. I have raised them all up to a pretty good age. Four of them live close to me. Three others in other towns. My husband and I had our 50th anniversary. in 1937. My husband passed away in 1939. I have 12 grandchildren, 4 great-grandchildren. There have been some very interesting times in my life, some not so interesting. My life has been very full. Hard work, but lots of good times too. I don't know if I would have made it any different only it might have been better in some ways. One has to have just about so much suffering along with the good and the bad. he Lord has been with me through all. There have been times when I thought I could not bear no more, but the good Lord made everything possible for me to bear. Sometimes we seem to be far away, but if we come to him and ask for help he never turns away. He is always close by with his loving arms to protect and care for us. Since I have lost my companion I am still learning lessons.
Maggie Torgeson also said in a note: "I wrote this one night while Dad was sick [about 1939].
TORGESON FAMILY. Mae [Mary Elizabeth] was first born 1887. 1 yr. 7 months later a boy [Floyd Nathan] came to us, then 2 1/2 later another boy ] came to bless our home, Allen [Nathan] by name. 1 yr. and 8 months another little girl came to us always welcome, Mildred [Anetta] was her name. 3 1/2 years still another girl, Florence [Vivian] by name. 2 Yrs later still another little one, a girl Merle [Agatha] was her name. 2 yrs later Katherine ["Kate" Margaret], still plenty of names. 2 years later another sister to all these girls, Gladys [Louise]- Brownie seemed to suit her better so she went by that name for a long time-then last but not least came Bernice [Imogene] which made 9 in number by the old saying is true the more the merrier. [She did not mention the deaths of Mildred at just over eight years and Merle at 2 1/2 years old, but she did later in a little item she wrote called "A Pioneer Life," above. "Mae was the first to leave home when she [was] at the age of 20, a little better than a year later Floyd took unto himself a companion-then no more marriages for a while. Allen was away from home a great deal, then he went away to war 1 1/2 yrs then he came home to be one of us for a while again. He worked for Torgeson Bros. for awhile then he went to Topeka, he then met his fate a very nice girl [Alice L. Kneith] and was married and started out for himself. Kate took a companion, Frank [Schump] by name. Later Florence took unto herself a husband [Walter Frederic Hahn] to care for her. There are two sweet girls [Gladys and Bernice] left to brighten a home for some good man, hope they get one. Mother and Dad have stood all of this fairly well." March 28, 1940. Kate's oldest son [Francis "Fran" Schump] took until himself a wife [Zita Southard], hope they have a happy life-also a contented one. 1940. Bernice took unto herself a companion [Thomas "Tom" Taggart] -hope for a happy married life.
In the Census 1880 for Parker Township, Morris County, Kansas, Orson Owen , her father, Orson Anderson Owen, enumerated as "O. Andrew Owen," was age 36 and was a railroad foreman. Her mother, Addie Owen, listed as "A. Francis T. Owen," was age 26 and was keeping house. Margaret Owen, enumerated as "Maggie "Owen, was age 10 and had attended school; her sister, Mary Owen was age 4 and had attended school; and her brother, Jackson A. Owen, was age 9 months. [He died young in Parker Township.] The only thing known of Margaret Owen's life in Parkerville was found in a newspaper item which said, "Parkerville Lyceum Declamation: Maggie Owen [at age 13 1/2]." (The [Morris County] Enterprise) From this we know that she attended school in Parkerville, but we are not sure where they lived at this time, that is, whether in town or in the country. Unfortunately, the 1885 Census entry for Margaret Owen and here family has not yet been located, but they were still living in Parker Township. It is not known whether or not her father was still a railroad foreman, but he was farming.
On 30 April 1886, Margaret "Maggie" Louise Torgeson married Thomas Torgeson , at her parents' home at Parkerville. (8 May 1886 White City Whig), although their wedding certificate says that they were married at Council Grove, Morris County, on 29 April. It it not known where they first lived at White City, but they later lived in a frame house across from the high school. The house was moved to a farm, perhaps in the 1960s.
The 1900 census says that they lived on Goodnow Street in White City. Tom Torgeson worked as a clerk in the grain business in a grain elevator and feed store for 13 years and was the Postmaster in White City (a Wilson appointee). Margaret lived the life of a housekeeper and a mother during these years. She had nine children: two boys and seven girls, two of whom died while they were living in White City.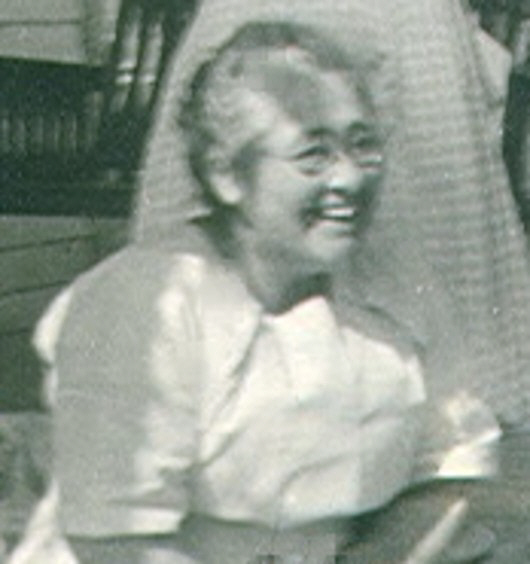 Margaret (Owen) Torgeson about 1916 at White City, Kansas (Hahn Collection)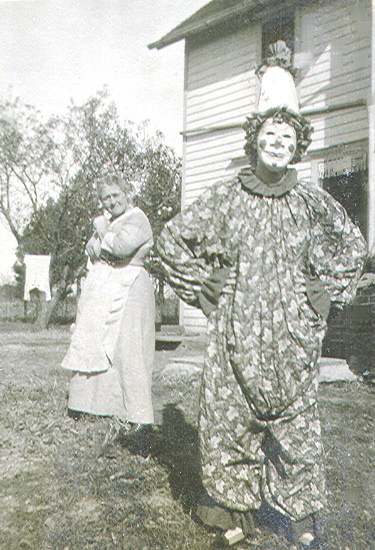 Margaret Torgeson wit one of her daughters, Kate or Gladys, in a Clown Costume. Note the long underwear "long Johns" as they were called in Kansas hanging on the clothes line. (Hahn Collection)
Her children were:
1. Mary "Mae" Elizabeth Torgeson was born on 6 November 1887 at White City, Rolling Prairie Township, Morris County, Kansas. She married on 6 November 1907, possibly at the home of her parents in White City, Robert "Bob" H. Christensen. He was born on 12 December 1878 in Davis, now Geary, County, Kansas, died in 1944 at Junction City, and was buried in the Highland Cemetery there.

2. Floyd Nathan Torgeson was born at White City on 14 June 1889. He married first on 2 June 1910 in Kansas, Alice L. Kneith. She was born about 14 June 1899, died at Topeka, Shawnee County, Kansas on 22 January 1941, and was buried there. Alice was from Jamestown, South Dakota.

3. Allen "Al" Gerald Torgeson was born on 31 December 1891 in White City. He married on 30 November 1923, Sevena "Nev" Larsen of Napa at Napa.

4. Mildred Anetta Torgeson was born on 27 August 1893 at White City, died in White City on 1 September 1900, and was buried in the White City Cemetery. She died of typhoid fever, diphtheria, or brucellosis.

+5. Florence "Flo" Vivian Torgeson was born on 23 March 1897 at White City. Florence Torgeson he married on 5 September at Topeka, Kansas, Walter "Walt" Frederick Hahn. He was born on 28 October 1895 at Muncie (present Kansas City. Wyandotte County, Kansas), died on 4 February 1967 at the Veteran's Hospital at Topeka, Shawnee County, Kansas, and was buried in the Mount Hope Cemetery in that city. Florence died on 5 October 1999 at Shepherdstown, Jefferson County, West Virginia, was cremated at Smithsburg, Washington County, Maryland, and her ashes were inured at the Mount Hope Cemetery, Topeka, Shawnee County, Kansas in the Spring of 2000.

6. Merle Agatha Torgeson was born in White City on 21 February 1899, died there on 21 September 1901, and was buried in the White Cemetery Cemetery. She died of either diphtheria or yellow fever.

7. Katherine "Kate Margarett Torgeson was born on 29 December 1900 at White City. She died on 23 May 1976 at Kansas City, Jackson County, Missouri, and was buried there. She married on 22 May 1918 at Kansas City, Francis Schump.

8. Gladys Louise Torgeson was born on 15 June 1902 at White City and grew up there. She married first, in Topeka, on 1 July 1933, Jack Murphy. Gladys married second, Joseph "Joe" White, in Topeka. She died on 20 March 1978 at Topeka, Shawnee County, Kansas, and was buried in the Mount Hope Cemetery in Topeka.

9. Bernice Imogene Torgeson was born on 28 March 1904 at White City. She was christened on 15 December 1912 at White City. Bernice married Thomas "Tom" Taggart at the Trinity Methodist Church at Topeka on 28 March 1941. She is living in 2005.
Additional information on the children of Margaret and Thomas Torgeson can be found under the entry for her spouse, Thomas "Tom" Torgeson.
About 1926, Thomas and Margaret Torgeson retired to Topeka, Shawnee County, Kansas where lived most of their lives in Topeka at 912 West l7th Street, a house that was still standing in 2004. Their children Florence, Floyd, Bernice, and Gladys lived in Topeka at one time or another. Gladys and Bernice lived on West 17th Street with their parents when they first moved to to Topeka. They lived together for several years. Their first house probably was just a block away from their parents. For several years they lived in the Toulon Apartment House in the 600 block of Topeka Boulevard, and then at 1124 High Avenue, next door to their sister, Florence and her family.
An unknown newspaper account of her Fiftieth Wedding Anniversary said: "Mrs. Torgeson, before her marriage was Margaret Owen, came to Kansas with her parents when she was 1 year old and settled in Solomon City..." (The remainder of the article is under Thomas Torgeson, her spouse.)
After retirement, Maggie and Tom Torgeson moved to Topeka on West Euclid Avenue) present West 17th. Not long after his death she moved to a smaller house on at 1843 Second Street, on the southeast corner of Second and Jewel Avenue, across the street from ________ Park to the north. In her later years, she later lived around with her children and sisters.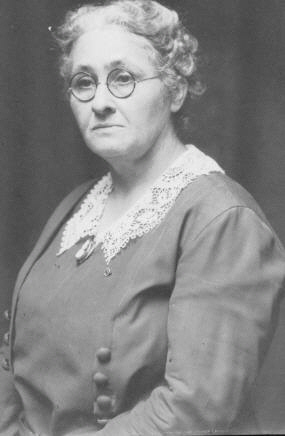 Margaret "Maggie" Owen c1920s at Topeka, Kansas (Hahn Collection)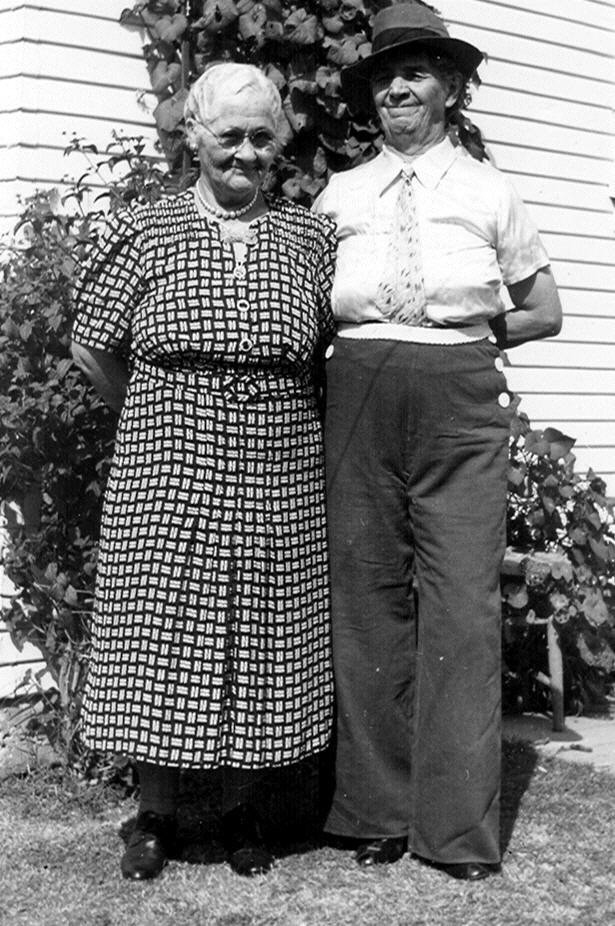 .
Maggie (Owen) Torgeson and a friend (?) in California on 1940 (Hahn Collection)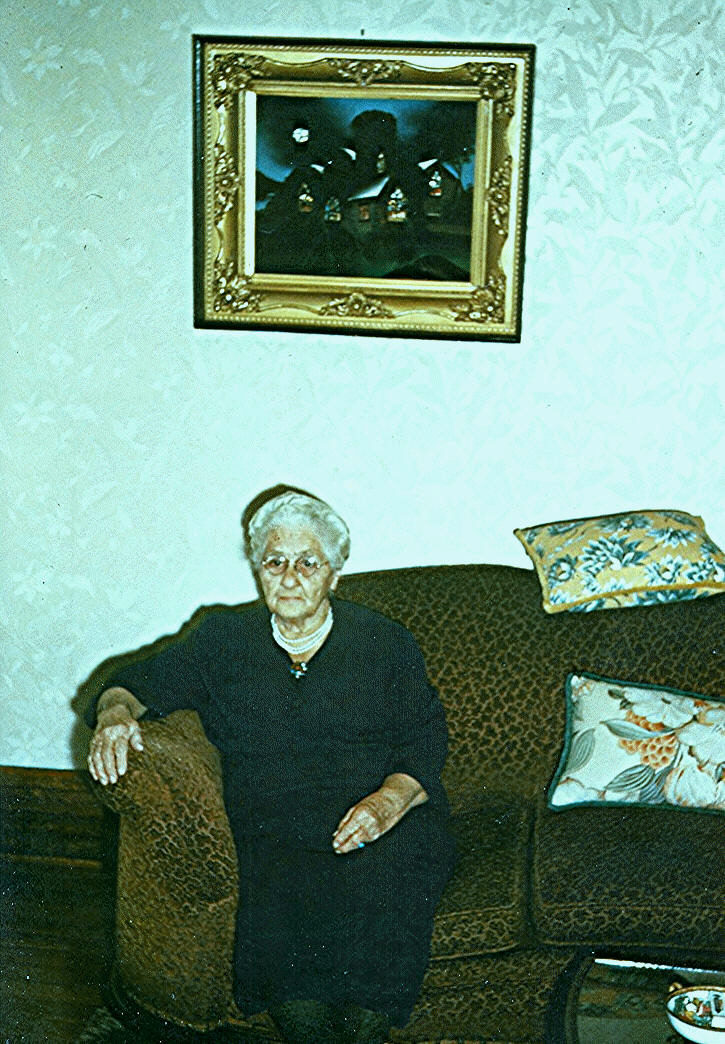 Margaret Own at Her Daughter's Home in Junction City, Kansas. Her grandson, Tommy Hahn. used to lie on this couch for his nap and look at the moon shining. It was made of mother-of-pearl. Later, the picture was in her daughter Bernice's house in Goodland, Kansas, and in 2003 was donated to the Victorian House Museum in that town. ( Hahn Collection)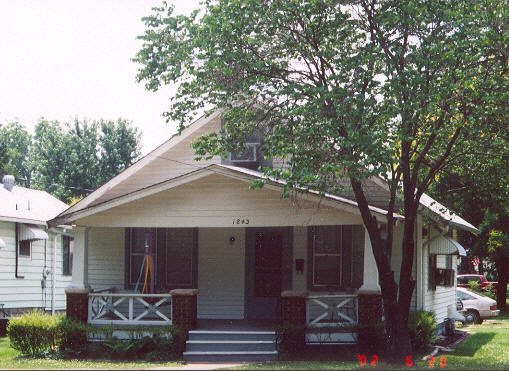 In the 1940s, Margaret Torgeson sold her house no West 17th Avenue in Topeka and moved to this house on 1843 Second Street, across the street from a pubic park. (Tom Hahn Photo)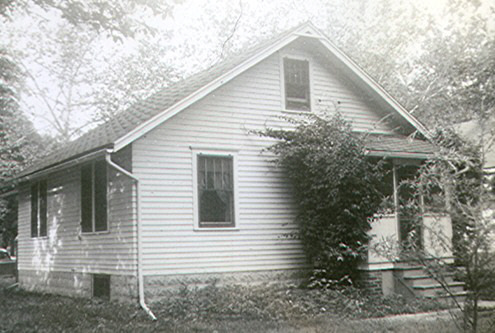 The rear of her house. I can remember shooting BB-guns out of the attic window with my cousin, Jimmy Schump, from Kansas City. (Walt Hahn Photo)
Margaret Torgeson was a quiet, dignified person who spent her life as homemaker. She was a good cook and a good house keeper. She enjoyed needlework and making quilts. She made nearly 100 quilts in her lifetime. Margaret liked to listen to the radio. The fondest memory of her grandson, Thomas Hahn, was making taffy and pulling it on the cold enclosed back porch in Topeka. My un-fondest memory is being put on the little landing to the basement which contained my nemesis--the awesome Hoover vacuum cleaner. She was at her sister Clara's home in Newton, Kansas when she died, on 29 October 1952. Her daughte, Bernice, and her spouse, Thomas Taggart, went to Newton from Goodland Kansas to make the necessary funeral arrangements. (Tom Hahn Photo)
Margaret Torgeson died at the Bethel/Deaconess Hospital, Newton, Harvey County. She had been visiting with her sister, Mary (Owen) Akey, in that city. Her certificate of Death, issued by the Kansas State Board of Health, and deposited with the Division of Vital Statistics as Registrar's No. 192/ No.52-015375, states:
Length of Stay (in this place) 6 days. Usual Residence 311 West 1st Street, Junction City, Geary County, Kansas. Name of Deceased Margaret Louise Torgeson. Date of Death October 29, 1952. Female, White, Widowed. Date of Birth Sept. 13, 1870. Age in years last birthday 8. Usual occupation Housewife. [At] Home. Birthplace Iowa. Father's name Arson [Orson] W. Owens. Mother's Maiden Name Adaline Curtis...Informant Mrs. Thomas Taggart, Goodland, Kansas. Cause of Death (a) Coronary Occlusion Due to (b) Arteriosclerosis. Due to (c) 402, Interval between onset and death 1 day....Autopsy No. I certify that I attended the deceased from 10-29, 1952 to 10-29, 1952. That I last saw the deceased alive on 10-29, 1952, and that death occurred at 7.40 AM, from the causes and on the date stated above. Signature H. K. Schmidt, MD. Address 210 So. Pine St., Newton , Kans. Date signed 10-29-52. Burial 10-31-1952 White City Cemetery, White City, Kansas. Date rec'd by Local Reg. Oct 30 1952. Registrar's Signature Allison Shroeder. Funeral Director Rex M. Moody, 213 Main St., Newton, Kansas.
Margaret Owen was buried in the White City, Morris County, Kansas Cemetery. The stone marker in 2000 was in excellent condition: "Margaret L. 1870," shares marker with her spouse, Thomas Torgeson.
Her obituary stated: Mrs. Maggie Torgeson Funeral services for Mrs. Maggie Torgeson, former resident who died of a hear attack Wednesday at the home of a sister in Newton [Kansas] will be at 2 pm Friday in the Methodist Church in White City
Survivors include seven children, Floyd Torgeson of 941 Ro...., Mrs. Walter Hahn of 1120 High, Mrs. Joe White of 121. of Topeka, Mrs. Tom Taggart of Goodland, Allen Torgeson in California, Mrs. Mae Christianson [Christensen] of Junction City and Mrs. Katherine Schump of Kansas City, Mo.
This is from a scrap of paper that was in her Bible. Only bits of it remain: My Funeral--Text wanted to be from 7 and 8 verses II Timothy Chapter 4 I have fought the good fight. [I have fought a good fight, I have finished my course, I have kept the faith: henceforth there is laid up for me a crown of righteousness, which the Lord, the righteous judge, shall give me at that day: and not to me only, but to all them also that love his appearing.] Hymns to be sung. Face to Face, in tha.... There will be no ....... Mother
Times New Roman 12 Point. Web Copy 29 July 2005. Corrected 30 July 2005. Photo check A. TH