Home Page
28 October 2006
Walter "Walt" Frederick Hahn

This article on Walter Frederick Hahn and his family is for family research and genealogy only. It may not be used for commercial purposes or without the permission of the copyright owner Thomas Swiftwater Hahn E-mail: swiftwater@lenapedelawarehistory.net or 3751 Schefflera Drive, Fort Myers FL 33917-2040.
His father Christian "Chris" Frederick Hahn)
His son Thomas "Tom" Frederick Hahn
His Grandson, Christopher "Chris" Frederick Hahn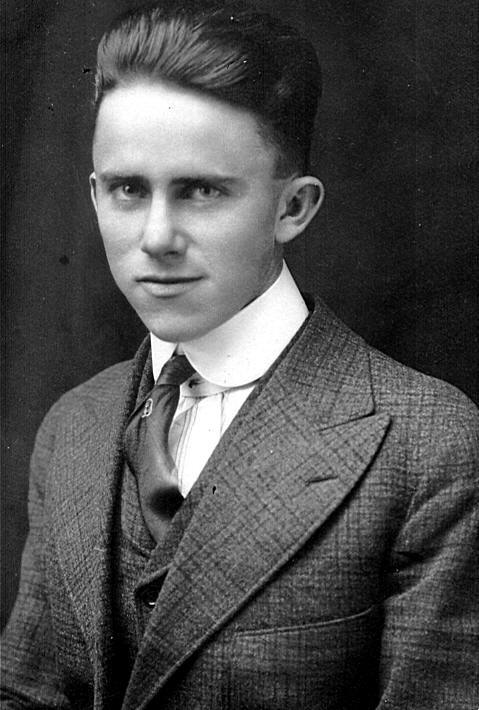 Walter "Walt" Hahn (Hahn Collection)


Walter Hahn's Handwriting from his son, Tommy Hahn's, Kindergarten Report Cart in 1932
Walter, known as "Walt" Hahn, was born on 28 October 1895 in the Stony Point area of present Kansas City, Kansas in Wyandotte Township, Wyandotte County. His delayed birth record says that he was born at Muncie, which was the legal and probably the mail address as well. It appears that he was born on a portion of the old Kansas Delaware Reserve allotted to his maternal grandmother, (Kansas Delaware)Mary Jane (Grinter) Defries, on Grinter Road, now known as 78th Street. This five acres of land had been deeded to his mother, (Kansas Delaware) Martha "Mattie" (Defries) Hahn, by her mother, Mary Jane (Grinter) Defries, in 1888. The property is about a mile north of the Grinter Place, the home of his maternal great-grandparents, Moses Read Grinter and (Kansas Delaware) Anna "Annie" (Marshall) Grinter.
Walter and his brother and sisters, attended the Stony Point School on Grinter Road. His father, Christian "Chris" Frederick Hahn, was the Clerk of the school, according to a 1907 school program. Walter told his son, (Kansas Delaware) Thomas "Tom" Frederick Swiftwater Hahn, that he went one day to high school in Kansas City, but that he was so intimidated by the experience that he did not return. For further information on the Christian Hahn Family's periods of residence in Wyandotte County and Morris County in Kansas, see the entry for Christian F. Hahn.
The Christian Hahn Family moved from Wyandotte County, Kansas City to a farm near Thayer, in Shiloh Township, Neosho County, Kansas, in probably 1912, when Walter would have been about fifteen years old. Eunice Marcelle "Becky" Beckman, the daughter of Walter's older sister, Marie Louise "Lou" (Hahn) Beckman, related that she (Louise) "kept house" in Parsons, Labette County, Kansas, in order that her brothers Walter Hahn and Edward "Ed" Oscar Hahn could go to high school in Parsons. Louise was a seamstress, so it seems likely that she probably did that while living in Parsons. She would have been about twenty to twenty-three years of age during the Hahn's stay in Neosho County. Edward --invariably known as "Ed"-- would have been about fourteen years old when high school commenced in the Fall of 1912. Although Walter told his son, Thomas F. Hahn, that he went to high school one day in Kansas City, Kansas--from Muncie--and did not go back, that does not mean that he didn't go to high school in Thayer, but it is odd that he never mentioned that he went to high school in Parsons. The Hahn Farm farm was about fifteen miles from Parsons, too far to commute each day, so the story seems likely to be true. Their nearest town was Thayer, five or six miles away. It is thought that they went to church in Thayer, so Walter had friends there. There is still a pond on the property which may be the same one where Walter Hahn told his son, Thomas F. Hahn, that he shot two geese with one shot. Aside from that story and one about his dog being strangled in the crotch of a tree while hunting, Thomas Hahn and his cousins do not remember their folks talking about their life on the farm. A photo of the farm house near Thayer is in the entry for Christian F. Hahn. For more information on the farm, see the entry for Christian F. Hahn.
From the farm near Thayer, the Hahn Family probably moved to White City, Rolling Prairie Township, Morris County, Kansas, about 1915. The 1915 Census for White City, Rolling Prairie Township, Kansas [Film K162, p. 2, Kansas Historical Society] shows them as Family 8, Dwelling 10, living in White City. with Walter, at about age 20, working as a clerk [in the Hahn General Store]. In White City, they lived across the railroad tracks on the west side of town. It is not known whether they owned the house or whether they rented. Thomas F. Hahn has a photo of the house as it appeared in the 1970s. It is not known whether Walter graduated from high school in Thayer, or whether he attended high school in White City. In White City, where his family lived until about 1920, Walter worked as a silent movie operator and an auto mechanic in and as a carpenter in the building of Camp Funston near Junction City, Geary County, Kansas.
While living at White City, Walter entered the U.S. Army in World War One on 15 December 1917. He served in France as a corporal chauffer, Signal Corps. Walter was discharged on 22 May 1919. Honorable Discharge from the United States Army and Enlistment Record filed on 13 October 1959 for Veteran's Compensation Claim No. 49595, filed 14 October 1959 Register of Deeds Shawnee County, Kansas No. 9737:
Enlisted 15 December 1917 Topeka, Kansas. Corporal [Aero?] Squadron 62 on 18 November 1918. He probably reported to Jefferson Barracks, Missouri. Walter served in the American Expeditionary Force in France until 30 March 1918. He was a casual in the 467th Aero Squadron from 15 December 1919 to 12 May 1919 when he was discharged with an "Excellent character, Services honorable and faithful. No absences. Entitled to wear one gold chevron." On 22 March 1919 paid in full at Camp Funston, Kansas. Service No. 1337698 born Muncie, KS enlisted when 22 1/2 years, occupation Chauffeur. Blue eyes, dark brown hair, ruddy complexion, 5'5" height.


Insignia as a Corporal Chauffeur -- Actual Size ( Hahn Collection)


Aero Squadron Patch -- Actual Size (Hahn Collection)


Walter Hahn. A Soldier in World War One. (Hahn Collection)
Walter returned to White City after the war. In the 1920 Federal Census for White City, Walter was listed as a garage mechanic there.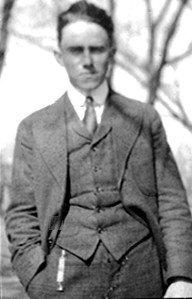 Walter Hahn as a Young Adult
It is not known when Walter and/or the Hahn Family moved from White City to Topeka, Shawnee County, Kansas. They are shown in the 1920 Census for White City enumerated on 5 January, so they moved to Topeka in 1920 after that date. When he moved to Topeka, probably later that year, Walter worked at the Chevrolet Garage as a mechanic. A note in the Student Note Book of his brother, Edward, shows that Walter was probably living or rooming at an address on Kansas Avenue. Walter and Florence Vivian Torgeson, of White City, were married on 5 September 1920, at the First Methodist Church of Topeka by Pastor Edmund James Culp. The witnesses were his sisters, Louise Hahn and Margaret Hahn. It is assumed that Louise and Margaret were living with their parents in Topeka, because Florence (Torgeson) Hahn said that she and Walter went to Walter's parents for a wedding supper. Christian and Mattie Hahn, Louise Hahn and Margaret Hahn, and Walter and Florence Hahn and Florence Hahn were all present at the wedding of Walter's brother, Edward Oscar Hahn and wife Ida Marie Jenkins at Baldwin City, Douglas County, Kansas, at probably the home of Marie's mother, Anna L. (Thayer) Jenkins the next day, on 6 September 1920.
In a 1976 letter to her son, Thomas Hahn, Florence Hahn said:
I have been thinking about 56 years ago today. What a good life we had together. We were married on the 5th [of September 1920]. Louise [Hahn] and Margaret [Hahn--Walter Hahn's sisters] went with Dad [Walter] and I to the First Methodist Parsonage here [in Topeka, Kansas] at 11am and we went to Grandma Hahn's for our wedding dinner. The next day we went to Baldwin [Douglas County, Kansas] to Marie [Jenkins] and Ed's [Ed Hahn was Walter's younger brother's] wedding at Mrs. Jenkins's home. [Mrs. Jenkins had previously lived in White City, but she moved to Baldwin to give her daughter, Marie, a home while Marie attended Baker University. Mrs. Jenkins also took in students as boarders.] Avis [Marie's sister] and her new husband [Homer Sharpe] of four months were there. I think about six o'clock we two couples went to Kansas City [Missouri] and we stayed at the same hotel. We went to a furniture store. We had a letter for a discount from the furniture man in White City, so we bought a dining table, buffet, and chairs and we didn't have money for anything else. We were there two nights. I had a new wedding suit which was a fall model and was a warm day and then a rain the first day in K[ansas] C[ity] that ruined my wedding hat. It was so nice for us to have our relatives living here [in Topeka] and raising our families together. Les [Leslie F. Beckman] and Louise [Mary Louise "Lou" Hahn] were married in December, then Myrtle [Walter's older sister, Myrtle May Hahn] moved here the next year and Ed soon after that so that we were quite a family. The Hahn's were wonderful people, good folks and loved their children and we were all very happy. Then my folks came two or three years after we did. Dad was still in the Post Office 2 or 3 years after I was married. We had such fun on picnics and going to the Fair with our kids and we were all poor together. Dad [Hahn] had a Model T car the year they came to Topeka and they came here only a few months after we were married. That first fall we were the only ones and them here in Topeka and we had such good times. We would go for a ride Sunday afternoons with Louise, Margaret and Grandma and Grandpa Hahn and we would get lost in the country and finally get back on the road to town. We would stop at their house for a little Sunday evening snack. It seemed that it was a wonderful fall, everything new to us -- the big Kansas [Free] Fair and we even had a guest or two that fall that came to the Fair. And Dad had a good time stocking up on apples, pears, etc and grapes. I didn't know much about what to do with them but did know some from home, but mostly my job at home was peeling the peaches and apples and grapes and mother did the rest. And so today all I've done is think about the good times and how beautiful that fall was. And to be in my own home with a furnace and running water and a toilet, I felt like a queen, but most of all I had a good man to look after me.
From a 1977 letter to her son Thomas Hahn:
The [wedding] day was a bright quite warm one as I had a new winter suit and a satin blouse. I don't remember whether there were any relatives there that day [at the wedding dinner]. I came to Topeka a few days before and stayed at the Hahn's and I shopped for my clothes. The ones at the Hahn house went in the Ford [to Ed Hahn's wedding in Baldwin] and Dad and I went on an early train. At the wedding at Baldwin there were a few guests and Mrs. Jenkins had dinner for us. We got a few things at a yard sale in Topeka, a few days later--a wicker settee and chair. We did get a table with the dining room stuff, they called them library tables then, a long narrow table and it stuck out like a sore thumb in that almost bare room, but we were very happy and proud of what we had. I had bought things for my hope chest for two or three years so was well supplied with towels, sheets, etc and got a notice from the bank in W.[hite] C.[ity] a week after we were married I was overdrawn 67 cents. I never lived that down. Dad thought it was quite a joke and loved telling it. My wedding hat cost $18.50 and suit $75.00. Clothes were high then. The night before we were married the Hahn's were playing the Victrola and the record was, "When you come to the end of a perfect day." It was so popular then and I got homesick and left the room and went to a bedroom and cried. Dad came in and I told him I was lonesome and wanted to go home to W. C. but in no time he had me in a different frame of mind, so fall has always been a beautiful time for me as that one was such a lovely one.
Walter worked at the Santa Fe RR Maintenance Yard in Topeka as a carpenter, and, for the Post Office in Kansas City, Missouri for a year or so, about 1928.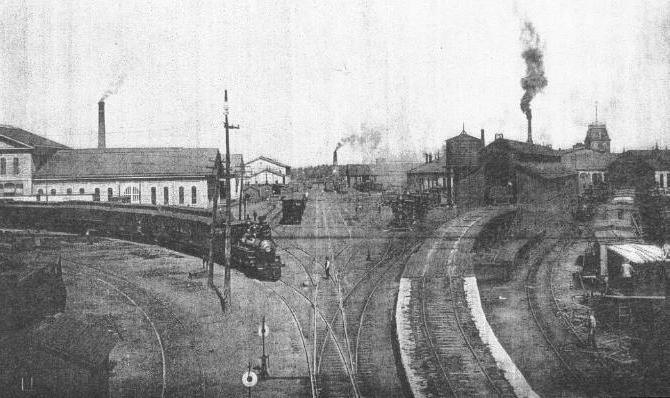 Santa Fe Railway Yard and Shops at Topeka, Kansas (Hahn Collection)
It is not known where they first lived in Topeka after they married, but from a letter to Florence, from her father, Thomas Torgeson, it is known that Walter and Florence were living in 1923 at 1623 Buchanan Street Avenue, but after about 1928 they spent the rest of their married life at 1120 SW High Avenue in Topeka.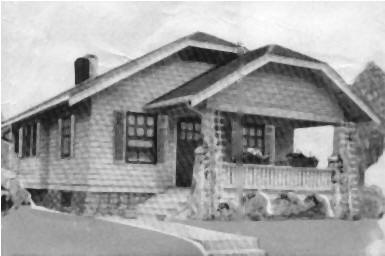 Catalog Image of the Walter Hahn House in Topeka, Shawnee County, Kansas, ca.1927-1928 The Walter F. Hahn Family House at 1120 High Avenue, Topeka, Kansas. The illustration above is of a Bungalow House as advertised in a 1927-1928 Montgomery Ward or Sears & Roebuck Mail Order Catalog. This is the house that Christian "Chris" Hahn built for his son, Walter. The plan of the actual house is the reverse of this image. A photo of the house itself follows. (Hahn Collection)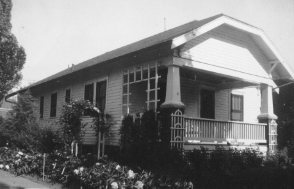 The Walter Hahn House at 1120 High Avenue at Topeka, Kansas in the 1940s ( Hahn Collection)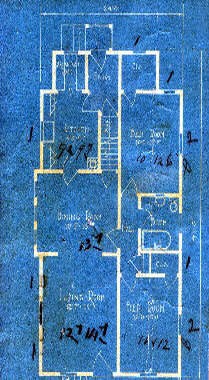 Interior of the Walt Hahn House on High Avenue in Topeka. I have flipped the plan which they had which was a mirror image, so that now the dimensions are reversed and I am showing them separately: Living room 12'x1', Bed Room 11'x1', Dining Room 13'9" square, Kitchen 10x12'6", 7x9'3"[?] The bottom portion of the image is the front of the house facing west. (Hahn Collection)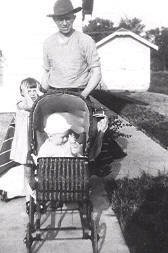 Walt Hahn with Tommy Hahn in the Carriage and probably Marcelle Beckman in front of the Walt and Florence Hahn Hahn on High Avenue at Topeka, Kansas ca1927. The object to the left of Marcelle appears to be one of the awnings that were used on the windows of the house on the south and sides. (Hahn Collection)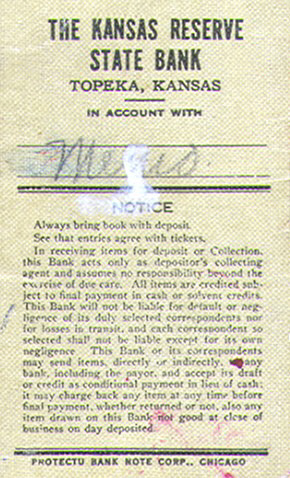 The Hahn's lived in a modest bungalow on a nice street, at 1120 High Avenue. The house was about two miles west of downtown Topeka and a few blocks south. A bus line ran conveniently on 10th Avenue a block and a half to the north. The wage earners--nearly all men--worked as a letter carrier (Walter), a drug company salesman, an insurance sales agent, awning salesman, Santa Fe RR Hospital switchboard operator, a Santa Fe RR Office worker, a real estate agent, a Santa Fe RR rail switchman, a wholesale fruit company clerk, a retired assistant postmaster, a doctor, a shoe salesmen and a couple of widows come to mind at the moment. Most, if not all, were protestant Christians. many having spent the earlier parts of their lives on farms and small towns. Many of these years were during the Depression when jobs were clung to dearly and ,money was spent frugally. It is interesting that Walt kept a little memo book of some of the things they bought for their house. The little book is the one shown above. Some of the items included are as follows:
[p. 1] Dining and Living Room Curtains--Crosby's Oct 1934
Wool blankets Jan 1936
Table & lamp Christmas 1935
Breakfast table April 1935 27.00
glasses [eye?] Boggs Oct 1935
cots & pads 10.00 July 23 1936 [Remember, these were hot summers and we sometimes slept on the front porch or wherever it was "cool."
[p.2] Awning 1936
End table1936 Rutters 8.25
Chair Crosby 1936 19.70
Radio Aug 1936 6.00 Santa Fe
Wool comfort blanket 1936


[p. 3] April 1937 85.10 [?] complete to furnish room Maple bed 14 Dresser Mirror 39.50 Springs 9.75 Mattress 25.00
paper for Toms room 8 rolls side 14 yds border
curtain & rods 4.60
paper varnish paint 6.25] [The items between brackets were for re-furnishing Tom's room]

[p. 4] Attic insulation & flooring Dec 1936 91.65
Dec 1936 Toaster
bicycle Nov 3 1936 25.00 [and hidden until Christmas]
bridge lamp Dec 1937 15.00

Living room light
Dining room "
papering & tinting ?] ceiling in dining & living & bedroom April 1938 Labor 31.00
Bedroom paper [and] [enamel?]

[p. 5] Curtains for Living & dining rooms 9 Nov 1939 Crosby
Electric Stove July 1 1938
Gas Furnace July 1938
Mirror buffet 7.50 Dec 38
Carpet Sweeper 5.00 Jan 1939
Electric iron 6.50 Jan 1939
Porch chairs 5.00 May 1939

[p. 6] Tom's lamp 3.75 Nov 6 39 [my birthday]
Shades for all but Tom's room Oct 1939 16.68
Coat Sept 1939
Sandwich toaster Mar 2 40 [This was for making grilled cheese sandwiches mostly. I liked to use it without the cheese sometimes.]
Electric Clock Mar 2-40
Electric pad
Big Ben [clock] Mar 2-40
ruffled curtains for dining room and living room Mar-40
Chair cover 7.00 April 40
Bag 6.00 Sept.
Rugs May 1940

[p. 7] Vacuum cleaner Nov. 1940 39.00
Aug 41 Washing machine with trade in 134.00 - 124.00
Linoleum and rest of kitchen May 1941 100.00
Glasses 29.00 Nov 1 -1941

[p. 8.] Davenport Nov. 1941 material 7.20 - 12 yds For making 7.15
Toms chair [and] pinup lamp] [for reading in his bedroom] Feb 1942
butterfly table March 12 5.00
Coat Jan 1943 50.00

[p. 9] Bathroom
paint 1.75
Stool 30.60
Lin[oleum?] 11.15
Lights 3.50
Towel bars 2.50
Curtains 1.10
Lav. fittings 2.90
toilet holder 1.00
Hooks .20
Fittings for tub .30
plumber 5.00
plaster .40
____
60.40
Towels 3.50
Night [light?] 1.80
65.70 [total]__

[[p. 10] Paper Living room dining room
Mirror & table in Living Room 1943
Dining room furniture Aug 1943
glasses Nov. 1944 18.00 [Tom left for the Navy in October 1944, so he wasn't around to see changes on a day-to-day basis thereafter]
Raincoat 25.00 Oct 1945
coat spring Mar 1946 25.00

[p. 11] Muslim for curtains 5.50 For making 5.20 1947
Sholanders [store] chair upholstered Mar 171947 Material 10.05 Labor 12.50 tx .25 [total] 22.80
Refrig. March 1947
Glasses Jan 1948 [Powers?]

[p. 12] Jan 9 - 1948 Glasses 29.00 Powers
Coat Oct 1948 54.00
Spread Aug 1948 22.00
bedroom front paper & paint

[p. 13] Bedroom 1 August 1948 paper & paint
Spread 22.00
Mattress & Sprgs. 109
Mattress pad 5.60
lamp 13.50
lamp table 20.00
Mirror 15.00
Chair 30.00

[p. 14] Dec 1948 breakfast dishes
winter coat 1948
Mirror hall 1948
Watch 1948
Spring Coat 1949 45
Fan 37.50 1949
Gold Chair Jan 1950 78.00
radio 1950 95.00

[p. 15] Kitchen & Breakfast room fan paint paper 165.00
Davenport $216.00 1950
Lamp [and] end table in Walt's room [Tom's old room] 1950

[p. 16] Ironer 30.00 Dec - 50
Turned rugs Feb 1951
Maple end table in Breakfast room 19.50
Maple occasional chair 10.00 Feb 51 Santa Fe
Painted Bathroom June 1951
Bix player radio 90.00 1950 [considered a pretty jazzy radion in its day]

[p. 17] Electric Fan 18.00 July 3 - 51
Electric -pad July - 51
green gabardine coat May - 51 50.00
Drum table Santa Fe Oct 51 12.50
round coffee table Oct 5115.00 Santa Fe [The Santa Fe Railway Company had its General Offices, railway maintenance yards, and many facilities in Topeka. It was pretty our largest employer at the time. One of its facilities was their unclaimed fright warehouse where they kept damaged goods for sale by the item or by auction. When my dad carried mail in Highland Park as a letter carrier he often stopped by there to of from work. He carried a can opener with him, and if there was fruit for sale by the case, for example, he would buy a can and try it and take the can on with his lunch. Since he took his lunch, he sometimes heated up part of his lunch on the top of the car engine. In the early days of his "mounted city route, he used the family car to carry mail. He took them off Friday night and they went back on Sunday night.]

[p. 18] B.[lanket/ Bathroom ?] Chest 32.50 Dec 51 Santa Fe Aug 51.
Hutch 10.00 Aug. 52 Santa Fe
Mattress Walts [room] Santa Fe 79.50 35.00
for 2 chairs Karlans [Furniture Store] 160.00
Refrigerator Santa Fe 321.00 Oct 30. 52
able lamp 6.00 S. Fr. Nov 1952

[p. 19]Toaster 17.00 Oct 1952
Draperies, lining, and hooks Walts room Oct 1952 28.50
Air Conditioner 360 July 1953 [Imagine Kansas in the summer without an air conditioner.]
Winter suit 1953 55.00
Eyes tested Feb 1 1954 No glasses
Painted kitchen

[p. 20] blender $27.00 March 54
Spring coat 23.00 May 54
Painted Walts closet Sept 30 1954
front bedroom curtains Sept 1954 material & pleating 12.50
Tweed coat 70.00 silver original 85.00

[p. 21] band for watch Feb 1955
Stove Feb 1955 322.50 including old stove
cleaner [vacuum] 41.50
T.V.
Band for watch Jan 56
garbage disposal 72.00 June 7 -56 installation cost of disposal wiring 30.00

[p. 22] Feb 23 1933 Beauty Rest Mattress 23.50 each Springs 12.50 each bed 8.75 each
Refrigerator Nov 1933 Grunow 100.00
Water Heater 85.00 April 1961

[p. 23] Roof Sept 1957 $530.00
Electric blanket Xmas 1956
Living room [wall] paper July 1943

bathroom nov 56 linoleum 45.00 tile mar. 57 50.00
Painted walls & woodwork Aug. 1957 cost of linoleum 45.00 cost of tile 50.00
glasses Feb 22 49.50 1958 new frames, etc Glasses 1968 April

[Inside front of memo book In Florence Hahn's handwriting. Walt died 4 February 1967, so Florence must have decided to continue the little expense book.] House painted July 1969 by John Brooks

[p. a] Breakfast room Paper Shutters Mar
Sunbeam iron July 27 1970 12.95 (Marlings)
Hoover cleaner 61.00 Nov. 1970 Sold old one 5.00

[p. b] Dehumidifier April 1965 60.00
Air conditioner Boring [?] 329.00 new 39.00 sale [total] 290.00 May-1965

[p. c] Wall paper 13.00 linoleum 361.00 Shutters 20.00 [total] 394.00 1970
April 25-1965
May 20 Diningroom curtains for summer $7.00

[p. d] May 25 Screen Door 1965 Sears
Safety valve on furnace Dec 1970 102.00
Iron Marlings 1970
Antenna Mar. 1970

\[p. e] Lamp table Jan 1960
coffee table Jan. 1960
Apothery [apothecary] chest Aug 1961
Bachelor chest Aug 1962 76.00 Sold desk 25.00
Magazine table 6.00
















During most of his adult life, Walter worked as a letter carrier, first on foot in Topeka, and then later on a mounted car route in Highland Park, Topeka. He told his son, Thomas F. Hahn, that he past the exam for letter carrier first out of a thousand candidates. Post Office Department Notification of Personnel Action and Civil Service Commission Agency Certification of Insurance Status: Walter retired as a City Carrier Level PFS-4 Step 7 on 31 October 1959 @$5175 per annum, entered the Postal Service 24 July 1928 with 31 years, 3 months, 7 days of service.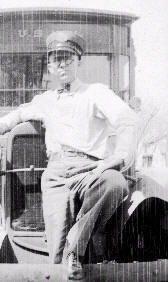 Walt Hahn, Letter Carrier, c1930 at Topeka, Kansas. (Hahn Collection)
Walter was truly a gentle, kind person, a good son, brother, husband, and father. He enjoyed fishing and get-togethers with his family and friends. He was a good mechanic in most fields and did much of the maintenance, repair, and renovations of his home in Topeka. All of his brothers and sisters lived in Topeka from about 1920. Walter was a member of the Trinity Methodist Episcopal Church and the University Methodist Church, Topeka Lodge No. 17 AF&AM, and the Veterans of Foreign Wars.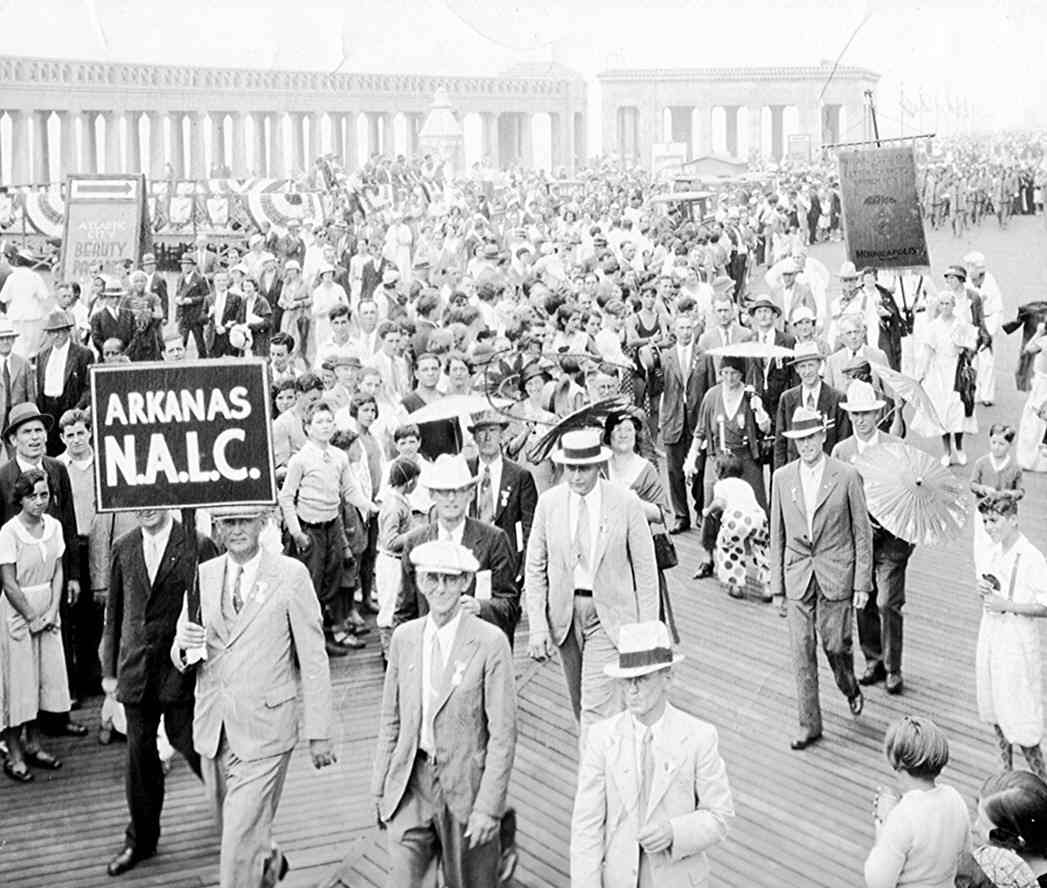 National Association of Letter Carriers Convention in Atlantic City, Mary, 1932 (Hahn Collection) Walter and Florence were delegates from Topeka, Kansas.


From above photo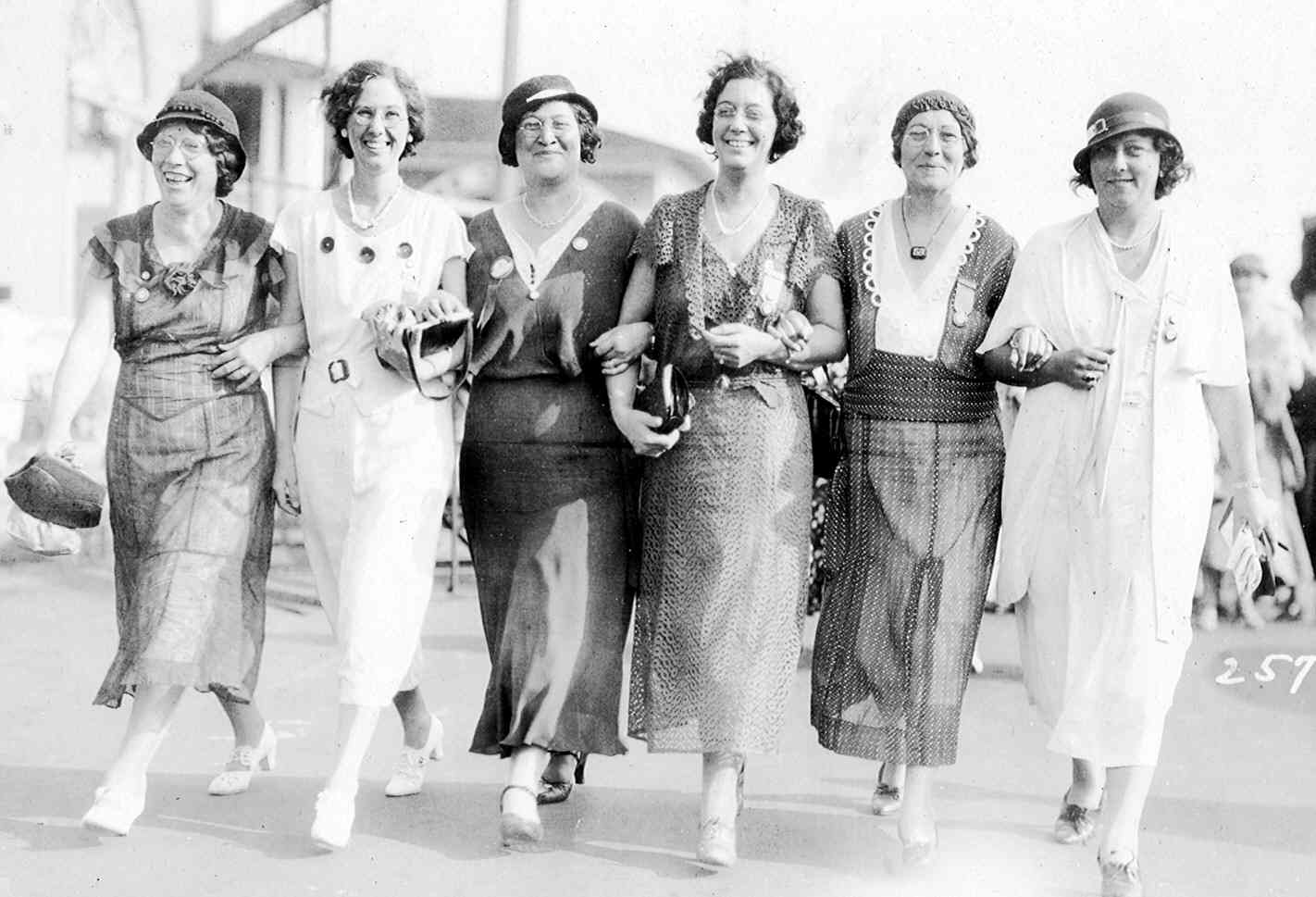 Florence Hahn with other Topeka and Kansas Delegates at the National Convention of Letter Carriers Convention at Atlantic City in 1932. (Hahn Collection)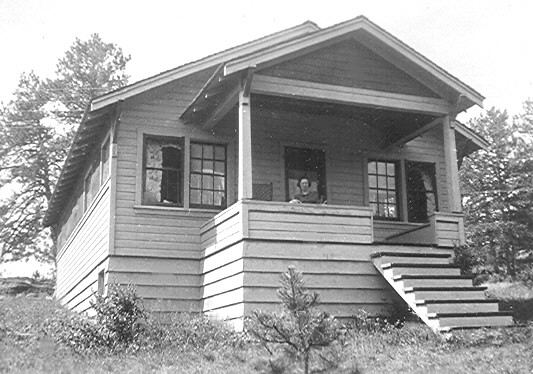 On our first trip to Estes Park, we stayed at the Gray Cabin. The Hahn's and Gladys (Torgeson) Murphy and Bernice Torgeson drove from Topeka and probably picked up Mae (Torgeson) Christensen at Junction City. (Hahn Collection)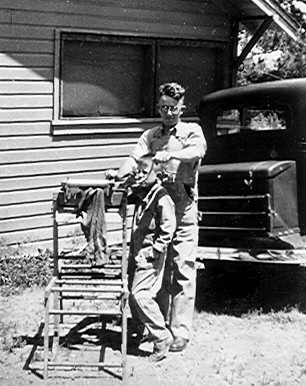 Walt and Tom Hahn at Estes Park in 1935. The contraption on the left is, I believe, a wringer for squeezing the water out a a chamois skin used for washing the car windows. Tommy looks like he is holding a cap pistol in his right-hand. Cap pistols were a big thing for boys in those days. The automobile is a 1932 Chevrolet four-door sedan. (Hahn Collection)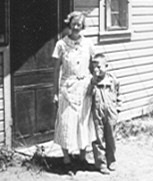 Florence and Tommy Hahn in Estes Park in 1935. (Hahn Collection)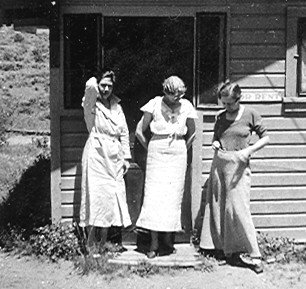 Left-to-right: Gladys Murphy, Mae Christensen, and Bernice Torgeson in 1935 at Estes Park, Colorado. (Hahn Collection)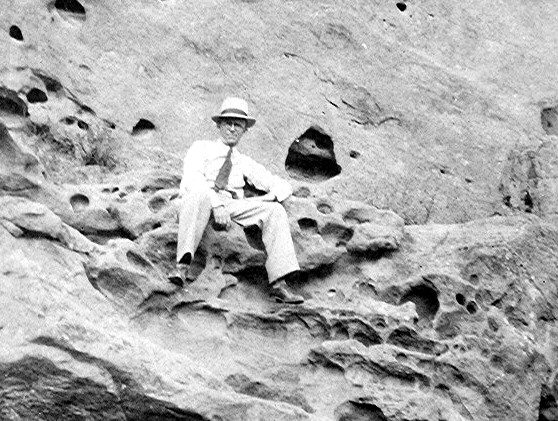 Walt Hahn Garden of the Gods about 1939. Note how neat he was dress, no matter what the occasion (Hahn Collection)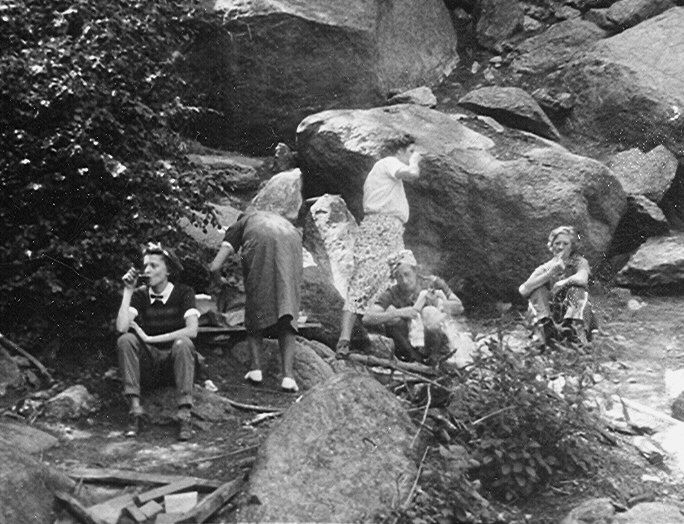 Walt Florence, and Tommy Hahn went to Colorado in 1939 on their vacation, taking Florence's sisters, Glady Murphy, Bernice Torgeson, and Mae Christensen with them. This picnic at Green Mountain Falls where they stayed was being enjoyed by (left-to-right: Becky Beckman, Mae Christensen or Louise Beckman, Gladys Murphy, Bernice Torgeson, Florence Hahn. The Beckman's came on their Santa Fe Railway pass for a long weekend to visit.) (Walt Hahn Photo)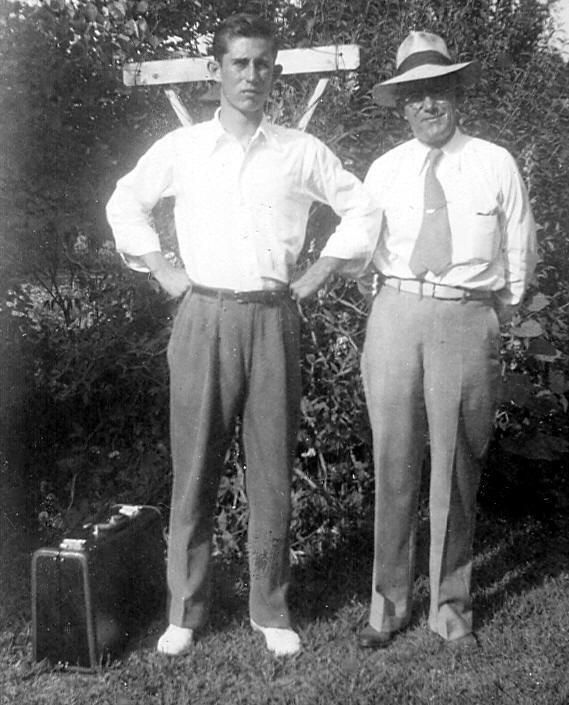 Walt and Tom Hahn in their Backyard September 1944. Tom returning to Kansas University after a weekend at home. (Hahn Collection)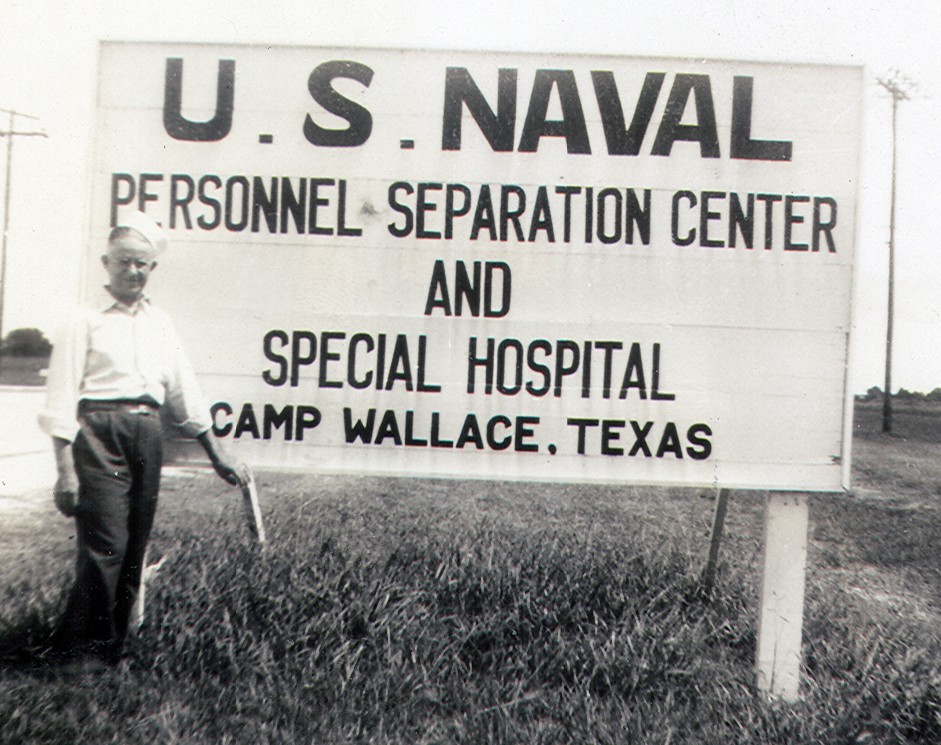 Walt Hahn at Tom Hahn's Discharge from the Navy in June 1946. Tom went from Austin, Texas to Camp Wallace by train, then Walt and Florence Home drove him back to their home at Topeka, Kansas (Hahn Collection)

Florence and Walter Hahn at Austin, Texas probably 1948 (Tom Hahn Photo)

Walt Hahn and Tom Hahn in their Backyard 1948. Tom was home on leave prior to departing for duty Washington, D.C. (Hahn Collection)


Walter& Florence Hahn at Mt. Vernon, Virginia, 1949 (Tom Hahn Photo)


Walt and Tom Hahn at Possum Kingdom Lake, Texas 1949. Walt and Florence came to Texas to be with Tom when he and his wife went from Washington, D.C. to visit her parents who lived in that state. (Hahn Collection)


Walter and Tom Hahn, Fishermen, their Favorite Pastime (Hahn Collection)


Walt Hahn and "The Boys" in their Back Yard at 1120 High Avenue, Topeka, (Hahn Collection)
My father, like my mother, was a good letter writer. He wrote to me from the time I went into the Navy in 1944 until his death in 1964. I now regret that I didn't keep his letters. Fortunately, I have come across a few written in 1950 when I was in the Navy on duty in the Mediterranean Sea.
[About 18 May 1950] From a note on the back of a letter from Florence Hahn
Tom - You are having a wonderful experience and I am going back 3o years to thee time when I too was in Nice - Cannes , Monte Carl, Lyons, Marseilles, etc. Try mailing air mail some time from the cities you visit using their stamps to see what kind of service etc. [Remember, he was a mail carrier.] Your 1c Post-cards come as fast as you "air mails" about up to 2 weeks latest to [my Aunt] Gladys [(Torgeson) White] mailed My 8 - here the 18th. O.K. Here. Pops
[About 21 May 1950 From a note on the face of a letter from Florence Hahn.]
(We got 10 Bull Heads on fishing Trip Tom)
[Probably about 21 May 1950]
[First page missing] and where now, little man? We will be waiting to hear all about it. All those little details that by now are becoming commonplace to you are big news to us, your life aboard ship, your hours, etc. By the way, when do you do any work? Is that coming up? [Well, that's a good question, isn't it. As an intelligence officer I was always evasive about my work, what, where, when, how.] Will the new ship [Heavy Cruiser USS SALEM] cruise around or will you be in port more? Will you still be in Ballentines crew or staff. [Vice Admiral Ballentine was the Commander of the Sixth Fleet. I worked for him rather for the captain of the ship in which we rode.]
About here now. We are having rains again, things are green and pretty, even our old yard is getting good looking. We have chick-weed, dandelions, crab-grass and some blue grass. We need to start all over with the yard. but what the heck?
I have been fishing only once. Less [Beckman, brother-in-law], Gladys, mom and I are going out to [Lake] Shawnee pretty soon, not too good a day, all the creeks are up and muddy. We want to go to Wabaunsee soon as we can find a good time.
I have kitchen done, white wood work and yellow walls. Looks swell but not as practical as the old job. Time marches on . . . [The remainder of the letter is missing.]
[About 23 May 1950] From a note on the face of a letter from Florence Hahn
Howdy Kid, Strawberry Time here! Fried chicken, not a bad place to live. Topeka is growing, now 7 Story Tel, building soon. bye, Pops [Everything is up to date in Kansas City. eh?]
[28 May 1950]
Dear Tom: Haven't heard much from you this week past, we got all kinds of stuff from you the week before. Enjoyed the ship's paper, hope you have them on the Salem. [I was in the USS NEWPORT NEWS when I wrote this letter, apparently.] Also various people told us you sent them cards, they are all pleased to hear from you away off there, no kidding they really like it. Especially glad you dropped a card to 629 W17 [home of Tom's grandmother, Walt's mother, Mattie (Defries) Hahn. We were over there this a.m. things not too good with Grandma Hahn.
Our bird-life is wonderful, the rains have made lots of worms, Bugs and they are so happy. Yards need mowing, this p.m. I told mom; old Tom is getting out of a lot of yard mowing namely on board ship. Don't get in too much fishing, will try to get going soon, have a lovely kitchen now, mom is happy about that, me too. [Walt was good at many of the building trades and did much of his own work on their house.] I had Fri-Sat-Sun. off this weekend, good deal on the 1 Trip mail service. [Walt was a mail carrier.] Bye, Pops
Sunday Morn About 9 July 1950]
Dear Tom. It is really raining here last night and today. Crops are good, no lack of moisture, We have just returned from Church at Trinity. Campbell has been returned as our preacher, we like hi O.K. Have been getting in some fishing for instance about ten days past, Les Gladys Mom and I went out to Lake Wabaunsee all day. We got a million small perch (it seemed) and every so often we snagged a nice fat Blue-gill, got 26. We never did get a run on 'em like you and I did that time. Wasn't that fun, we pulled 'em out as fast and furious and Les Beckman] and Mc [Gerald McCollister] couldn't register at all. Les recalled that incident the other day when we were out there. Also we went down to Long Creek Sat. the 8th, Les, Gladys & I (mom was busy and didn't go, she doesn't care 2 whoops about a fishing trip) We were plenty disgusted, the creek had been up, terrible, away back to that picnic table and it was still muddy & no god Sat, I hit it down to those loggy spots where you like couldn't get a raise on shrimp or worms, just too muddy I think. Gladys fished down further north and got two small Bull-heads. So - we got 14 Doz. eggs (27c) and give it up about noon. Came back up, east of Berryton on this little lake I have mentioned and got 6 small Bull heads., just wasn't right Sat. However one fellow that farms near-by was fishing there with an old beat-up came pole (you can't beat 'em). He caught a turtle and got his liver out and put in water, pronto, he had a channel [catfish] (2 lbs anyway) just like that. Les Gladys and I had about 50.00 worth of equipment and 6 small Bull heads. I have seen it happen before. But we get a kick out of rods & reels, etc. Remember that Turtle liver bait, could be a land terrapin would be as good.
Mom and I took a little run up to Hiawatha last Friday 97th)I thought it might be possible to make a deal with Tom Comfort [old friend] (he runs a small furniture store there) to get a discount on a good radio. He doesn't sell em tho so we just enjoyed the trip anyway. Havent heard from you. Pops
Walter Hahn was a good father, a good brother, and a good son He visited his mother often. She lived with her daughter Margaret in Topeka, about two miles from Walter. He was always concerned about their welfare and did what he could to be helpful.
8-29-50 Tuesday 8 PM
Dear Tom - We have had a busy Monday & Tuesday getting grandma Hahn taken care of. We have had a long period of worry and concern about her and now that it is all over I feel quite relieved and quite a bit lonesome at the same time. She just wore out and was unconscious the last few days. 83 years of age. Grandpa Hahn passed 16 yrs ago. Margaret [(Hahn) Walter] & [daughter] Donna [Walter] will be in the home at 629 w 17, it will be theirs under the arrangements we have made, there was only a small amount of cash left in the estate and we have put some into the house to make it a little more livable, things are pretty well run down. There isn't any moneys left for anybody to squabble over and I think that may be the best answer. They have received 2 or 3 cards from you at 629 w 17, thanks, kid.
Raining again here, never been anything like it, creeks were good a few days. I had to work so still no fishing. We are going to Waubaunsee over Labor Day, Less, Glad, Mom & I. I do hope it clears up. We at least hope to get Blue gills.
We have a letter from you postmarked, 22nd august which puts me pretty well up to day, you had been to Damascus, that was indeed interesting. Will be tickled to see your pictures you mention and I hope around xmas. I also hope that smaller town you day-dream of is within a reasonable distance of Topeka. [Had I mentioned such a place?] We have to stay here, I couldn't get any work like I have in another P.O. we do hope to see more of you some time. Pops is nearly 55 Kid - Mom 53. [So, I am 79. The Kid]
We are getting along OK. Just lonesome. Bye, Pops
Mid-September 1950.[S.]
Tom, a Bit of Sadness here - [He was never one to burden others with his problems or concerns,]
Grandma Hahn passed on 2 weeks ago this evening, it hardly seems so long ago. [She died on 27 August 1950.]
She has been terribly bad mentally part of the time and just had to wear clear out. We had her in Vail (Christs) Hosp. a couple of days after she had the fall and it now seems she must have had a stroke at the time. Poor old Soul, so feeble and pitiful she was, at the last. She was mostly unconscious for several days before going on.
Remember all the good times you kids had over there? [He always had something positive to say.] We are so glad it is over!
Well kid, am I a fisherman or not, or am I? Fraid not Les, Glad [brother-in-law, husband of Walt's sister, Louise, and his second wife] were out to [Lake] Waubunsee 2 nights in a cabin. $3 per night (2 couples), hellish beds and old oil stove, used my gas. lantern for lights. Lovely weather, swell food, but couldnt even catch Blue-gills at that swell place over by Ed's [Ed Wilcox, his neighbor in back]. I did save a dozen or so small ones. then dumped 'em back in regusted like. Marty & Jim [Kilkenny, Les's daughter and her husband] came out there 2nd day. dinner & supper and we played Canasta that evening. Lord how I wish you kids lived in our part of the country [rather than the Washington, D.C. area], ever consider it? [He seldom mentioned this and was not one to make me or anyone else feel guilty.]
We came back from Eskridge in time for Less and I to run down to Elk Creek and Rock Creek (East of Richland) to try again or Bull-heads but dont you forget it, when Fall gets here Bull-heads just wont hit the bait, their season is over by Heck! I watched a tank of Bull-heads over at the fair display, as a rule they just stayed motionless, in a relaxed position of bottom of glass tank.
I'd like to have you around this country in Bull head season again, you used to pull em in kid. Can't get a bull head in Wakarusa [Creek] they all say. Channels and other cats [catfish] on limb lines, trot lines. I've just put my fishing stuff up for the season, yard mowing about over, next thing is leaf raking, storm sash and fall & winter. Hay-fever is on strong. I don't have much trouble if I eat right, along with my weekly shots . . .

Walt Hahn fishing at Lake Wabaunsee, Kansas, one of his favorite things to do. (Hahn Collection)

Walt Hahn with "the Boys."


Walt Hahn Fishing at Lake Wabaunsee with Neighbor Boy, Dale Higgs (Hahn Collection)


Walt Hahn with Bass and Blue Gills from a Kansas Lake (Hahn Collection)


Walt Hahn with Neighbor to the South, Frank Hill at 1120 High in Topeka (Hahn Collection)


Walter "Walt" Frederick Hahn at about age 65 (Hahn Collection)
From 1959 until 1967, Walter and Florence enjoyed their retirement years at 1120 High Ave in Topeka. They enjoyed trips by auto and . train, and plane to visit their son,. Tom, and other places. They continued to enjoy their friends and family. Walt's particular love was fishing and he went when ever he had the opportunity. That all ended with the diagnosis of cancer of Walt in the early Fall of 196r. For several months he was in the Veteran's Hospital in Topeka. At this time, Florence broke a hip and fell and it was a difficult period for them. Their only child, Tom, was occupied in the Vietnam War and was living at San Miguel, Zambales, Republic of the Philippines and was not able to physically to help them. Luckily, they had good family, fiends, and neighbors and the living care of the personnel at the hospital to help them through this period until Walt's death in February 1968. Tom was only able to see his dad once, while enroute to a Communications Conference in Washington, D.C., and then to make the trip back from Southeast Asia three months later to bury his father and to help his mother with the necessary affairs.
During the period Walt was in the hospital, probably in November 1965 he received this letter from his grandson and answered it. There was other correspondence with Toim, but unfortunately that correspondence is gone.
Dear Grandpa,
I heard that you were in the hospital, so I decided to write and wish you well, seeing as how Dad is visiting while he's in the States.
Just a few days ago our Boy Scout troop went up on the mountain sitting out by our base. We dragged tents, food, and all this other gear up there, and we were really tired at the end of the hike. The site has a beautiful view of San Miguel, though, and just about 50 yards below our site is a nice ice-cold stream of spring water. I know you would have liked the place, even though there aren't any fish in the stream.
Well, I've got to end now. Homework is calling. Love, Chris [And drawing of a fish]
P.S. Say hello and give my best wishes to Grandma for me.

Dear Chris,
I was surely glad to hear from you old boy.
You can have great times in your Scout work and you will never forget these wonderful experiences you are having all over the world and when you get older and older they will keep giving you something interesting to tell your children and even your grand-children.
Yes, Chris, you too will get old, we all do for sure, So you are having a wonderful busy Boy-hood. Live it up! I do hope you are doing well in your School work, try to be the very best. Your Dad (Tom) was a real smart cookie and still is.
Now as to your marksmanship Record. There is something to really be excited about and old gramps is really proud to have such a Sharp-Shooter in the family. You really made a record that is going to be hard to beat. Good Job, fella. I'll be expecting to hear from you again and thanks for writing. Your one and only GRANDPOPS. W.F. HAHN

Grandma has seen your letter. Chris,. and she also send you a big Howdy, Boy!
CEMETERY DEED: The Mount Hope Cemetery Company, Topeka, Kansas of 2 October 1930.
This is to certify that the Mount Hope Cemetery Co. of Topeka, Kansas, has sold and agrees to convey as hereinafter set forth to Walter F. Hahn...in Lot No. 203 Section A in Fairlawn Cemetery...Mount Hope Cemetery Co. of Topeka, Kansas located at 630 New England Building.
DEATH-BURIAL: Death Certificate Kansas State Board of Birth No. 527-2 Registrar's No 1533/685-12 66 003123 Place of Death Veterans Administration Hospital Topeka, Shawnee County, Kansas:
Of 1120 High Street; place of death inside city; residence inside city; Date of Death 4 February 1966; Date of Birth 28 October 1895; Age 70 Postal Employee; Birth Place Muncie, KS; Father's Name Christian Hahn; Mother's Name Martha Defriese; in U.S. Armed Services WW-I Social Security No 514-47-1017; Cause of Death carcinoma of sigmoid with metastasis spread, illness 7 months; other significant conditions 1533, autopsy performed; at VA Hospital 13 Sep. 1965 to 4 February 1966; buried Mt. Hope Cemetery Topeka, KS 8 February 1966; funeral at Penwell-Gabel Funeral Home No. 685-1-5, 1533/685-12); in Topeka. 45 yrs, age 70. Birth No 527-2.
BURIAL: Memory Book:
Funeral at Penwell-Gabel Funeral Home, at 3:30 p.m., 8 Feb. 1966, Reverend Don W. Rogge [University Methodist Church] officiating. Music, "Beyond the Sunset and My God and I." Bearers: Harry G. Corby, Jr. [husband of niece Marcelle "Becky" (Beckman) Corby], James L. Kilkenny [husband of niece Martha Mae "Marty" (Beckman) Kilkenny], Sam J. Lamantia [husband of niece Barbara "Barb" Ann (Hahn) Lamantia], Kenneth Blair [husband of Patricia "Pat" (Hahn) Blair], Charles D. Johnson, Jr. [husband of niece Jean Hahn Johnson], and, Charles [Wesley] Wright [jr.], family friend and Mayor of Topeka]. Laid to rest 4:30m p.m.

PROBATE: No. 30,592, Probate Court of Shawnee County, Kansas, 29 June 1967, final settlement of estate:

Lots 58 and 60 on High Avenue, Washburn Park Addition, City of Topeka, Shawnee Co., KS and Lot 206, Section A. Mount Hope Cemetery, Topeka assigned to Florence Vivian Hahn.

Civil Service No. CSA-603-079; Social Security No. 514-46-1017; US Army No. 1337698; Veterans Number C7-392-285.


Florence Torgeson/ Walter Hahn Grave Marker, Mount Hope Cemetery at Topeka, Kansas, 1992 (Tom Hahn Photo)
(Topeka Daily Capital, 4 February 1966). Walter F. Hahn, 70, 1120 High, died Friday in a Topeka hospital after a long illness. He was born Oct. 28, 1895 at Muncie in Wyandotte County and had lived in Topeka 45 years. Earlier he lived at White City in Morris County. He was a mail carrier before he retired in 1959. He was a veteran of World War I. He was a member of University Methodist Church, Topeka Lodge No. 17, AF&M, and Veteran of Foreign Wars, all in Topeka. Survivors include his wife, Mrs. Florence Hahn, of the home; a son, Cmdr. Thomas S. Hahn, the Philippine Islands; a sister, Mrs. Fred Hotttle, 619 W. 17th; a brother, E. O. Hahn, 1433 Lincoln; and two grandchildren. Penwell-Gable Funeral Home is in charge of arrangements. Burial will be in Mount Hope Cemetery. Memorial contributions may be made to University Methodist Church.
They had one son, (Kansas Delaware) Thomas Frederick "Swiftwater" Hahn, born at 12:03 a.m. on 5 November 1926 at the St. Francis Hospital in Topeka, Shawnee, Kansas. [But his official birth date is 5 November 1926.] In 2005, he was living in Fort Myers, Lee County, Florida. He married first Lena "Beth" Elizabeth Curtis; they divorced. She died on 2 January 2203 at Denison, Collins County, Texas. They had two children:
1. (Kansas Delaware) Christopher "Chris" Frederick Hahn was born at the National Naval Medical Center, Bethesda, Montgomery County, Maryland on 29 August 1951. Chris is married to Martha Jane Von Bauman (Living). They have one daughter, (Kansas Delaware) Beverly "Bev" Anne Hahn (Living).
2. (Kansas Delaware) Elizabeth "Betsy" Lee Hahn was born on 13 April 1959 at the Military Advisory Military Assistance Group (MAAG) Dispensary, Taipei, Republic of China. In 2005, she lives in Amherst, New Hampshire.
Tom married second, on 27 October 1968, at the Navy Chapel, Washington, District of Columbia, Nathalie Irene White of New York.
Will soon be your birthday [5 November] and I shall always remember it as the happiest day of my life as I had a baby boy to complete my life.
Grandma and Grandma [Margaret (Owen) and Thomas Torgeson] came the next afternoon allowed in the room at hospitals and the nurse brought you in and Grandpa T held you and kissed you. He loved babies [He and Margaret had had nine of their own.] was so proud you were named after him.
It was a beautiful fall and then the first light snow came softly down. A yellow chrysanthemum was sent me. In those days greenhouse flowers were rare. It was such a happy time and your dad was there every evening and we were somewhat reluctant in sharing our evening with any visitors. (Florence Hahn letter to Tom Hahn November 1978)
Am thinking about Nov 6-1926 when you came to us and how proud we were to have the first and only boy. a grandson, in the Hahn family. And while in the hospital, had the first snow, and with a beautiful fallish chrysanthemum plant in the window, and a little baby in a blanket. I thought it the most beautiful and happiest time of my life, and I thought about how I would rock you as we had gotten large leather rocker.
The night before you came Grandpa [Chris] Hahn came with Uncle Paul [Chris Hahn's brother, Walt Hahn's uncle] and Aunt Eve to see us and they said the house smelled so good. That day I had made several fruit cakes for the coming holidays (Ibid, November 1979)
I thought about how hard it was to get go when first [married] learning how to buy groceries and cook them and nothing [money] left for fun, but we had lots of free entertainment in these days, the park wasnt far and of course we walked and that was Chesnay [Chesney] Park [also known as Central Park, I believe, and there were good band concerts Sat or Sun Eve which we enjoyed and then not long after that the families got settled here and that filled the need for outside entertainments. And then the Big [Kansas] Fair was the high light of the year and it was free then also, lots to sell inside, and after you came Tom, we left you with Grandma & Grandpa T, in the evenings, as I thought it no place for little ones. the dust, noise, etc and after a days work Pop didnt need to carry a youngster around. So we were fortunate to have folks to care for the little ones. (Ibid, August 1984)
Going back to refrigerators . [?] Our first one we got in 1933, replacing the wooden ice box. You sure liked to climb up on the ice wagon and get a piece of ice. [In my memory, the driver would not have permitted us on the wagon. We would pester him for a piece; sometimes he obliges us, sometimes not. I am sure that if every kid on the route got a piece of ice he would have had to return to the plant to reload. Son Tom] You could have had a piece of ice anytime at home but that was the same. [I don't think so! The ice was needed for refrigeration and that didn't like to let warm air into the compartment in which the ice was kept.] The ice man got mad sometimes when several kids were there at the same time and he told you that if you kept off his wagon he would give you a piece. He was afraid someone might get hurt. (Ibid, July 1979) I have a little book that kept so may dates in my head and I sometimes wonder why I keep it but is such a little book and interesting to compare prices. But there are some things haven't put in the price. [I have this little book.] [Ibid, July 1979]
Am thinking about the Valentine Days when you were a little boy. As I sit and think about it I wish I could have one day to live over again and it would be Valentine Day and making heart cookies with red sugar, red Jell-O and Dad bringing home the biggest red apples he could find and there would be one at each plate. Good Jonathan, winesap and others, but these apples were the ones from Was. State, and a crippled fellow on 8th and Kans sold them by the apple, and they were polished and shiny. I don' remember the price of them. (Ibid, 14 February 1980)
I remembered the heavy poles and substantial swings Dad [Walter] put up for you and sand box, a large one, all was work to do, the kind now takes work to put up but thats all, and I can see the swings that we had at my home [in White City, Kansas] two, in a big tree, by the cellar and what fun for two on a swing board pumping it together and climbing up in that tree also, I didn't climb trees like Kate [sister] did and the other neighbor kids. (March 1982)
Your letter came today and has opened a whole new trend of thinking. about China painting of your friend [Jerry Smith, of Shepherdstown, West Virginia]. In later years it has almost become a lost art. In my younger days it was quite the thing. I have only one hand painted dish, a small plate and has the date 1919 given to me as a shower (wedding gift by a friend and initials are on it but I cant remember who it was). I have two other hand painted dishes that are pretty also. A whole, set done by a person for their Anniversary would be really something special. [September 1982]
Decoration Day was a Special Day for us. as we always went to W. C. [White City] after Grandpa T died, and would take Mother and [sister] Mae and Bob came also but that didn't last long as then Bob died. so we would get up early and get Mae and go to W. C. and to their services in morn and meet old friends and then go to Aunt Celia's [and husband John, her father Tom Torgeson's brother] for noon meal. We took things for the dinner. She sure loved us. her house had lots of shade around it and always cool. Uncle John was still living a year or two when Bob was. We would go back to Maes late afternoon in later years and stay all night and talk about friends we had seen that day. Am sure Tom you were with us in early years. And we went every year until Dad [Walt] left in 66. (Ibid, September 1981)
I used to like the warm summer Sunday dinners as did not have the oven meals so much on the day when weather hot and would have a can of salmon in fridge and cooked peas after got home from church and had a salad and fruit, coffee. Dad would make me iced coffee as had hot . but he would drink it also but later would have a cup of hot.. He did it because of me, fixing the iced coffee. I would sip on it so nice and cool in the breakfast room with shoes off and we would sit and talk longer than on other days. (Ibid, ____)
I wonder if you remember on our trip to Wisconsin [perhaps 1940?] and back of the cabins were those large dark cherries, an orchard of them. and the cabin manager told us to eat and use all we wanted as the crop was insured, a hail hit them and damaged some, so they (owners) werent allowed allowed to sell any and collect insurance to, so we ate them and was on the end of trip before coming home so we filled up the car refrigerator box with ice and cherries and had them along the trip and some when we got home, They were like bing cherries, maybe they were them. [My Grandma Mattie Hahn also went with us, the only time I remember her going .] (August 1982)
Was interested about Peter [Rabbit] being caught in a net and remember last summer how mad he was. . . to be pushed in the cage [where he spent the winter with the Pete Estes Family In Winter Harbor]. . . but he wasn't hurt, just his feeling, and as you say an animal like that has more of a personality free from a cage and can show off more than being shut up. Well he was fun, and I was thinking about my ducks. They are a fun pet. One is more fun than two as they depend on each other and don't pay as much attention to you. I had Joey first and he was so much fun. He would follow me around when I hung up clothes and would pick and pull on my shoe laces and nibble my arm and that made marks so had to make him stop that. He stayed in the yard, but one day I sneaked off and went to Mrs. Elliot's [two doors to the north] and we were sitting in the porch swing and she said look who s coming and there was Joey quacking and I called and he came running to me.
Then came fall and Dad said we can't keep him all winter penned up, so he said he would take him to the park and put him in the lake or something and so when it was about time to take him I was out on the steps with Joey and Pop came out and sat with us and he said, "You didn't..." and I said, "I did." He was pointing to Joey's head and there was lip stick where I kissed him. Well I missed him ore than Dad as he was with me all day. An then the next spring he got two and when they got older we noticed one couldn't quack, but would open his mouth and nothing came out. They were good at catching bugs and insects and suirt98ing on the sidewalk which I had to hose off often, and I didn't name them separately but called them The Boys. When I wanted them I would call, Here boys" and both came but they didn't play with me like Joey, and then fall came and the same parting and I rather think that Dad gave them to one of the carriers and they ate them. I wouldn't let him kill them to eat. It was off they seldom went off the place, maybe roam around in Goldie's yard [next door to the north], but I cried when they left and that was a bright spot in my life with an easy time with a pet that didn't need much care of bother. (Ibid, August 1979)
Dad sometimes went overboard in buying bargains at the Santa Fe unclaimed freight, and he got some 40 bags for 15 cents each. They had to be raveled out, washed and bleached some and ironed, so was a job. and I said I will do what I can with that many. They were too large and heavy for dish towels that I could use and give as gifts, etc. Well, I advertised in a weekly paper which did cheap advertising and brought some good results as had sold things before by advertising. The bags were about 36x45 [inches]. The first day the paper was out had sold most of them and the second day had to turn people away. They thought they were flour sacks. and when some saw how heavy and large they were they wondered what they could use them for and I suggested they make ironing board covers, butcher's aprons, lunch cloths fringed, etc. I sold them for 35 cents each and kept a few. But was an experience and some work.
One time on our way to KC, Dad and I stopped at Jon Stephens, Annie's brother and he had a feed store and I bought a few sacks there and they were small like flour sacks and were flowered and figured and made interesting dish cloths and little table covers, the 36 in size. He only had a few or Dad would probably have bought more, but that was my buy, not his. (Ibid, March 1980)
Sixty three years ago was my Wedding Day, and Louise and Margaret went with us to the minister at First Meth Church. He was a stranger to us, and we met in a small room for the Service. And then back to Grandma & Grandpa [Hahn's] for a Wedding dinner and the family all there, that is the Hahn family and Dad & I Stayed in our home that night as had bedroom furniture there and went to Hahns for breakfast. and too the train to Baldwin. Louise & Margaret and Grandma & Grandpa went in the Ford, and this was Ed & Marie [Jenkin's] Wedding day. Marie's mothers [Mrs. Jenkins] had a noon dinner for us and Ed and Marie married in the afternoon. Then went two couple went to K.C. [Kansas City, Missouri] on train and stayed at same hotel that night. The next day went to a furniture store with a discount. We were so green about buying. I imagine it was full price, but did buy a buffet, table & chairs, and didnt have any money left for anything else. So we lived with furniture we got at a yard sale for the Living room, which was a wicker settee and a chair and a little table of some sort, the Living room was so bare for a long time. Someone gave us a new porch swing, the one we had many years after and such a nice gift. They sold for 5 or $6 new and think how many years it lasted. I could have sold 8 of them when I had my sale to move here to apt. I got $8.00 for it. At each side of garage on High St were white clematis vines on a lattice, and every year they bloomed on Sept 5 and did years after Dad was gone, but took them down later as wood broken and vines about gone.
And now will go on to other Labor Days when lived on High. We bought Colo peaches which came about that time and were so good to can, and then was when I made a peach jam which everyone liked to well, it had orange rind and Marashino Cherries) a few for color. You, Tom, called it Halloween Jam, and was so pretty and yellow, and one time two men from White City came for super. Dad met them downtown and invited them, and I put on a dish of that jam and one fellow kept spreading it on so thick was gone too soon, so I went to basement and brot up a pt jar and he sure made headway on that, and I thought if he came again would put on apple butter or some cheaper spread. (Ibid, September 1983)
Do you remember Tom when a little boy you wanted a live turkey for a pet and so in fall when up to Junction City, he bought you one at a produce pace. It was a cull and we brought it home in a box and you would pet in all way home [and] put it in a big cage back of garage, and fattened it up and cooked it. As I remember you did object to us doing that but maybe you did. I know I would [not] let Dad kill my duck, but ducks are smarter than turkeys. (Ibid, December 1980)
I used to like the warm summer Sunday dinners as did not have the oven meals so much on the day when weather hot and would have a can of salmon in fridge and cooked peas after got home from church and had a salad and fruit, coffee. Dad would make me iced coffee as had hot . but he would drink it also but later would have a cup of hot.. He did it because of me, fixing the iced coffee. I would sip on it so nice and cool in the breakfast room with shoes off and we would sit and talk longer than on other days. (Ibid, July 1979)
Hard copy 24 October 2004. Times New Roman 14 point. Photo check A. TH