Home Page
21 April 2006
On 23 March 20065, Florence would have been 109 years old!
Florence's Hahn Letters to her son, Tom. I am highlighting the portions that dealt with her past.
FLORENCE VIVIAN TORGESON


Her Signature in 1950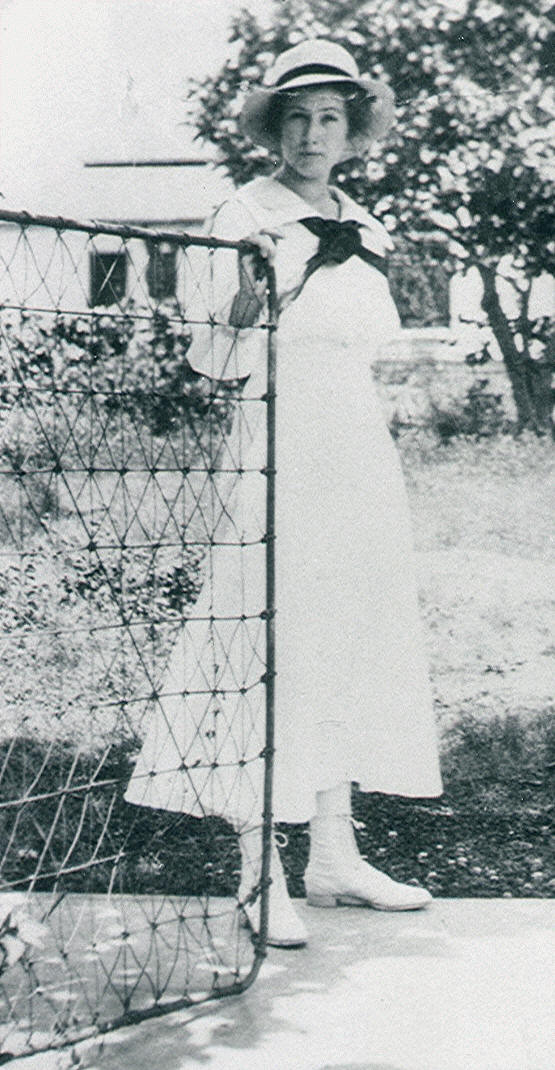 (Left) Florence Torgeson at Her Home in White City, Kansas about 1920 (Hahn Collection)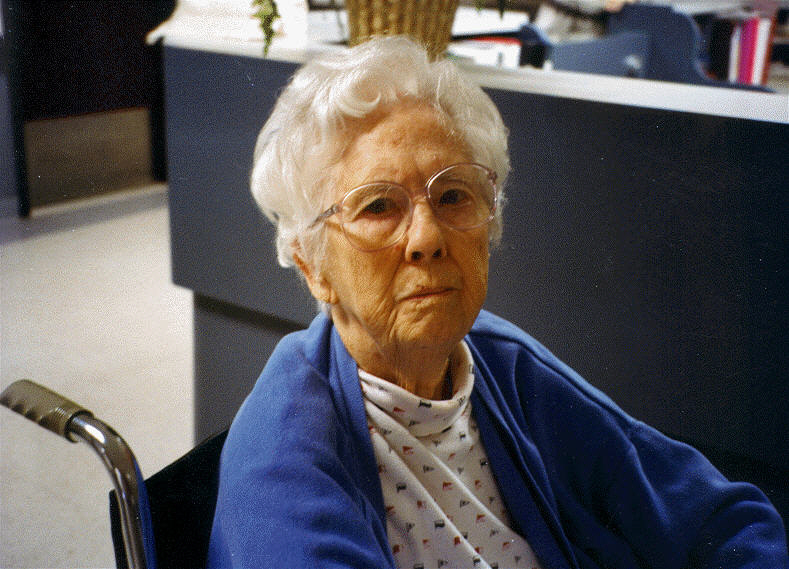 Florence Torgeson over One Hundred Years later at 100 plus in Shepherdstown, West Virginia in 1998. (Tom Hahn Photo)
Florence Vivian "Flo" Torgeson was born on 23 March 1897 at White City, Rolling Prairie Township, White City, Morris County, Kansas. (Extract from the White City (Kansas) REGISTER , a delayed Certificate of Birth based on the former, and her entry in the 1905 (March) Census for White City, Morris County, Kansas, vol. 300, sec. 1, p. 1) She was known as "Flo" only in her younger years. Florence was the daughter of Thomas "Tom" Torgeson, known as "Torgei Torgeison" where he was born in Bygland, East-Agder, Norway on 29 September 1857. He died at Topeka, Shawnee County, Kansas on 30 March 1939 and was buried in the White City Cemetery on 2 April 1939. Her mother was Margaret "Maggie" Louise Owen, who was born in Waverly, Bremer County, Iowa on 13 September 1870. She died at Newton, Harvey County, Kansas on 29 October 1952 and was buried in the White City Cemetery in November. The father of Maggie (Owen) Torgeson was Orson Anderson Owen. He was born on 1 September 1842 at Chardon, Geauga County, Ohio. He was in the Civil War Veteran from 31 January 1862 until 27 February 1865. On 26 February 1867 at Gulf Summit, Broome County, New York, he married Addaline "Addie" T. Curtis. She was born on 22 April 1851 at Cannonsville, Delaware County, New York died on 3 March 1944 at Emporia, Morris County, Kansas, and was buried in the Parkerville Cemetery in Morris County, Kansas. After the war, about 1868, Orson and Addie migrated from Sanford, Broome County, New York to Waverly, Washington Township, Bremer County, Kansas. About 1871 they went on a six-week journey, by oxcart, to the Solomon River Valley in Kansas, where they lived in a sod house. They then went to Solomon City, Dickinson County, Kansas, and, finally, about 1878/1879, they moved to Parkerville, Parker Township, Morris County, Kansas where he bought land in Township 15 in 1881 and 1887. Orson was a railway section hand and foreman and a farmer. He died at Parkerville on 26 April 1908, and was buried in the Parkerville Cemetery.
From the White City (Kansas) Register of 26 Friday, 26 March 1897: "Dr. Richards reports a daughter born to Mr. and Mrs. Thos. Torgeson Tuesday evening."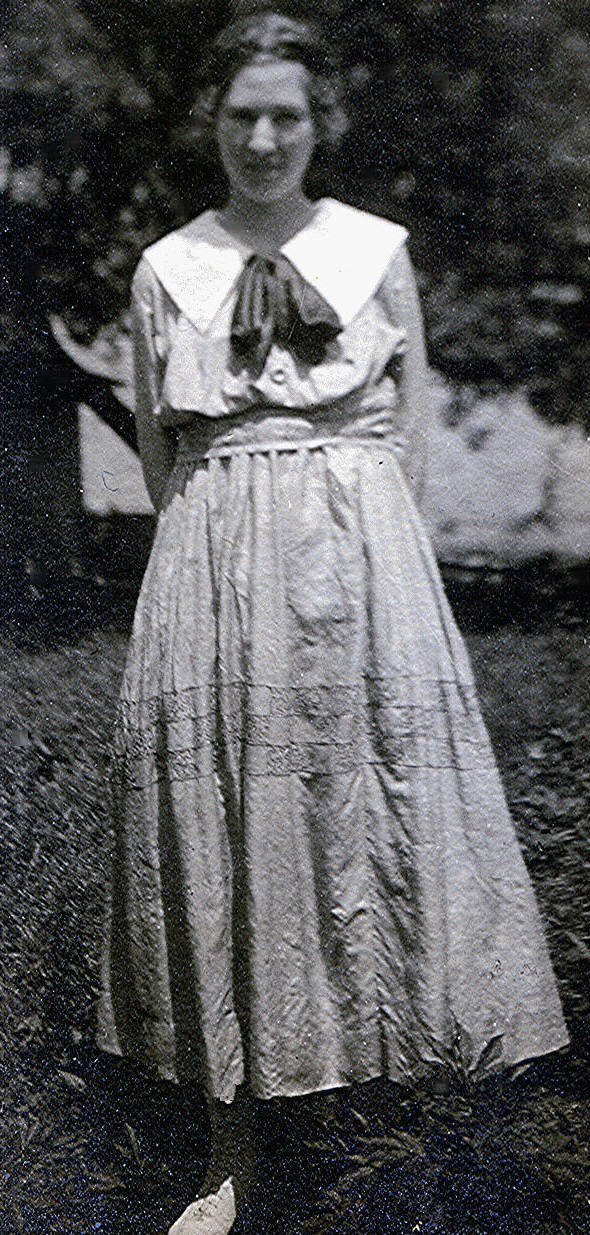 Florence Torgeson at Home at White City, Kansas ( Hahn Collection)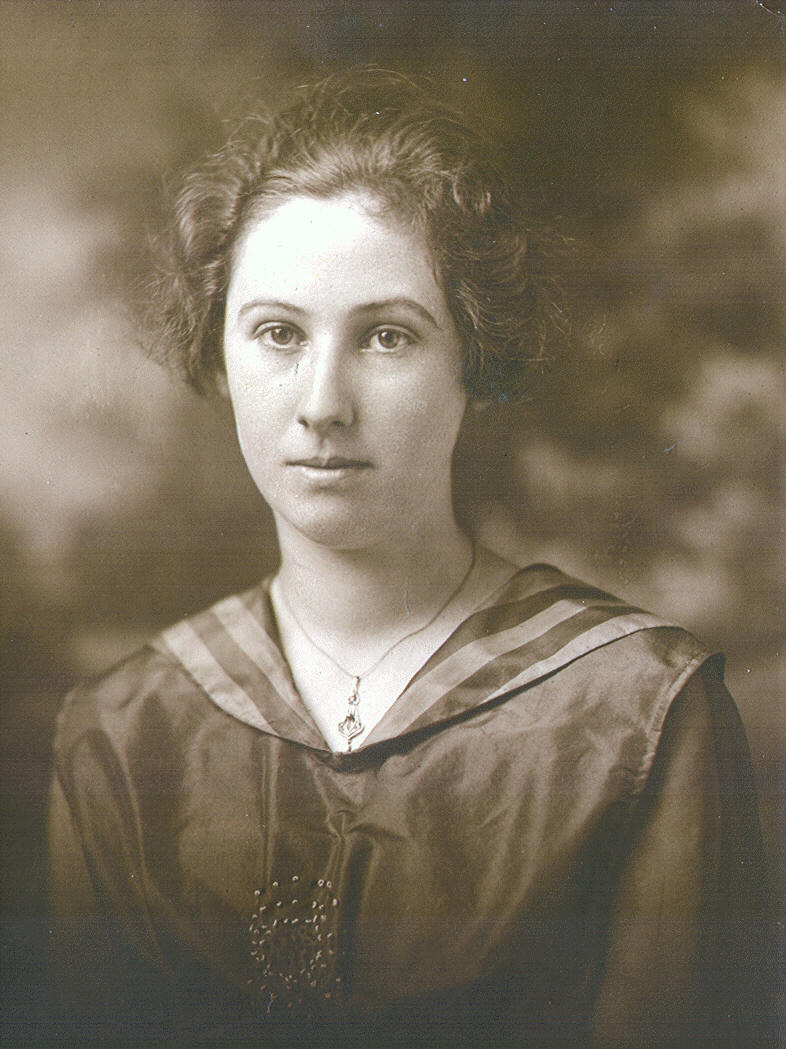 Florence Torgeson of White City, Kansas (Hahn Collection)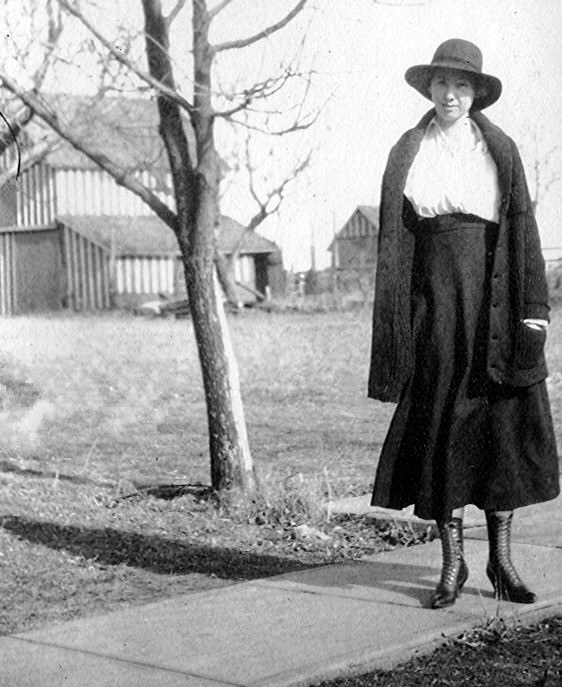 Florence Torgeson on the Sidewalk in front of their Home at White City, Kansas c1919. She once told me (Tom Hahn) that one time riding in Model-T Ford with only flaps for windows, she got so cold one winter that she got frostbite in her toes from the tight, high-top shoes she is shown wearing. (Hahn Collection)

Walt Hahn (left, Florence Torgeson, and Percy Edgar at White City, Kansas c 1919 (Hahn Collection)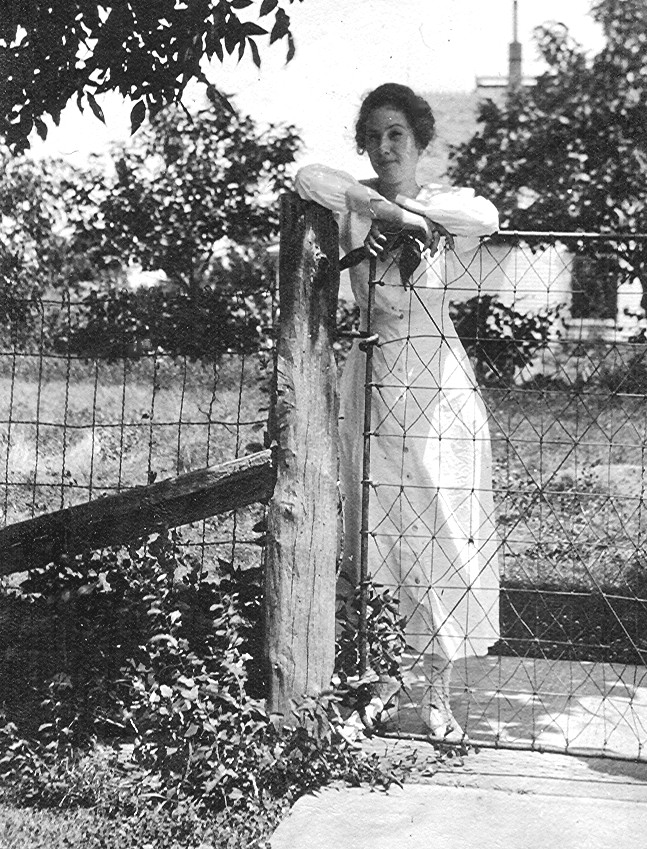 Florence Torgeson a her Home in White City, Kansas (Hahn Collection)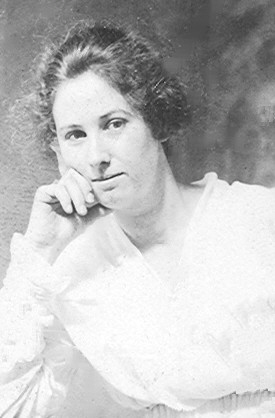 Based on general knowledge of her son, Thomas "Tom Swiftwater) Frederick Hahn, Florence was born and raised in White City, Kansas. She graduated from the White City High School about 1915, and worked in the White City Post Office where her father was the Postmaster. Florence went to Topeka in 1920 to marry Walter "Walt" Frederick Hahn Hahn, whose family also lived in White City at the time. Her sister Bernice moved to Topeka and lived with Florence and Walter while going to business school there. Gladys moved to Topeka shortly thereafter. Her brother Floyd Torgeson and his wife Alice Kneith lived in Topeka most of their lives. Floyd next married Bessie _______, and they lived and probably died in Chanute, Kansas. Her brother, Al Torgeson, and his wife, Neva, lived in Napa, Napa County, California. Florence and Walter lived in various places in Topeka until they built a house about 1925/1926 at 1120 High Avenue. That house was about two miles from downtown Topeka. They lived there until Walter's death in 1966.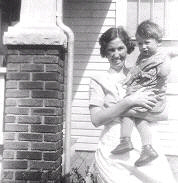 Florence and Tommy Hahn in front of their House at 1120 High Avenue in Topeka ca1928. (Hahn Collection)
The Walter Hahns lived for about a year in 1928 in Kansas City, Jackson County, Missouri, where Walter had a temporary job in the post office. They attended and were members of first the Trinity Methodist Episcopal Church and then the University Methodist Church in Topeka. Because both parents and much of the Torgeson Family and all of the Hahn Family lived in Topeka, many of their social activities were with the family. For many years their parents (or the surviving widows) lived two blocks apart on West 17th Street. Other activities were centered on church friends, especially a group called the "Bonehead Club," that met in member's homes. Florence was a social person who liked to entertain. She was a member of several clubs, including a book club and a sewing club, and was a den mother. She enjoyed doing craft work included making framed jewelry pieces out of people's old costume jewelry.
***
As sure as comes your 15th Wedding Day.
"It's cystal so they say.
And we are sending this
To remind you of the day. The Mcs [McCollister's] A crystal cake plate.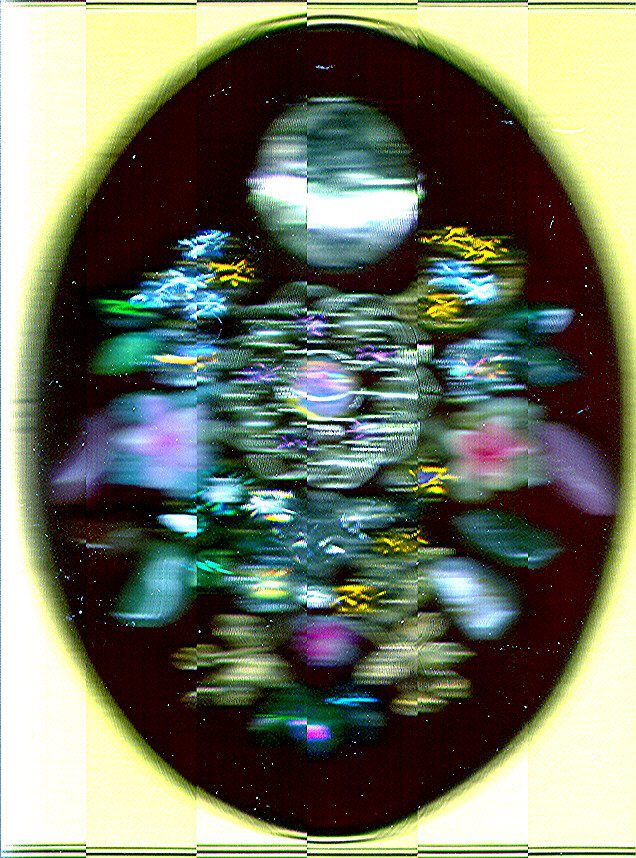 One of Florence's jewelry "paintings" using pieces from Nathalie "junk" jewelry. The medallion at the top was given to Nathalie by her best friend, Jean Sergeant, when she was growing up in Crotonville, New York. The image, by Tom Hahn is not a good one because it was not possible to separate the work from the insert of the frame in which it was placed. I will work with this to see if I can improve it.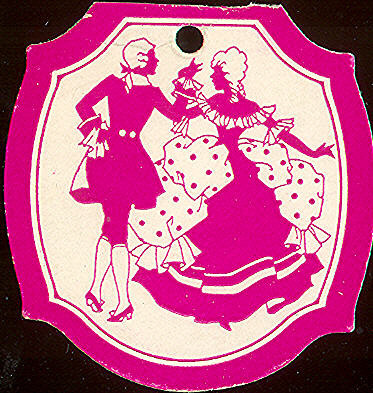 This is an invitation to a birthday party for Florence on her 37th birthday. The back of this card says Dilla-Charlie; Gladys-Jack; Louise-Less; Florence-Walt March 23-1934. (Hahn Collection)

Florence and Son Tom in their Backyard. From the suitcase, he was probably going back to the University of Kansas ( Hahn Collection)


Florence and Tom Hahn at Galveston, Texas, June 1946 (Hahn Collection)



Florence Hahn and Tom Hahn on vacation at Possum Kingdom Lake, Texas 1950. Although Tom was away in the Navy, the families got together whenever possible. (Photo by Walt Hahn)


For a Year or so Florence kept these Ducks, known as "The Boys," for pets. They are shown in her back yard at 1120 High Avenue. Note the clothes line, the window to Tom's bed room, and the basement window. (Walt Hahn Photo)
In 1974, she moved to an apartment at 2101 High Ave in Topeka. In 1985, at age 88 she moved to Lowe Garden Apartments in Shepherdstown Jefferson, County, West Virginia to be near her son, Tom, and his wife, Nathalie.
For many years, both Florence and Walter had an association with the daughter of a church member, Jenay Weekly and her husband Gary, and their families and later with their daughters. In March 2006, Jenay wrote a letter to Florence's son, Tom, remembering some of the things about her and Walter, after Tom had sent her some letters that he had received from Florence. She said, They [the letters] are so precious and a reminder of some very special times in my life. I can picture her sitting in a chair and reading me YOUR letters to her! Whenever she visited you at the cabin [in Maine etc, she would write. Just seeing her handwriting again makes me smile. My daughters were lucky to have her as "Great-grandma." I always appreciated your sharing youyr mother with me and she enriched my life in so many ways. Here are some special memories I have:
Chewing a stick of "Blackjack: gum slipped to me by Grandpa in church while my parents both sang in the choir at Trinity [Methodist Episcopal] Church.
Learning how to cook with lessons on simple to make meals. I still have recipes in my box that grandma made for me! My girls now have copies.
Eating lunch once a week when I was in college on her beloved Spode "Cowslip" pattern china. I loved it so much I actually bought one plate at an antique store in that pattern which hangs on my wall today.
Eating homemade rolls pulled from a straw-pattern tin. I bought one of those at a sale too.
Playing with Grandma and the girls and Cabbage Patch dolls.
Enjoying her every Christmas Eve for dinner and presents.
Birthdays
My wedding day when she was in the family picture as my grandma . . . . and so many more.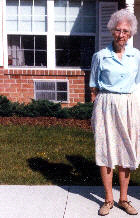 Florence in front of her Apartment House at Lowe Gardens, Shepherdstown, West Virginia ca1990. She lived on the second floor most of her stay here, and then moved to a first floor apartment for a very short period of time before she went to the Shepherdstown Nursing Facility. (Tom Hahn Photo)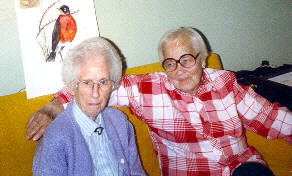 Florence and her Aunt Martha Norma (Owen) Brown at Hendersonville, North Caroline in May 1988. Although Martha was her aunt, Martha was only one month older than Florence. Florence's mother, Maggie Owen Torgeson and Martha Owen Brown were sisters and had babies about the same time. Martha was born on 22 February 1897 and Florence Torgeson Hahn was born on 23 March 1897. (Tom Hahn Photo)
In September 1991, at age 94, she moved to the Canterbury Nursing Facility in Shepherdstown. She celebrated her 100th Birthday there on Sunday 23 March 1994 with her son Tom Hahn, her grandson Chris Hahn, her great-grand-daughter Beverly Hahn. and her step-grandson Duane Torrey, her daughter-in-law, Nathalie Hahn, and friends.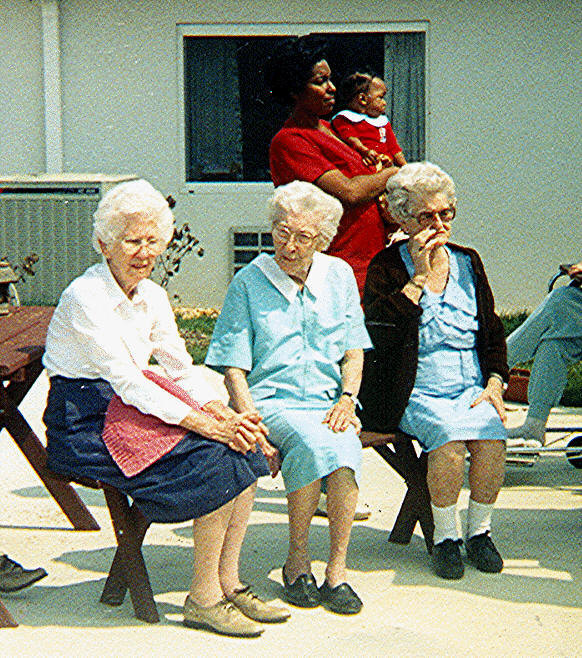 Florence Torgeson at an Easter egg hunt in 1992 at the Canterbury Nursing Facility, Shepherdstown, West Virginia
( Hahn Collection)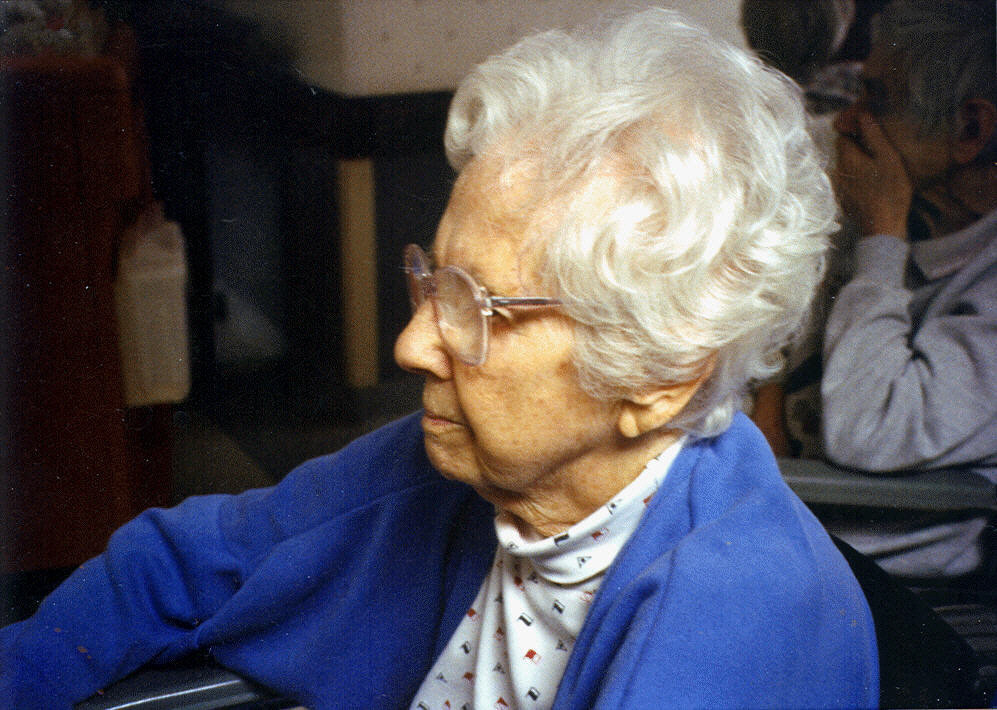 Florence (Torgeson) Hahn on her 100th Birthday (Hahn Collection)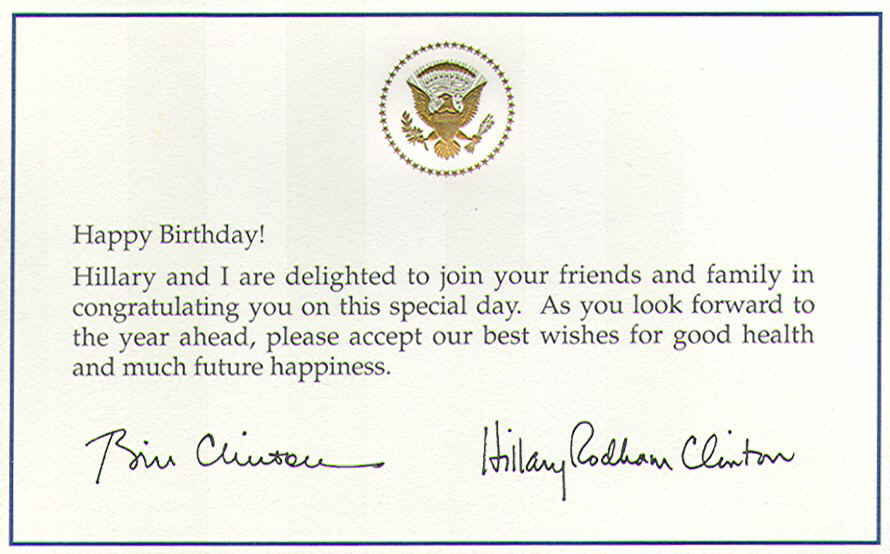 Memories from Florence Hahn's Letters to her son, Tom Hahn
I have been thinking about 56 years ago today. What a good life we had together. We were married on the 5th [of Sep 1920]. Louise [Hahn] and Margaret [Hahn] [--Walter Hahn's sisters] went with Dad and I to the First Methodist Parsonage here [in Topeka, Kansas] at 11am and we went to Grandma Hahn's [Mattie Defries and Chris Hahn's] for our wedding dinner. The next day we went to Baldwin [Kansas] to Marie [Jenkins] and Ed's [Ed Hahn was Walter's younger brother's] wedding at Mrs. Jenkins's home. [Mrs. Jenkins had previously lived in White City, but she moved to Baldwin to give her daughter, Marie, a home while Marie attended Baker University. Mrs. Jenkins also took in students as boarders.] Avis [Marie's sister] and her new husband [Homer Sharp] of four months were there. I think about six o'clock we two couples went to Kansas City and we stayed at the same hotel. We went to a furniture store. We had a letter for a discount from the furniture man in White City, so we bought a dining table, buffet, and chairs and we didn't have money for anything else. We were there two nights. I had a new wedding suit which was a fall model and was a warm day and then a rain the first day in KC that ruined my wedding hat. It was so nice for us to have our relatives living here [in Topeka] and raising our families together. Les [Beckman] and Louise [Hahn] were married in December, then Myrtle [Walter's older sister] moved here the next year and Ed [Hahn] soon after that so that we were quite a family. The Hahns were wonderful people, good folks and loved their children and we were all very happy. Then my folks came two or three years after we did. Dad was still in the Post Office 2 or 3 yrs after I was married. We had such fun on picnics and going to the Fair with our kids and we were all poor together. Dad [Hahn had a Model T car the year they came to Topeka and they came here only a few months after we were married. That first fall we were the only ones and them here in Topeka and we had such good times. We would go for a ride Sunday afternoons with Louise, Margaret and Grandma and Grandpa Hahn and we would get lost in the country and finally get back on the road to town. We would stop at their house for a little Sunday evening snack. It seemed that it was a wonderful fall, everything new to us--the big Fair and we even had a guest or two that fall that came to the [Kansas Free] Fair. And Dad had a good time stocking up on apples, pears, etc and grapes. I didn't know much about what to do with them but did know some from home, but mostly my job at home was peeling the peaches and apples and grapes and mother did the rest. And so today all I've done is think about the good times and how beautiful that fall was. And to be in my own home with a furnace and running water and a toilet, I felt like a queen, but most of all I had a good man to look after me. (1977)
From a 1977 letter to her son Thomas Hahn:
The [wedding] day was a bright quite warm one as I had a new winter suit and a satin blouse. I don't remember whether there were any relatives there that day [at the wedding dinner]. I came to Topeka a few days before and stayed at the Hahns and I shopped for my clothes. The ones at the Hahn house went in the Ford [to Ed Hahn's wedding in Baldwin] and Dad and I went on an early train. At the wedding at Baldwin there were a few guests and Mrs. Jenkins had dinner for us. We got a few things at a yard sale in Topeka, a few days later--a wicker settee and chair. We did get a table with the dining room stuff, they called them library tables then, a long narrow table and it stuck out like a sore thumb in that almost bare room, but we were very happy and proud of what we had. I had bought things for my hope chest for two or three years so was well supplied with towels, sheets, etc and got a notice from the bank in W.[hite] C.[ity] a week after we were married I was overdrawn 67 cents. I never lived that down. Dad thought it was quite a joke and loved telling it. My wedding hat cost $18.50 and suit $75.00. Clothes were high then. The night before we were married the Hahns were playing the Victrola and the record was, "When you come to the end of a perfect day." It was so popular then and I got homesick and left the room and went to a bedroom and cried. Dad came in and I told him I was lonesome and wanted to go home to W. C. but in no time he had me in a different frame of mind, so fall has always been a beautiful time for me as that one was such a lovely one.
Florence and her four sisters were very close, as can be discerned from this article by Zula Bennington Greene-"Peggy of the Flint Hills," entitled "Five Sister," on Friday, 24 October 1958 in The Topeka Daily Capitol:
Let's not drift apart," the youngest of five sisters said six years ago when their mother, Mrs. Thomas Torgeson, died. They grew up in White City. They decided to meet once a year, in October, and drew to see who would have them first. It was Mrs. Jo White, 728 Arter. Each has in turn been hostess and this year they met again with Mrs. White. Another lives in Topeka, Mrs. Walter Hahn, 1120 High. The others are Mrs. Mary Christensen, Junction City, Mrs. Thomas Taggart, Goodland, and Mrs. Frank Schump, Clinton, Mo.
They don't ask people in or have coffee or go downtown. They let their hair down and talk, often far into the night. Husbands stay at home, and the "hostess: husband makes himself scarce during those three or four days. In between they keep in touch with a round robin letter that circulates each month.
Once they wrote down each other's faults, not mentioning names, and had them read by the hostess husband--"And we recognized ourselves." The visits are occasions of fun and frolic and games and gay surprises. "If you were hiding behind a curtain," one said, "you wouldn't know we were grown up." They gather up their white elephants and bring [them] for prizes. This year Mrs. White decided to have an auction, and every month each woman was asked to make something--place cards in January, an apron in February, a dish towel in March, a clothes pin doll in April, and included was` a story for a ten-year-old (most of them were grandmothers), something to eat, and a mystery package.
Mrs. White gave each $3.50 of play money to use in the auction of the things that they had made. Each also had a special project for herself. Mrs. Schump made a picket fence around her home. Mrs. Christensen made two lamp tables out of a dressing table, Mrs. Taggart learned to drive a car, Mrs. Hahn made a Christmas tablecloth and Mrs. White a doll's outfit. Since these visits started the five sisters feel they have leaned to know each other as they never had before and they look forward to them as the high point of the year. One of them [Mae] said, "A week ahead I get so excited I hurt."
Florence died 5 October 1998 at Shepherdstown Nursing Facility, Shepherdstown, Jefferson County, West Virginia. She was cremated at Smithsburg, Washington County, Maryland, and her ashes were buried in the same plot with her spouse, Walter Frederick Hahn, in the Mount Hope Cemetery, Topeka, Shawnee County, Kansas. A small family memorial service was held at the cemetery in June 1999.
Obituary of Florence Vivian Hahn: Florence Vivian Torgeson Hahn of Shepherdstown WV and Topeka KS died Monday 5 October 1998 of natural causes at the age of [nearly] 101 in the Canterbury Nursing Facility Shepherdstown. She was born 23 March 1897 in White City Morris Co. KS. Her father, Thomas Torgeson) was born in Norway in 1857 and her mother Margaret Louise Owen was born in Waverly Bremer Co IA in 1870. Florence married 5 September 1920 Walter Frederick Hahn born 1895 in Muncie Wyandotte Co. KS. Florence and Walter lived most of their lives in Topeka, Shawnee Co, KS. He died in 1966 in Topeka, Florence moved to owe Garden Apartments in Shepherdstown in 1985 and to Canterbury in 1991. She is survived by her son Dr. Thomas F, Hahn (and his wife Nathalie), of Shepherdstown, a sister Bernice Taggart of Goodland KS; a grandson Chris Hahn of Shenandoah Junction WV; a granddaughter Betsy Hahn of Amherst NH, a step-grandson Duane Torrey of Amherst NH, a step-granddaughter Dianne Torrey of Miami Florida, a great granddaughter Beverly Hahn of Shenandoah Junction, and by her extended family at Canterbury.
Memories
There are things that you have written about this time that reminds me of the first time that I went to Winter Harbor [Maine]. I remember John H[hayes, Screenwriter for Hitchcock]. We had a picnic on the rocks and afterwards went to some folks place and stayed there a while and Betsy went over to Hay's and I can't remember the name of the folks where I went. It was in a very swanky neighborhood . Some one brought out lamb chops and cooked,. I had never cared for lamb and took the smallest one trying to like it and it was so good I wish that had taken a larger one. The kids had hamburgers. Can you remember the folks. You used to mention Hays in your letters, his literary career. [Butterfield 8, Peyton Place, Rear Window, The Birds, Butterfield 8, etc.] You and Nathalie have been visiting more than usual haven't you among your friends. Maybe you had more time this summer. (Florence Hahn Letter to Tom Hahn, August 1979)
Times New Modern 14 point. Laser copy 12 November 2004. Photo check A. TH