12 April 2006
This article is for family research and genealogy only. It may not be used for commercial purposes or without the permission of the copyright owner Thomas Swiftwater Hahn E-mail: swiftwater@lenapedelawarehistory.net or 3751 Schefflera Drive, Fort Myers FL 33917-2040.
Thomas Torgeson Family Celebrations in Topeka, Kansas as Recorded in Florence (Torgeson) Hahn's Scrap Book:
Christmas 1932 at 1120 High Street [Walter and Florence Hahn's]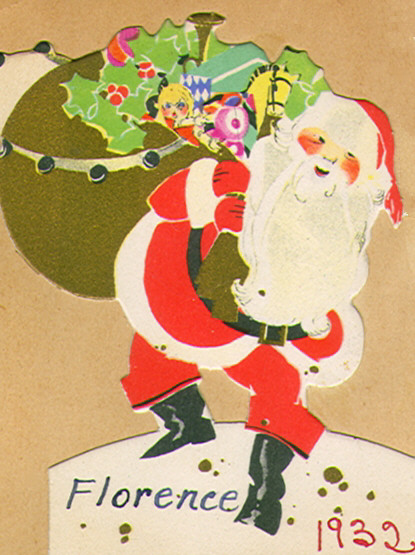 Christmas 1934 at Mother's home & Dad's [the Torgeson's]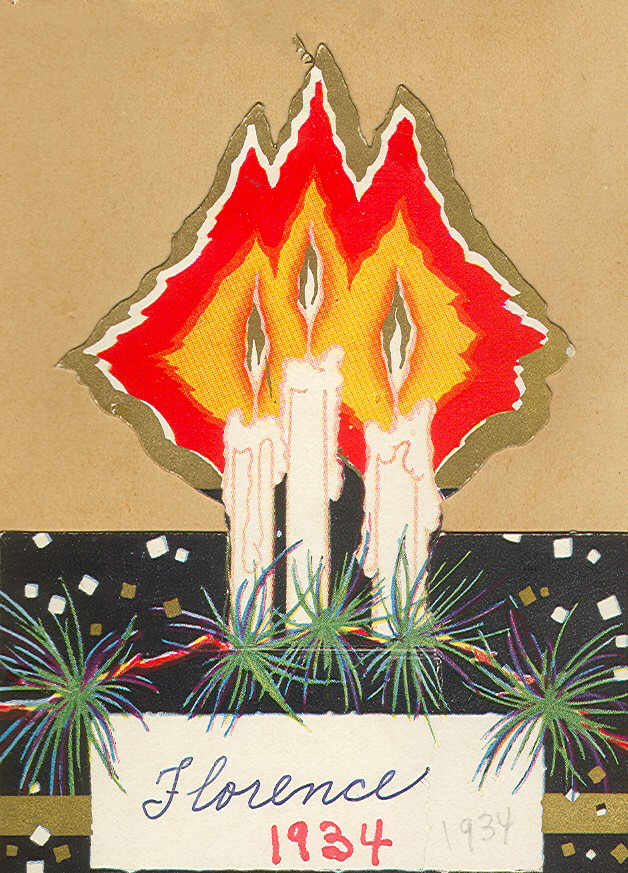 Christmas 1935 at 912 W 17th [the Torgeson's]:
Grandma - Grandpa
Mae-Bob
Floyd-Junior [Torgeson]
Florence-Walter
Gladys [Torgeson]-Bernice [Torgeson]
Tom T[aggart]-Tommy
Dorothy [Christensen] - Gene Waters
Christmas Eve and Christmas 1940 [probably] at Christensen's Christmas Eve and all day Christmas. Tree in the basement. Bob and Mae (Torgeson) Christensen lived at Junction City, Geary County, Kansas.

This is probably Mae's handwriting. She always had things nice .(Hahn Collection)
Christmas Eve 1940 alone. Tom went to Beckman's Farm. Walt & I went to Uncle Gus's for dinner Christmas Day [The farm was the parents of Les Beckman who married Louise Hahn. Their daughters Marty and Becky would have gone as well. I loved going to this farm. It was located near Thayer, Neosho County, in southeastern Kansas. Unknown to me then and not until 2002, the Christian Hahn Farm was only two miles away, but no one ever mentioned that to me. Grandpa Beckman was a silent, rather dour sort of person, but his second wife, not the natural grandmother of the Beckman children, was very good to all the kids. At this time of the year, the upstairs bedroom was very COLD.] Gus Hahn, Walt's uncle, and his wife Nellie, lived in Kansas City, Missouri, over two hours away from Topeka at that time. My Diary Entry says," 24 December Tuesday: "I went doiwn to the farm with the Beckman's."]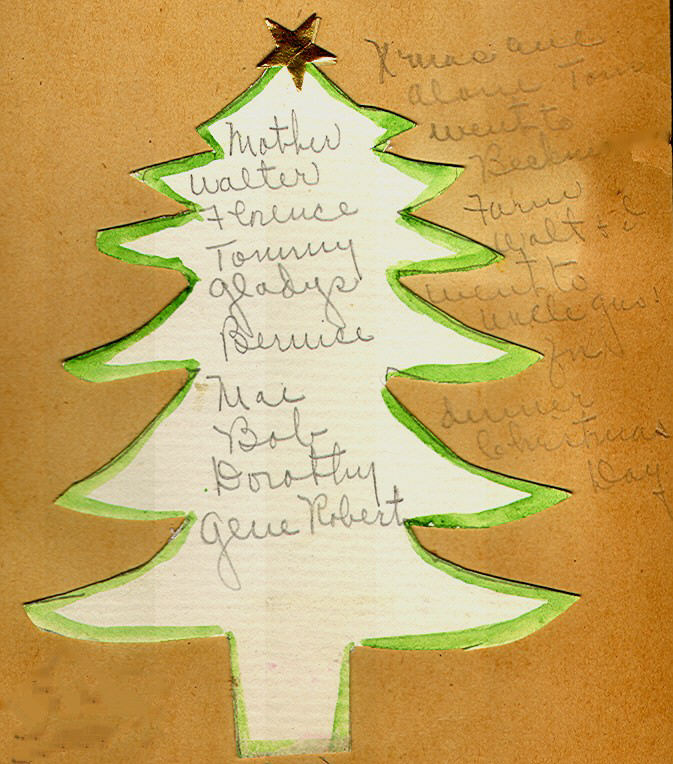 Christmas Dinner 1940 at 912 W 17 [home of Margaret Torgeson]. Tree and supper at Gladys & Bernice's on [1124] High St.:
Mother [Torgeson]
Walter, Florence, Tommy
Gladys, Bernice
Mae, Bob, Dorothy
Gene Robert. [Note: Had our Christmas 2 days before Christmas.]
Christmas 1941 At [Robert and Mae] Christensen's - Christmas Tree in basement also midnight buffet supper. Four colored men came at 2 a.m. & sang Christmas carols. Christmas dinner in dining room, table lovely with red candles - cedar and place cards in pine cones. Served ourselves in the kitchen. Roast turkey-squash, parsley potatoes, peas, salad (cinnamon apple, stuffed celery), Mince pie, mints, coffee. Mae-Bob
Bernice-Tom
Florence-Walter
Gladys-Mother
Gene-Robert, Dorothy-Gene.
[Where was Tommy Hahn off to this time?]
Wedding dinner 31 January 1942 for Gladys Torgeson Murphy and Joe White at the Hahn's at 1120 High Street. Their Marriage License as announced in a Topeka newspaper said: Hoe White, Topeka, age 48 Gladys Murphy White, Topeka, age 39.
Christmas Eve 1942 Tree & Snack at Gladys [and Joe White's] Christmas 1942 [dinner] at 1120 High St. [Walter and Florence Hahn's]
Mae & Bob
Gladys & Joe
Homer White
Bernice - Tom
Mother [Torgeson]
Walter Tommy Florence.
[Gladys and Joe married in 1942, so this was their first Christmas together.]
Christmas Eve or Christmas Day 1946 "Mother's home"
Christmas 1947 at Gladys & Joe's
Bernice - Tom
Tom - Beth
Florence-Walter
June-Bob-Bobby [White]
Evelyn-Lewis [White]
Gladys-Joe. [Lewis and Bob --I think--were Joe's sons with their wives]
Christmas 1948 at Junction City [Mae's]. Dinner Christmas Day at 6 oclock. Those present:
Bernice-Tom
Gladys-Grandma T
Dorothy-Gene-R.-Gene
Florence-Walter-Mae
A wonderful time. Went on train Christmas Day, home next day. Everyone there all night.
Christmas Eve 1949. Christmas Eve at home
Christmas 1949 to Junction City [to Mae's]. Christmas Day, dinner and tree in evening, home the next day. Those present:
Dorothy, Gene, Gene R.
Gladys
Al
Bernice & Tom
Mae-Mother
Florence-Walter
Thanksgiving 1953 Gladys and us went to Maes. Dorothy & Gene R. there
Christmas 1954 went to Maes afternoon of Christmas Eve:
Dorothy-Gene-Gene R,
Walt & I
Mae
Stayed all day Christmas, home Dec 26. A wonderful time.
1977 Christmas Eve and Day. Tom Nathalie and Betsy and Gladys here. Gladys here Christmas Eve and on Christmas Day.
2005 Christmas Card from Bernice (Torgeson) Taggart at Age 101. Keeping the flame going!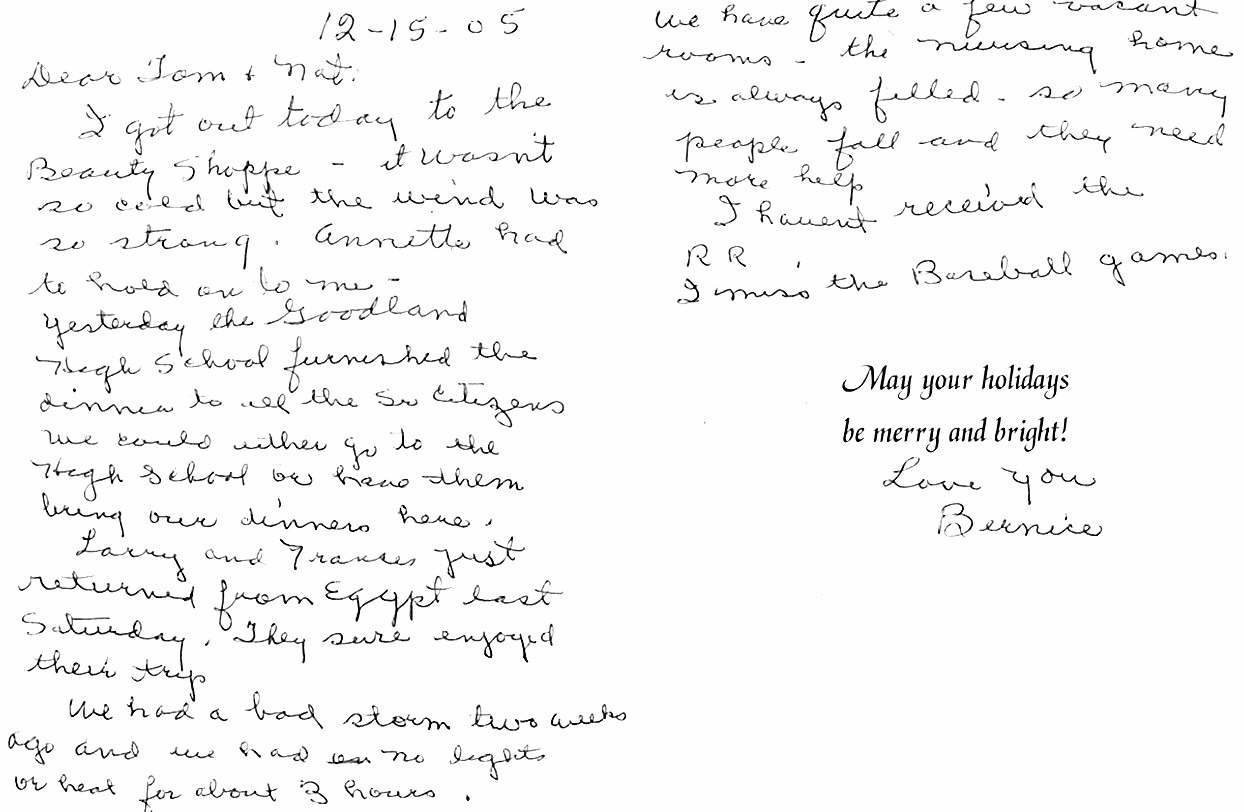 Torgeson Girls Reunions
Out Goodland Way (From Florence Hahn's Nothing Book
Fall is the time that I like best
When we go to Goodland for a needed rest
What fun we have when dinner is over
Oh I can hardly wait until next October
Coconut cake is the piece de resistance
And is soon devoured by Bernice's resistance
The Taggarts are such friendly folks
When we plan to leave they coax and coax us to stay over.
But we must go while it is still October. (By Florence)
"The Diner"
The diner is a lovely place
When the waiter has a happy face,
The rails make a ringing sound
While we eat and laugh and clown
Two pheasants on a Sunday morn
Raced through the stacks of kaffir corn
Their days were numbered only a few
Until they would be simmering in a savory stew. (Gladys)
Out to Goodland Kansas we went one day
Left our cares behind us
Just to have some fun and play.
All we did was to eat and talk
And we would get so full would take a walk,
We had breakfast in the diner, luncheon in the yard
And when everyone was sleeping, a stolen snack was not too hard.
We slept down in the basement, where was nice and cool
Where Jack Sprat's wife to us
Just acted like a fool.

Twas hard to say goodbye to folks who were so nice
But I will be glad to get back home and making Pappy's pies. (By Kate)
"Trip to Goodland"
Aboard the UP[ Union Pacific] , the crowd was dull and drowsy
We thought the trip would be s long,
But never once felt lousy
The Goodland folks with open arms, all met us at the station.
The food we crowded under our belts would almost feed a nation.
The food the folks the country drives all make for future living
Lets try again another year to make it near Thanksgiving. (by Gladys)
Remember the night we heard our sins
The room got so quiet heard the dropping of pins
Then our virtues good and true were told
And we blew hot and then blew cold
Maybe we will profit by what we heard
Or maybe take wings like the flight of a bird.
(Hard copy 10 March 2005)