27 November 2006
FLORENCE HAHN ENGAGEMENT BOOKS
1979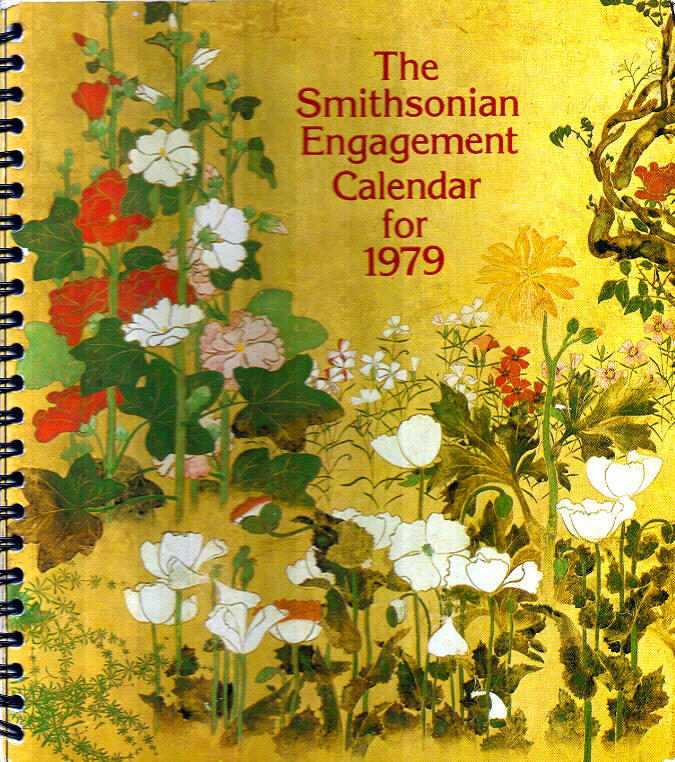 Florence would have been 81 at the beginning of the year and was living alone in an apartment on High Avenue in Topeka, Kansas
January
1 January Monday New Year's Day--This is such an interesting Book. It amazes me how they make so many different books every year.
2 January Tuesday--Has snowed for two days and altogether 11 in and now below zero weather has set in.
3 November Wednesday--The lowest is 17 and is bitter cold. Cant get out to go to store.
4 January Thursday--Jenay and Gary [Weekly] came to take me to store so stocked up to last awhile. They also took out trash that has accumulated for a week,
5 January--Friday--Have 2 jewel pictures ready for velvet when I find out what color, an interesting indoor hobby. [My mother collected and gathered up old costume and junk jewelry and cut it apart and made designs with in on a velvet material, suitable to the personality and desires of the intended recipient. We only have one piece of this left and I wish that we had more.]
6 January Saturday--Still piles of snow and down below zero at night and still very cold.
7 January Sunday--To Church Dinner Communion Service. Stayed awhile with Ashley [Weekley] in afternoon. Sun out bright. Tom called.
8 January Monday--A Christmas package from Diane [Torrey], belated. A bright, sunny day below zero early morn. Finished a jewel picture for Nat to give to Joan [Myers].
9 January Tuesday--Bright cold day. Baked two loaves of bread and wrote letters, although am housebound, the days seem short. The mail helps also.
10 January Wednesday--Just little errands. To Mrs. S.[amways? neighbor] to put drops in her eyes. To Mrs. Landis [neighbor] for tea, only me. She is such a nice interesting person.
11 January Thursday--Laundry, 2 bath rugs. Plumber put new faucets on kitchen sink; what a relief not to have to soak up water from running down cabinet.
12 January--Jenay for lunch and we went for groceries. Had rice muffins & corn broccoli for our lunch. [My mother's rice muffins were delicious and N still makes them for us as a treat.]
13 January Saturday--Snowed in night and all day, so is a white world and very cold. Tom called.
14 January Sunday--Highways impossible and no churches open. All meetings cancelled. Called Bernice. Zero at 5 this morning.
15 January Monday--Still cold below zero at night 24 today. Finished reading Beasts of My Fields and started working on a mini picture that received Christmas.
16 January Tuesday--Still shut in but keep busy with letters reading, finished "Beasts of My Fields."
17 January Wednesday--Had the neighbors, 6 of us for afternoon tea hot cinnamon rolls. [Florence was the best cinnamon roll baker that I ever knew. How I would like to have a couple right now.]
18 January Thursday--Still very cold but warming up for afternoon. And it came in a way that gave in, and melted some of snow then icy in the night.
19 January Friday--Icy early morning. Traffic tied up, very slow for 2 hrs. Sun out so will; take care of some of ice.
20 January Saturday--Same kind of weather but did not snow. Keeping drawers clean of paper trash.
21 January Sunday--Very cold, asked Marvin to tae me to store as he was at Mrs. Samways. Still too icy to go on my own. A warm up of leftovers today, so being lazy. Bernice called also Tom.
22 January Monday--AARP meeting cancelled. Velma in hospital. Morning spent on writing letters. Letters. Afternoon working on mini picture. Got up at 8, days seem short snowed in night and morning.
23 January Tuesday--Letters, working on mini picture, got up at 8, days seem short. Snowed in night and into morning. Is cold.
24 January Wednesday--Bed Change. Called all the girls and cancelled Book Club. Only 3 could come. Defrosted.
25 January Thursday--Breaking up jewelry Norma brought over.
26 January Friday--Jenay for lunch, and over to store. Snowed in night, so bad going to store.
27 January Saturday--Washed. Made a cream pudding. Nice mail. Arranging jewels on velvet. Started a Book Nantucket Woman.
28 January Sunday--A pleasant Sun on a very cold day, letters written. Called Tom. Gray [Weekley] fixed dining table.
29 January Monday--Such a cozy day and am used to staying in and keep busy and do a lot of window watching.
30 January Tuesday--A call from Tom last night telling me to be sure and watch Down Stairs or Back Stairs in the White House. Snowed all night and still at it.
31 January Wednesday--Made a jewel picture cameo heads on black velvet. Zita called.
February
1 February Thursday--23 below in night, the coldest record since 1900. No windy which helps. Made a peach cobbler for Jenay and family.
2 February Friday--Jenay took me for groceries, still too bad to make it alone.
3 February Saturday--Washed the blue outfits. Temp. up today but still cold. 17 degrees. Cleared out things in tin box and income papers ready to go.
4 February Sunday--To Church and to the diner, and then home and a busy afternoon with phone calls. A very cold day. 10 degrees on early morn then zero all day.
5 February Monday--Below zero again. Several letters to get off so had a busy morning.
6 February Tuesday--Sent tax papers to Mr. Harrison.
7 February Wednesday--Calls to shut ins. Still zero weather high in 20s.
8 February Thursday--A light snow. Letters written. Package from Charlotte. Several little interesting packages.
9 February Friday--Still zero mornings.
10 February Saturday--Worked on jewel picture for Norma. Vacuum.
11 February Sunday--A quiet Sunday, shampoo and a god diner and afternoon writing letters and Valentines from Sta Francis made me for Christmas, s Sun Bonnet girls, Melting some.
12 February Monday--"Gone with the Wind" and Back Stairs at the White House on last week and this.\
13 February Tuesday--Zit [Schump--sister Kate's daughter-in-law, wife of Frances Schump] [came] on bus. Rcd a typed "Snow Bound" classic or poem by Whittier and it has had me very happy to get it. [Son Tom typed it and sent it to her.]
14 February Wednesday--Norma brought a plate of Valentine cookies and Jenay came over in afternoon with Valentines and pkg.
15 February Thursday--Fog came up towards evening and then by morning a chilly wind and frozen moisture over walks. Zita and I to the store and path very icy. We had a time getting home. A bitter wind.
16 February Friday--Zita went home this afternoon. I enjoyed our visit. We sat and talked all the time.
17 February Saturday-- Started snowing at noon and has accumulated an inch of snow. Have recd Snow Bound. What a lot of work to type it, but makes it appreciated by me.
18 February Sunday--A very quiet day. Two letters written, a good chicken stew, and reading, then evening entertainment with 2 hrs. of Roots.
19 February Monday--No mail, but a nice day, warmer.
20 February--A light rain and at last black earth is showing, but still some snow left. Shampoo.
21 February Wednesday--Group meeting. Such a nice afternoon, meeting at church. White cake with cherry pie filing on top, coffee, fudge.
22 February Thursday--On my own over to store & trash. So good to get out on my own and get groceries. Snow gradually going away.
23 February Friday--Book club here. Cake served with cherry filing on top. Six of us. To Jenays for Ashleys for supper.
24 February Saturday. Out to White Lakes [Shopping Center] in afternoon and no luck in shopping. [Florence lived on a bus line and took the city bus when she could.
25 February Sunday--Worn out from trip to White Lakes, so had to rest up today.
26 February Monday--AARP meeting and a good turnout. Pleasant day and I stopped by with Jenay before going to meeting and bought two blouses, winter ones.
27 February Tuesday--Chilly day so stayed in.
28 February Wednesday--For groceries and some good sales this week. Got 2 large turkey legs to bake. Muggy and damp. Washed white sleeveless sweater.
March
1 March Thursday--A Fairly good day for March 1st but chilly.
2 March Friday. Dizzy. Cloudy. Picking up excess things in closet.
3 March Saturday--Sleet and rain. So another day to Stay in.
4 March Sunday--Cold but dry walks from yesterdays sleet. Called Tom early in morn. Norma and Le Roy [Eaton] [neighbor] for a chat around 5 o'clock.
5 March Monday--Over to Mrs. Landis for tea, a very nice talk with her.
6 March Tuesday--To town, [by bus. Pretty good for an 81-year-old person]. Pelletiers [Department Store] are selling out but their prices are still high. Got a girdle and two other items. Warm pleasant day for a change.
7 March Wednesday--To [University Methodist Church] Group Meeting. I made the tea and served it, there were 30 of us. A chilly wind. Got a gash in foot from scissors.
8 March Thursday--Shower. Over to store and more groceries before a storm came as forecast is for sleet or snow.
9 March Friday--Another light snow in night, but soon melted. Invitation from Bernice about a May reunion the 6th.
10 March Saturday--Cleaned up the apartment good and washed some of good dishes as they were dingy looking from the gas. Accident to foot with scissors.11 March Sunday--Dr. Shuler very good this morning. Walked to store and is a balmy spring day.
11 March Monday--[Harriet or having] Esther Frances Ruth here for lunch, Peach and sausage casserole. Tapioca pudding.
12 March Monday--Weather good.
13 March Tuesday--To see Chelseys school. 7 o'clock Jenay.
14 March Wednesday--Send Patty [Hahn?] a birthday card. Hair cut 6.00.
15 March Thursday--Laundry. Carol [Blair] & Boy friend [probably Mike Laskowski] were here for a short time.
16 March Friday--Talked to Tom & Diane.
17 March Saturday--Birthday pkgs, from Bernice and Tom & Nathalie. Out shopping with Jenay in afternoon.
18 March Sunday--Home all day, showers, worked on some Easter Sta. Cooked turkey leg & dressing.
19 March March--Shortened a pair of curtains for the bedroom.
20 March Tuesday--Tuesday over to Hawks [old neighbors on Wayne Street behind us and a bit down when we lived at 1120 High.] Such a nice time, lunch, and birthday celebration. [Received] crocheted] hangers. a glass of jelly, and a jar of strawberry jam.
21 March Wednesday--Group at church. A good crowd.
23 March Friday--My Birthday 82 yrs. A snowy day and I was alone all day but recd much mail and phone calls. Bernice Called. Book club called off.
24 March Saturday--A very cold wind but a Sunny day and snow has gone. Over for groceries and was so cold out. Tom Called.
25 March Sunday--A bright day, and warming up a little. Out 2 bedroom curtains thru a rinse water.
26 March AARP. Not a very good turnout. Went with Bill and Jerry. [Friends who had lived earlier at the apartment.]
27 March Tuesday Ruths for an afternoon dessert lunch. Table so pretty. he girls brought gifts. And Garnett was there as a surprise. Had Francis and Esther there.
28 March Wednesday--Bill and Jerry for supper. Cron & Broc. Buns. jello. Went for a drive after supper. Stopped at Roaches to get band for cleaner.
29 March Thursday--Tornado warning from 1 pm to 7. not in Topeka but east . Rain & hail here for a short time, very warm, until after the rain and hail.
30 March Friday--Book club at Pegs. Such a nice time and good dessert. Very chilly.
31 March Saturday--Little odd jobs in drawers and closets. A chilly, gray day, and a lonesome one.
April
1 April Sunday - Friendship Dinner [at church]. Did not go as was was raining, so home all day. Got caught up on Birthday cards for April and letters. A Forsythia bush has a few blossoms on, is across the street. Grass is up and spring like, but chilly today.
2 April Monday - No entry
3 April Tuesday - [Niece] Barbara [Hahn Lamantia] here and stayed for lunch.
4 April Wednesday - All [church] group meeting. A good attendance and table decorated with Easter things. Worked a while on rummage.
5 April Thursday - Rummage Sale. To town, not much accomplished. [Niece] Becky [Beckman Corby]
6 April Friday - To Jenays for the day. She had rummage sale. I fixed soup for their lunch and watch the kids.
7 April Saturday - Norma's [Eaton--neighbor] birthday. Work on 2 pr slacks. Scrubbed kitchen floor really scrubbed. A good movie "The Seeding of Sarah Burns."
8 April Sunday - Shampoo, and an oven dinner. Cloudy cool day. Home all day.
9 April - Home all day. A Easter Peter Rabbit card from Tom & Nat & Chris, it looks like cabin in Maine rabbit. Chilly but I took a walk.
10 April Tuesday - Out to Falleys [grocery store] with Norma. Keep working on closets.
11 April Wednesday - Cloudy and chilly. Took stew to Mrs. S [samways--neighbor]
12 April Thursday - Zita [Schump--sister Kate's daughter-in-law, wife of Fran Schump] pressed cloth for table recd a pkg from [niece] Charlotte [Johnson, daughter of sister, Kate] a yellow card board hat with lace around it like a ladies sailor hat and a yellow rose and ribbon around the band.
13 April Friday--[Grand-daughter] Betsys 20 birthday.
14 April Saturday--Mrs. Landis [neighbor] birthday. All 8 in bldg were here to help celebrate. Lemon cake with lemon topping. Tom called.
15 April Sunday--To church with Georgine, ten to Weeklys for dinner. Took cup cakes, they had good ham. A beautiful day 73.
16 April Monday--Florence T[aggart--old neighbor from house on High Street] & Mary [her daughter] birthday. Laundry. Lace tablecloth so easy to do. Beautiful spring day. Am happy to be able to do things and am looking forward to trip and Tom & Nathalies visit.
17 April Tuesday--Perm 10:30. 21.50 last one 26.50. Don't understand why this one was cheaper. [Because the person doing it wanted to be nice to her.] Warm, light rain in the night.
18 April Wednesday--[church?] Group at Ana Law's 20 there a good meeting. Sprinkles all afternoon.
19 April Thursday--Cloudy., some sprinkles. Made a shelf curtain in L Room closet.
20 April Friday--Cool this morn.
21 April Saturday--Out to Fairlawn [Shopping Center], got kitchen curtains and a dress. it is too loose and will take time as it is a flare.
22 April Sunday--Cool this morn in the 30s so had the furnace on a short while. then by afternoon temp up to 74. Steve came & moved furniture and clear. [Don't know know this is.]
23 April Monday--AARP Meeting
24 April Tuesday--Laundry getting winter things cleaned up and put away. First shampoo after a perm.
25 April Wednesday--More laundry.
26 April Thursday--No entry.
27 April Friday--Took Pegs book at ---- as Mildred took me.
28 April Saturday--Odds and ends. Cooked an oven dinner. Enough for tomorrow, Cindy [Blair Gentry--Pat Hahn Blair's daughter] here late afternoon.
29 April Sunday--Home all day and had a restful day finished reading Eleanor and Franklin, very interesting book. Took a long walk in the afternoon.
30 April Monday--Rained off & on all day until mid afternoon. Easy showers no thunder or lightening, chilly.
May
1 May Tuesday--Nerves tied up in knots so got out and went to White Lakes ;Shopping Center] then out to Fairlawn [Shopping Center] and no luck in finding a navy short coat, but a nice day to be out.
2 May Wednesday--Rained easy most of day, and chilly.
3 May Thursday--Laundry. Oven fried chicken and is good that way for a change. Chilly weather.
4 May Friday--Vacuum, got out suitcase ready for trip on Sunday. Turned off nice and god to have the sun shine all day.
5 May Saturday--Send Rita Birthday card. Sent. Baked bread and it is a good recipe to use. Shampoo. All set for trip. A sunny warm day.
6 May Sunday--To [sister] Bernice's [at Goodland, Kansas]. Bus leave at 8:50.
7 May Monday--At Bernices.
8 May Tuesday--At Bernices.
9 May Wednesday--Out to dinner with Bill & Betty [friends of Bernice]. Rained.
10 May Thursday--To Tressa's for lunch.
11 May Friday--Tom & Nathalie @ 11:30.
12 May Saturday--Bernice showed pictures of past reunions.
13 May Sunday--Came home [to Topeka]. arrived 6 p.m. A good trip. Tom went out for fried chicken for our supper.
14 May Monday--Out to cemetery in evening. A bright day, and also went to Brookwood.
15 May Tuesday--Rita. Beckys for dinner and evening [her son] Rick [Corby] there. Also a nice visit and dinner.
16 May Wednesday--No entry.
17 May Thursday--White City Parkerville cemeteries, and to Council Grove, went to see Avis. [Florence's old friend from White City who was also the sister of Marie Jenkins, wife of Ed Hahn, Walt Hahn's brother. I think Barbara Hahn Lamantia also went with us.]
18 May Friday--Barbara [Hahn Lamantia] over and for lunch, rainy. To dinner at Village Inn, then show.
19 May Saturday--To Grinter Place [Kansas City]. Barb went with us. Showers off & on.
20 May unday--Fannies[?] 50 anniversary. Send a card. Over to Barbs for a picnic late supper . Ed [Hahn], Patty [Barb's sister] Mark [Patty's son] Tom Nathalie & I. In afternoon late the Goss (Bill and Georgine) came to visit.
21 May Monday--Cold has gotten the best of me, as have a deep ticklish couch, but holding up. Kids packing and running cleaner. A beautiful cool sunny day. Took book back to Martha and looked over te back yards of neighbors.
22 May Tuesday--T&N left this morn at 8 and was hard to see them leave. They called at 6 and made me feel so good to hear their voices again.
23 May Wednesday--Started taking Vicks 44 for my cough. It was getting me down sore from all the coughing/ Pretty lonely not having anyone to eat with me.
24 May Thursday--RR [Round Robin letter between Florence, Bernice, Martha Brown--Florences great-aunt], Zita Schump--sister Kate's daughter-in-law--, and Charlotte Johnson--sister Kate's daughter] started and came today. Norma [Eaton--neighbor] took a pkg to mail, a wedding gift to Amy (Mary T[aggart's]) daughter. Washed 3 blankets to put away.
25 May Friday--Laundry. Gold cover and put it away and a load of clothes still have a bag of clothes for another time. Tom called early morn. They are home. [In Shepherdstown, West Virginia]
26 May Saturday--My ears stopped up and am discouraged, but keep plodding, sit awhile then work a little.
27 May Sunday--Shampoo and an easy morning as am still not too good in te head. Alone all day. Wrote several letters. Has warmed up.
28 May Monday--Alone all day. Wrote several letters. a repeat from above, so now am caught up for a few days.
29 May Tuesday--Took a long walk early morn. Worked on the top of a cedar chest. brass Twinkle for te brass job and lemon oil for wood part. Turned warm. Tom called.
30 May Wednesday--Chelsey's Ballet recital at White Hall. Didn't go, they brot Chelsey over to show me her dance outfit. Started taking medicine Dr. sent out for cold.
31 May Thursday--Medicine taking hold and sleeping better. Turned out cooler, so pleasant. Barbara stopped by for a few minutes.
June
1 June Saturday--Hillary [a friend who lived a few blocks away] stopped by and brought such lovely lettuce from her garden. Cleaned brass trays with Twinkle copper cleaner.
2 June Saturday--Bearce [?] 50 anniv. Mildred [neighbor] for lunch. Blanche in Town from Phoenix. Chicken salad, beet salad, hot rolls, ice cream with strawberries. Helen, Pearl, Neva, Blanche & me. [Probably Blanche Fitch, a member of their old church group Bone Head Club.] Helen, Pearl [Zahorek], Neva, Blanche & me.
3 June Sunday-Home all day worked on some sta[tionery] the punch kind, is fun to do it, and I have a new punch. Took a long walk.
4 June Monday--A good mail day. Letters from [niece] Charlotte [of Garden Grove, California], Tom, Nathalie and [niece] Dorothy Waters [of Port Angeles, Washington] Long morning walk.
5 June Tuesday--A long walk. Called on Mel [?] in afternoon. Am feeling so much better and good to be circulating again.
6 June Wednesday--Laundry. Jenay stopped by with some shopping she did for me.
20 November Tuesday--Easy rain all day over an inch. Beck [Corby] called. Dave [Corby] is having Thanksgiving dinner tomorrow night and has invited me.
21 November Wednesday--Called Tom. A Good time at Daves [Corb] he and Rick [Corby] did the cooking and Becky [Corby], very good eats. Christmas Tree up and stockings things by the fireplace. An early Christmas for them.
22 November Thursday--Thanksgiving. A cold grey day, looked like snow but none came. Over to Weeklys [Genay and Gary], 14 of us. I made rolls. Was a Happy Thanksgiving as Geo felt better and we all had the spirit of the season.
23 November Friday--Laundry.. and more pkg wrapping and catching up on things. A good movie "A Letter to Frank."
24 November Saturday--Ironed card table covers I took to the tea. Went for groceries and cooked an all oven dinner. Wrote 2 long letters. Took a nap.
25 Sunday--An easy day at home. Bernice & Tom [Taggart] called. Talked to Diane.
26 Monday--Call[ed] Book club gals. Havbe had problems for 4 days with upset stomach. so stay in.
27 Tuesday--No entry.
28 Wednesday--A very chilly wind 23 degrees and highj wind. Very weak and stomach still squeasy. Zita called.
29 Thursday--Make apple cake. Defrosted. Feeling better. so the bug is going somewhere else. Very cold 23.
30--Book club here, 7 of us. No book mentioned, just talked, and everyone was so interesting we just let our hair down. Apple cake, wheat crackers.
31 December Saturday--Didnt go to the [Christmas] bazaars. have gone 4 yrs but didnt feel up to going. Dorothy, Georgine and Margarita [Genay Weekly's family] and so we had ten and cake and they told me about the bazaars.