Home Page
Created 11 January 2005
7 July 2005
As stated elsewhere, the policy of Lenape-Delaware History is to have no formal affiliation with any Lenape-Delaware Tribe or Nation or any other Native American organization. However, as a public service, we are offering limited space to any Lenape-Delaware Tribe or Nation to publish a brief history, announcements, a summary of minutes, membership requirements, etc. The purpose of this arrangement is to provide information to persons who may know about the Lenape Delaware web site but may not know how to contact the individual tribes or nations. Please note that some tribal organizations call themselves nations. That does not mean that they represent all Lenape-Delaware people but their own entity. We are trying this service as an experiment. We will see how it develops and to see if it is providing a useful service as we are limited in the space we are allocated. Groups having an interest may contact the editor. As stated elsewhere, we do not make a judgments on recognition, legitimacy, etc, but we do offer an open forum to all of a Lenape-Delaware heritage. swiftwater@lenapedelawarehistory.net
Anti-Stohini/Unami Nation
http:// brwneyedndngirl
Delaware Indian Tribe of Western Oklahoma
http://www.westerndelaware.nsn.us
Delaware Tribe of Indians
http://www.delawaretribeofindians.nsn.us
Kansas Delaware Tribe of Indians, Inc
Homepage of the Kansas Delaware. This band is located in the state of Kansas.
http://www.kansasdelaware.org
Laurel Ridge Lenape People
http://www.geocities.com/shabak_waxju
Lenape Indian Tribe of Delaware, Inc.
http://home.att.net/~lenape/Delaware
Lenape Nation on the web
http://www.lenapenation.org
Lightening Valley Lenape Village
http://www.geocities.com/athens/aegean/4984
Munsee Delaware Nation
This Lenape Tribal band is located in Ohio. They hold their annual gathering in May. See Site for more details.
http://www.geocities.com/mdnusa1
Nanticoke Lenni Lenape Indians of New Jersey, (Turtle Clan)
http://www.nanticoke-lenape.org
Native American Accohannock Living Village
Homepage of the Accohannock People of Maryland. Page includes History, pow-wow information, etc...Very nice site
http://skipjack.net/le_shore/accohannock
Piscataway Indians of Maryland
American Indian Cultural Center - Site for the museum and Cultural Center for the Piscataway Indian Tribe of Maryland. Pow-wow is held the first week in June every year.
http://hometown.aol.com/mdindians/myhomepage/business.html
Ramapough Mountain Indians, Inc.
http://www.ramapoughmountainindians.com
The Piney Lenape Band of New Jersey
http://www.pineylenape.com
Thunder Mountain Lenape Nation
http:// brwneyedndngirl
Tribal Listing of Lenape and Nanticoke Bands
http://www.hi.is/~baldurs/lenape.html
This listing was submitted by Stan Hahn. The links and the names have not yet been verified. Editor
* * *
THE (Eastern Oklahoma) DELAWARE TRIBE OF INDIANS, Bartlesville, Oklahoma
Email: delawareindian@hotmail.com
Web Site: http://www.delawaretribeofindians.nsn.us
220 N.W. Virginia Avenue, Bartlesville, OK 74003
Tel: (918) 336-5272, extension 483/1-800-700-9870, extension 483/Fax: (918) 336-5513
Subscription to Delaware Indian News is $10 per year.
* * *

THE (Absentee) DELAWARE NATION OF WESTERN OKLAHOMA
Web site: http://www.westerndelaware.nsn.us/tribe
To contact the webmaster of this site: webmaster@westerndelaware.nsn.us (Darren Ahshapanek)
Address mail to:
The Delaware Nation of Western Oklahoma, P. O. Box 825, Anadarko, OK 73005
Tel: 405-247-2448/Fax: (405) 247-9393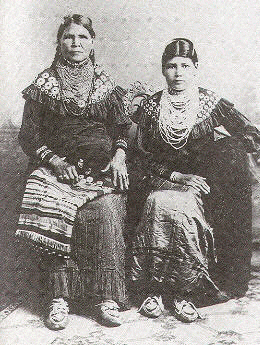 Western (Absentee) Delaware Jennie Bobb (left) and Her Daughter, Nellie Langford in Traditional Dress ca. 1915. (Provided by Western Delaware Marilyn Burkhardt.)
* * *
The Lenape Nation of Pennsylvania
P.O. Box 322
Sellersville, PA 18960 petekoah@yahoo.com moonman3@ptd.net
* * *
P. O. Box 4012
Boise, ID 83712
Tel. 208-334-3100
Email : tribalcouncil@delawaresofidaho.org
Web Site: http://www.delawaresofidaho.org
The following information was received from White Elk, Secretary of the Delawares of Idaho Council, on 22 October 2002:
I have posted the oral history sessions of the Idaho State Historical Society with my Grandfather and Great Great Uncle and my grand aunt. ...All of information is from our groups, 20 plus years on this subject and the many years in litigation, winning us a little compensation for what was taken from Rebecca Lucas so many years ago. I plan to have the web site document this, and the story of our litigation, after the final outcome is known. My line goes from me, White Elk Peter Kingston pete_kingston@aol.com , to my mother Summer Rain Rosemary Creech, to her father? Chief Eagle Eye Clyde W. Creech, Sr., to his father Bruce Creech, to his mother Otelia E. Fent, to her mother Mary F. Marshall, to her mother Lucinda Llewellyn, to her mother Rebecca Lewis, Pratt's Registry, 1867. . . Our group is about 400 strong.

* * *
KANSAS DELAWARE TRIBE OF INDIANS
Go to the KANSAS (CITIZEN) DELAWARE page
Send inquiries regarding the Kansas Delaware Tribe of Indians, Inc., e-mail to: kansasdelaware433@hotmail.com
Web site: http://www.kansasdelaware.org
* * *

The Lenape Nation I (Lenape of the Delaware River Valley)

115 Hancock Avenue
Norristown PA 19401
Tel: 610-277-8639
E-mail: office@lenapenation.org
Web site: http://www.lenapenation.org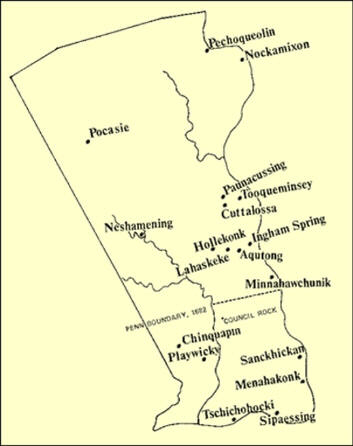 Lenape Indians of the Delaware River (From: http://www.newhopepa.com/DelawareRiver/Lenape1.htm )
* * *
THE MORAVIANTOWN DELAWARE NATION
The Moravian town Delaware Nation Community was established in May of 1792 and their village was first called Schonfeld and then anglicized to bear the name Fairfield. The meaning of the original village was "beautiful field or beautiful place". On October 5, 1813 the Fairfield village was completely destroyed by American Forces in the War of 1812-14. In 1815 a new village was built on the south side of the Thames River and became known as New Fairfield. New Fairfield maintained the compact village setting until the 1840's when families moved farther out to the wooded areas. It was at this time that the name Moraviantown became more commonly used. In later years the Department of Indian Affairs has referred to the community as Moravian of the Thames Band and some Native organizations have simply used the name Moravian. Today the community is officially known as the Delaware Nation but most members when referring to where they come from still call it Moraviantown. Using the name Moraviantown Delaware Nation distinguishes it from other Delaware groups that exist in Canada and the United States.
Original Homelands--The Delawares also known as the Lenni-Lenape or "Original people" lived in the north-eastern part of United States in the early 1600's when they first encountered Europeans from Sweden, Holland and England. The area the Delawares lived in can today be described as the whole State of New Jersey; the eastern part of New York State (including New York City) ; the northern parts of the States of Delaware and Maryland; and the eastern part of the State of Pennsylvania. The name Delaware comes from the "English title" Sir Thomas West carried, "Lord De-la-Warr". When West named the Pennsylvania river the "Delaware River" the Lenni-Lenape who lived on it became known as Delawares. The name stuck and today the Lenni-Lenape who live in Ontario and Oklahoma use "Delaware" in their place names.
Delaware Nation Leadership--The Delaware Nation Council has held elections every two or three years since 1869-70 when Timothy Snake and Philip Jacobs the last of the traditional life-time Chiefs died. Under the traditional way there was one Head Chief and several Second Chiefs. Today an election is held every two years for one Chief and five Councilors. The present Delaware Chief and Councilors are as follows Chief Leighton Hopkins and Councilors Gordon Hopkins, Marilyn Huff, Denise Stonefish, Geoff Stonefish and John L. Stonefish.
Land Size, Location and Population--The Delaware Nation at Moraviantown consists of 300 acres of land, which includes a stretch of the Thames River that provides traditional fishing, hunting and canoeing. The land was once much larger (51,000 acres plus) and was referred to as the Moravian Tract or Moravian Township in land survey terms. Today the same lands (excluding Moraviantown) are known as the Township of Zone and Township of Orford and are located within the municipality of Chatham Kent in southwestern Ontario. The population of the Delaware Nation at Moraviantown is 1000 with approximately 480 people residing within the community.
Language--Most of the people at Moraviantown use English as the primary language. A few speak French and some are fluent in their Native language. Today these fluent speakers are the ones helping to revive the language. The Delaware tongue is the traditional language of the people. The Delaware Nation employs a language coordinator who has helped develop the language through the publication of a dictionary, story books and classes.
Foods--Some of the traditional foods of the community are corn soup, corn bread, fried pickerel, and roast venison. The Delaware Nation at Moraviantown has a long tradition of serving good meals at all their gatherings, workshops, pow wow's and other events.
Favorite Pastimes and Sports--Some of the favorite pastimes and sports are fastball, basketball, volleyball, hockey, track & field, fishing, and hunting. Native leagues are in operation amongst the Native communities in the area and fastball, hockey, volleyball and basketball are some of the sports being enjoyed. Track & field competition takes place at the Annual Youth Native Olympics hosted by the different Native communities and also at the various school meets. The Seniors Group also meets each week and puts on fund raising dinners, has social times, and are always open to share their knowledge of the past.
Social Gatherings--Some of the Social Gatherings include an Annual Pow wow, Elders Gatherings, May 8, Anniversary Day (Date Community was founded), Christmas Feast, Fall Feast, Christmas Bazaar, Christmas Eve Church Service, Easter Sunrise Church Service, Delaware Gatherings, Spring Feast and Remembrance Day Service and Dinner.
Family Names--Some of the most common names are Hopkins, Huff, Jacobs, Lascelles, Lewis, Logan, Noah, Peters, Snake, Stonefish, Timothy, Tobias, and Whiteye. There are several new names as well but most are connected to the above names in ancestry.
Famous People--Some of the most famous people in the community involving politics were the late Omer Peters, Vice President of the National Indian Brotherhood, and member of NIB's Council of Elders. The late Albert Tobias, President of the Grand Council of Ontario and Quebec Indians 1894. Leighton Hopkins, past President of the Association of Iroquois and Allied Indians. Gordon Peters, past President of the Association of Iroquois and Allied Indians and past Regional Chief of the Chiefs of Ontario. Denise Stonefish, present Deputy Grand Chief of the Association of Iroquois and Allied Indians. Other famous people from the community are Stan Noah and Kevin Snake Sr. who guided Moraviantown to several All Ontario Championships with their outstanding fastball pitching; The late baseball pitchers Sam Lascelles, Charlie Jacobs, Silas Watson, Albert Tobias, Roy Snake and Pliney Stonefish were all well known to the local sports scene. Pow Wow dancer Mary C. Whiteye has won many awards and taught dancing to many of the youth at Moraviantown. Miss Festival of Nations winner Jolene Whiteye was also runner-up in the Miss London Competition. Tom Longboat Award winner, John L. Stonefish won many track and field Championships. Hockey player Gord Peters played in the professional league known as the International Hockey League. Writer of Native Legends, the late Jasper Hill or Big White Owl wrote stories for overfifty years and published several books. Linguists Beulah Timothy, Richard Snake, Mattie Huff, the late Ethyl Peters, the late Emily Johnson and the late Herb Snake helped teach young people the Delaware language. The many Veterans who served in World War I, World War II, Korean War, Vietnam War, Desert Storm and the War of 1812 are held in honour by the community. (Submitted by Arlene Micucci)
MUNSEE DELAWARE NATION
The tribal address is: Munsee Delaware Indian Nation, Cambridge Reservation, 70463 Hopewell Road, Cambridge, Ohio
The Tribal Chief is William Lee Little Soldier, 1436 Arlington Avenue, NE, Columbus, OH 43211-1427 Tel. 614-263-3392.(tribelchieflittlesoldier@yahoo.com Web site: www.munseedelawareindiannation.usa.us We have requested additional information. Editor )
THE MUNSEE OF KANSAS
Tribe tries to regain federal recognition
Munsee descendants need act of Congress for restoration of benefits By Steve Brisendine - Associated Press Writer. Sunday, January 30, 2005
Pomona — Clio Caleb Church's ancestors gave up their American Indian identity more than a century ago. She has been trying for more than three decades to get it back. The Munsee tribe's official history in the state ended in 1900. Facing a forced abandonment of its reservation in Franklin County and relocation to Oklahoma, the tribe -- led by Church's great-grandfather, Ignatius Caleb -- instead decided to surrender its federal tribal recognition. In exchange, Caleb and the others accepted American citizenship, land in Kansas and $491 per person -- which would come to more than $11,000 today. Now, Church and other descendants of the Kansas Munsee want to regain that recognition and the benefits it carries: federally funded health care and education, as well as the right to operate tribal businesses as a sovereign nation. "My main intent is the education of my grandkids and their kids," said Church, 81. "That's what I've been fighting for these 35 years."
Formal proposal
Church's 1978 petition for restoration was rejected by the federal Bureau of Indian Affairs, meaning the Munsee will need an act of Congress. And for Rep. Jim Ryun, R-Kan., even to consider sponsoring such a bill, the tribe must first reorganize and elect a tribal council. "Until he receives some sort of formal proposal from the tribe, he has decided not to take one position or another," spokesman Nick Reid said Friday. Last weekend, a committee of Munsee descendants met in Pomona to discuss issues ranging from a tribal mission statement to eligibility for enrollment. There are about 250 descendants around the country, Church said. About 85 of them still live in the area. Some, like Church, show their heritage in their complexions. Others, like siblings Tom Plake and Linda Sparlin, are fair-skinned. But all of them are joined by 71 names on a list from 1900 -- the final enrollment of the Munsee and Chippewa Indians who shared a hilly, 12-square-mile reservation southeast of Pomona in Franklin County. "We're not just a bunch of people sitting around 'playing Indian,'" said Sparlin, a concert singer and music teacher from Rolla, Mo. Nor, Sparlin said, are the Munsee motivated by the desire to cash in on casino gambling -- although the tribe will not give up any gambling rights to win recognition. "Might there be a casino someday? I don't know, because I don't know what my grandchildren are going to do," she said. "Am I going to do it? No."
Drafting a constitution
The committee has selected a tribal name -- the Munsee Tribe of Indians of Kansas -- and worked on the first draft of a tribal constitution. It is based on the constitution of the Stockbridge-Munsee Band of Mohican Indians, a northern Wisconsin tribe. Another meeting is set for Feb. 26, also in Pomona. At that meeting, Plake said, those who can trace their ancestry to any roll of Munsee in Kansas from 1836 to 1900 will be eligible to vote on the proposed constitution. Copies and ballots also will be sent out by mail, he said. Plake, an attorney in Tulsa, Okla., said it could be March before a tribal council is elected.
Tribal migration
The Munsee, like many tribes who ended up in Kansas, were not originally a plains people. They are part of the larger Delaware or Lenape group of tribes -- they prefer the latter term -- and in the 1600s, they lived in what is now the eastern United States. The arrival of European colonists forced them into a series of moves, and they established villages in Massachusetts, New York, Pennsylvania, Ohio and Indiana. Many converted to Christianity under the teachings of Moravian missionaries, and in 1792 a number of Munsee moved to Canada to found the community of Fairfield. The migration to Kansas began in the 1830s. The Munsee -- variously known as "Muncie," "Christian Munsee," "Christian Indians" and "Moravian Christian Munsee" -- first settled in Wyandotte County, near the Kansas River. The area, home today to warehouses, salvage yards and trailer parks, is now part of Kansas City, Kan. Several businesses and two schools -- Muncie Elementary and Muncie Christian -- still recall the tribe's presence. From there, the Munsee moved north to what is now Leavenworth County -- only to see their land illegally overrun by squatters and bought up by speculators after the Kansas-Nebraska Act created the Kansas Territory in 1854.
Price of restoration
An 1859 treaty gave them the Franklin County land, to be held jointly with the two Chippewa bands. The tribe still maintains a cemetery there, although it is owned by the Moravian Church in America. The Munsee hope to set up a nonprofit organization to take over ownership of the cemetery. The push for restoration will take money, too, to hire attorneys and fund expert research. But Church said she won't give up. "It's closer than at any time in the past," she said. "It sure would be nice if this would happen before I kick the bucket. But even if it doesn't, hopefully the children and grandchildren will get the benefits."
* * *
THE NANTICOKE LENNI-LENAPE INDIANS OF NEW JERSEY
Web Site: http://www.nanticoke-lenape.org
Cultural Center: 18 East Commerce, Bridgeton NJ 08302 Tel.: 609-455-6910, Fax: 609-455-5338
Their origin and history, according to their web site:
The origin of the Nanticoke People began along the Nanticoke River in Southeastern Delaware and the Eastern Shore of Maryland. Migration began in the early 1600's from Eastern Shore Maryland through Southeastern Delaware along the shores of New Jersey, and as far North to Canada and westward into Oklahoma. As a result of this migration, the Nanticoke people united with the Lenni-Lenape Indians already living in New Jersey.

According to the Wallum Olum, which is the religious history of the Lenni-Lenape Indians, we learn that Lenni-Lenape Indians settled here in New Jersey for at least ten thousand (10,000) years.

The Lenni-Lenape Indians are known by the Algonkian Tribes as the "Original People", "Grandfather" or "Men of Men", while the Nanticoke Indians are known as the "Tidewater People". The descendants of these two Tribes are still in existence today and living in New Jersey, Delaware and through-out the United States.

The Native Americans along with other minority groups have been needing representation and equal rights in this land for many decades. It was not until 1924 that Congress recognized Native American people as citizens. Also on August 13, 1978 Congress signed into law the "American Indian religious Freedom Act", this law gave the Native Americans the right to practice their religious beliefs.

Now along with other Native Americans we have begun the fight to preserve our culture. We are actively involved in the teaching of dancing, drumming, and Indian crafts to both young and old.

The Nanticoke Lenni-Lenape Indians host an annual Pow-Wow which is open to the public. The Pow-Wow presents an opportunity for the Nanticoke Lenni-Lenape Indians and other neighboring Indian Tribes to display, practice, and share their skills acquired through their rich heritage.

The headquarters of the Nanticoke Lenni-Lenape Indians of New Jersey, Inc. is presently located at 18 East Commerce Street, Bridgeton, New Jersey. The office administers to the needs of Native Americans through housing, jobs, food, clothing, and education. Our Business hours are 9am to 4pm, Monday through Friday (closed on State and Federal holidays). Stop in and visit with us and browse through our gift shop if you find yourself in the area. The gift shop features handcrafted items.

* * *

The Reservation around Indian River was set up in the early 1700's. It was set up for a group of Indians simply called "Indian River Indians" by the English. According to Weslager, their queen was Weocomocus and Robin was her Interpreter although the English called him "king" Robin. He claimed that they originated in Worcester Co., MD and were Assateagues. Sometime after 1686 they were forced off their lands and moved north to Assawoman. By 1705 they were settled at the head of Indian River, near present day Millsborough. In 1705, appealing to the MD authorities who then controlled this area, they received about 1000 acres on the Indian River called Askecksoy as a reservation. The Nanticokes at this time were still living along the Nanticoke River in their reservations at Chicacone and Broad Creek.

Within a few years Robin was complaining to the authorities that the tribe had been tricked into selling about 600 acres to William Burton and his son Joshua. The Burton eventually acquired the other 400 acres in 1743. The English considered these "legally binding transactions" although the Indians claimed they had no idea they were relinquishing all rights to the land forever. By the 1742 Winnasoccum "uprising", the Indian River Reservation was gone although Indians continued to live in the area. After 1742 (and indeed before it) many Delmarva Indians began to leave and move northward into PA. The Nanticoke Reservations in MD were deserted. Of course not all of the Indians moved out. Remnant groups remained in Maryland and along the Indian River and up in Kent Co. in Delaware but there were
no actual Reservations anymore. (Submitted by Arlene Micucci SweetHawkW0man@aol.com )

Welcome to the Powhatan Renape Nation, an American Indian Nation located at the Rankokus Indian Reservation in Westampton Township, Burlington County, New Jersey. We are recognized by the state of New Jersey as an American Indian Nation, as well as a non-profit entity. In addition to providing social services to the American Indian community in New Jersey, our goal is to educate the non-Indian community about our traditional ways, beliefs, traditions, and culture. This page is one way we intend to enlighten all about our history, events, Museum, and other activities. To be notified of our upcoming events, be sure to sign up for our mailing list. We hope you enjoy your visit! PO Box 225, Rancocas, NJ 08073
Ph: 609-261-4747 Fax: 609-261-7313 E-mail: powhatan@powhatan.org


THUNDER MOUNTAIN LENAPE NATION

RR#1, Box 702B, Saltsburg, PA 15681 Tel: 724-459-5276

Times New Roman 14 point. Internet copy 18 May 2004. Photo check A. TH