Home Page
16 September 2006
[Need to replace photo of her grave marker. Need link from Marshal Family Page. Editor]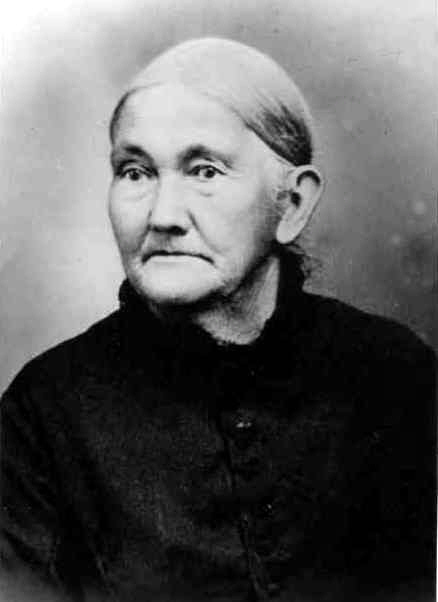 Anna (Marshall) Grinter ( Hahn Collection)
A new page has been created to cover the relationship of Anna Grinter and Charles Blue Jacket and the Shawnee Prophet. If you like, you can link to tat page from here: Blue Jacket. Editor
Annie Marshall "Ann" "Anna" (married GRINTER)—Anna Marshall's Lenape name was Windagamen, meaning Sweetness. She was generally referred to as "Annie." Annie was born on 8 January 1820 in Miami County, Ohio. In 1880, at age 60, when living with her son, William Henry Harrison Grinter, one of the members of the household told the census taker that Annie was born in Indiana. (LDS 1880 U. S. Census Extract of the census taken in Wyandotte Township, Wyandotte County, Kansas, FHL Film 1254400, National Archives Film T9-0400, p. 420A) Interestingly, her daughter, Mary Jane (Grinter) Defries in the same census reported that her mother was born in Arkansas. (Ibid.) Her sister, Rosanna (Marshall) Grinter, reported that she did not know where her mother was born. (Ibid. p. 427C). In the 1885 Kansas State Census for Wyandotte Township, Wyandotte County, Annie is also listed as having been born in Indiana (LDS Microfilm No. 976099). Annie died 28 June 1905 at Muncie, Wyandotte Township, Wyandotte County, Kansas and was buried in Grinter's Chapel [as it was known then as opposed to the Grinter Chapel at the present] Cemetery, Wyandotte Township, Wyandotte County, Kansas. (The Delaware Mission, Kansas Historical Collections). Annie's mother was Wilaquenaho, Betsy (Elizabeth) a Lenape-Delaware. Family records show that she was a Ketchum but that has not yet been confirmed by public records. Betsy was born about 1797 in the Northwest Territory, that is, the present State of Ohio. [Her birth year has been estimated from her entry in the 1862 Delaware Census where she is shown as No. 531 Marshall, Widow (alias Wilaquenaho) [age] 65. (John G. Pratt Papers, microfilm edition (Manuscript Division, Kansas State Historical Society, Topeka, 1967), Roll 9, "Census of the Delaware Tribe of Indians within the Delaware Agency taken February 15th One thousand Eight hundred Sixty two." She probably died in 1875 and was buried in the Gilstrap Cemetery #2 (26 miles from Bartlesville) in Indian Territory (present Oklahoma). There is no grave marker existing in that cemetery for her, however. Anna's father, William H. Marshall, a white trader, was born about 1750 to 1760 , probably in Pennsylvania. He was the son of Henry Marshall and Mary Marshall. William Marshall died about 1833 in or near Springfield, Greene County, Missouri. We do not know his place of burial.
It is likely that Wilaquenaho moved with her family when the U.S. Government forced the principal Delaware Tribe forced to migrate from Ohio to Indiana in the 1820s. Her husband, William Marshall, was a trading partner with William Conner. The William Marshall's then emigrated with the Delaware from Indiana to Missouri. William Marshall probably lived for short periods of time in the vicinity of St. Louis, Missouri, in Southeast Missouri, in Arkansas Territory, and in Texas. It is not known whether or not his family was with him at all those locations. The William Marshall Family was known to have been at the mouth of Finley Creek on the James Fork of the White River in Missouri from 1826 until 1831, where William (also known as John or "Old John") had a "plantation" and a grist mill, and where he was a trader. [History of Greene County [Missouri], pp. 131-132/Richard Graham Papers, Clark Collection, vol. 10, Missouri Historical Society, CDH, p. 147/Account Book of Menard and Valle, 1829-1831].[Find location in topographic map and its distance from Springfield.] The accounts of William Marshall are difficult to follow, because he apparently was known in Missouri and possibly Arkansas and Texas as "Old John" Marshall." Also, there is more than one William Marshall in Indiana and Ohio, and it is easy to confuse "our" William Marshal with the other/s.
Betsy Marshall took her children to the Delaware Reserve in Northeast Kansas about 1831, although her obituary says that she went to Kansas with the Delaware in 1829. (Kansas City, KS Press , 30 June 1908). From the Probate File of William Marshall in Greene County, Missouri, it appears possible that Betsy's name was also Priscilla.[ I am currently transcribing the Marshall Papers, to be followed by transcribing the Trader Gillis's Probate Papers, to determine the answer. Editor] It is possible that William Marshall followed them in the spring of 1832. (History of Greene County, p, 905) One source [citation needed] says that he established a grist mill in Kansas, but I there is no evidence that he did. It appears that soon after Betsy went to the Delaware Reserve, that is, present Kansas, where she raised her family either on her own, or with the help of her family or others. And, as noted below, she later "married" an Indian named Fish.
In addition to Anna, Betsy Wilaquenaho and William Marshal may have had six other children, four sons and two daughters, but this is questionable. We previously included a daughter Lucinda, born 1827, but it appears now that she was not his daughter:
1. Mary Ann born 1823, married Henry Tiblow
2. John M. died after 4 March 1907
3. Elizabeth Jane married Fish
4. Samuel
5. Rosanna born 28 February 1832, died 3 June 1916, married James C. Grinter
6.Sarah Ann, born 28 Feb. 1832, died after 11 August 1878, married 1. W. H. H. McCamish and 2. Rankin(s). (Goodspeed, 622-623) There are various birth dates for these children in the Delaware records, some of them being inaccurate. There is evidence that Betsy had possibly two children by Fish and/or some person other than William Marshall. This will be addressed in more detail in her Biography. As late as 1868, Elizabeth [Wilaquenaho] Ketchum, who by then had long been known as "Widow Marshall," was still living in Kansas. (National Archives Microcopy 234, Roll, 301, frames 1163-1171, "Roll or Census of the Delaware Tribe of Indians within the Fort Leavenworth Agency for the year 1842," No. 104; 1862 Delaware Census, No. 531) In the Moses Grinter Ledger, now in the Wyandotte County (KS) Museum, p. 214, one finds an account headed "Mrs. Marshall or Jim Grinter['s] wife['s] mother." James C. Grinter, brother of Moses, married Rosanna Marshall, sister of Annie Marshall. This, then, is apparently Betsy Wilaquenaho, although awkwardly stated. As to when Betsy went to Indian Territory, Staab commented in Grinter Place News, Nov. 1978, "The Richard C. Adams Letter books (in the Kenneth Spencer Research Library, University of Kansas), Vol. 2, p. 174, lists on a very poorly-transcribed transcribed roster of some hundreds of Delawares protesting the terms of their spring 1868 removal to the Cherokee Nation, Indian Territory, a person whose name is spelled "Wi Jok Quiano." Staab said that in his judgment, that represented "Wi-la-que-na-ho," as no one else on the 1862 Delaware census had a name spelled anything like this. He commented further that the typist who transcribed these names for Adams seems to have been completely unfamiliar with Delaware forms.
Little is known of Annie's childhood in Kansas. An 1890 Wyandotte County history says that she attended school at the "Osage Indian mission." [The source document has not been located. Staab, Grinter Place News (Nov. 1987), commented: "The only "Osage Mission" school in Kansas, a catholic school at present St. Paul, Neosho County, opened its doors in 1847, too late for her to have attended. See Barry, Beginning of the West, pp. 559, 681-682. Accordingly, the school Annie attended was perhaps in Indiana or Ohio, or possibly Missouri."] Her sisters Rosanna and Mary Ann "Polly," her brother William, and her daughter Catherine were all educated at the Shawnee Methodist Mission in present-day Johnson County, in the 1840s. (National Archive Microcopy 234, Roll 302, frames 323-325, 733-737. [Staab says that the class rosters for those schools were not found in Martha B. Caldwell, Annals of the Shawnee Methodist Mission and Indian Manual Labor School [2nd. ed., Topeka, KSHS, 1977]; Goodspeed p. 623; 1862 Delaware census, nos. 229, 232, 238, 780, 781; Flora Harvey Little, Shawnee Indians in Kansas, (n. p, n. d,), p. 30. The Marshall's place of abode in on the Delaware Reserve is not known, but there is the possibility that it was on Marshall Creek [source], located ______________. She became a member of the Methodist Church in childhood. [The Delaware Mission].
Anna married Moses Grinter, a white trader and the first settler of present Wyandotte County, 1836-1839. He was first in Kansas about 1828 when he was stationed at Cantonment Leavenworth. Moses Grinter operated a ferry across the Kansas River and was an Indian trader. He was born on 12 March 1809 at Russellville, Logan County, Kentucky, the son of Francis Grinter and Susannah Read. Staab says, in the Grinter Place News, Nov. 1987:
I disagree with the January, 1836, date given in Goodspeed, p. 623, for the following reasons: 1. Annie's first child was born December 26, 1839, and she continued to produce children every two or three years. 2. In a deposition given before Thomas B. Sykes, Fort Leavenworth Indian Agent, on January 29, 1861, and preserved on pp. 271-272 of the Moses Grinter Ledger, Moses affirmed that he had married a Delaware woman in the year AD 1839." 3. Vol. 17, No. 8 of an early Kansas City newspaper (above which someone has written "From the Kansas City Sun , July-14-1905") states clearly, in a biographical sketch of Moses Grinter, that "in January, 1838, he married Miss Anna Marshall." This clipping is in [1987] in the collection of Beth (nee Kirby) Willey, daughter of William Clay Kirby, living at 11 N. 78th St., Kansas City, Kansas. 4. A companion biographical sketch of Mrs. Anna Marshall Grinter, probably from the same newspaper, and also in the Kirby-Willey collection, gives the same date of January, 1838. 5. An obituary of Mrs. Anna Marshall Grinter, written by J. W. Payne, but not from the same newspaper as the preceding two sources, and also in the Kirby-Willey collection, gives January, 1838, as the date for the marriage. But an obituary for Moses Grinter says they were married January 1836. [Need to find this source to verify this date. Their married is confirmed by the 1842 Delaware Census where "Anna Grinter" is listed as No. 101. He died on 12 June 1878 at Muncie, Delaware Township, Wyandotte County, Kansas. The Grinters probably lived in more than one place, including Bethel and the White Church area, before building their brick home on the Kansas River about 1857. It is said that they lived in a "pioneer cottage" just above the ferry for a number of years. It appears that they might have left the White Church area about 1843, but no later than 1848.

Anna Marshal and Moses Grinter had ten children:
1. Frances Katherine born 26 December 1839, died 9 April 1908, married John C. Grinter .
2. W. H. H. Grinter born 1 November 1841, died 10 December 1887, not married.
3. Mary Jane Grinter born 3 May 1843, died 10 July 1908 married Audley Paul Defries.
4. Victoria B. Grinter born 26 June 1848, died in infancy.
5. Florence D. Grinter born 11 July 1851, died 24 October 1857.
6. Prudence Grinter born 26 June 1854, died in infancy.
7. Martha Vashtie Grinter born 16 July 1857, died 20 June 1930, married first W. D. Allen and second Henry Clay Kirby.
8. James Grinter, died in infancy.
9. Francis Grinter born 1 July 1862, died 12 July 1864.
10. Cunningham Reed Grinter born 4 March 1864, died 11 March 1924, married Elizabeth Shirley. [missing data here]. In addition, she and Moses Grinter raised her niece Rose Grinter and her nephew John Grinter. ("Genealogical Study of the Grinter-Marshall Descendants, and of Henry Clay Kirby's Family," 11 pp., compiled by William Clay Kirby, n. d., in the Kirby-Willey collection, to be cited as the "Grinter Genealogy) Annie's obituary says that five of the children are buried in the old Indian cemetery at White Church and one son is buried at the Grinter Chapel near Stony Point. (Obituary, Kansas City, KS Press, 30 June 1905) Four of their children were still living in 1878 when Moses died of a paralytic stroke. ("Death of an Old Citizen," Wyandotte ((Kansas.)) Gazette, June 14, 1878.)
The Grinter's were faithful members of the Methodist Episcopal Church South. (Kirby, "Grinter Genealogy"; Goodspeed, pp. 622-624. Religious and community activities were an important part of their life. Her grandson, William Clay Kirby, born in 1894 (Kirby, "Grinter Genealogy"), remembered that she was "of a generous nature to her environment, people, and church and kin. Read her Bible regularly and her conversation was broad considering the limited education she had. The church was important in its support and upkeep to her. ([William Cay Kirby], "As I knew them in 1900," copy of typescript. 3 pp. (original in Kirby-Willey collection), p. 1) Through her adult life she endowed the White Church, where several of her infant children were buried ("Kirby, "Grinter Genealogy," p. 2), and the Grinter Chapel, where she and Moses and more of her family and kin lie today, with land and funds. (W. C. Kirby, "As I knew them in 1900" ; Probate Office, Wyandotte County Court House, Probated Wills, Vol. G, pp. 86-89 (Vols. B-Z are now deposited with the Wyandotte County Historical Society and Museum). Her last audible prayer was in the "musical Delaware Indian language." (The Delaware Mission). In recognition of her family's contribution to the community, Grinter Post Office was established in Wyandotte County in 1889. It remained open until 1902. (Robert W. Baughman, Kansas Post Offices May 29 1828 - August 3 1961 (Kansas Postal Historical Society, 1961), p. 54)
William Kirby later recalled that in 1900, at the age of 80, Annie was 5 feet 7 inches tall, weighing 150 pounds, with thin grey hair and dark brown skin. "Toothless, medium thin face, and wore mostly a belted mother hubbard type dress with side cut through pockets," Kirby reminisced, "for easy access to her pipe and Bull Durham tobacco carried therein. She sucked a small pipe of clay rounded on the lower side, with insert stem of reed or small bamboo. Stems were 15 cents a dozen and pipes 10 cents each. The pound cloth sack of Bull Durham in handy access was on the mantle of the fireplace or easy to get to table. Tobacco was carried loose in her dress pockets, her pipe occupying one pocket. She wore glasses only when reading or sewing." Kirby also wrote that her physical fitness stayed with her to the end. In her last few years, Kirby recalled, she "lived among her children in divided time." (W. C. Kirby, "As I knew them in 1900," p. 1.) Her end came peacefully. On May 6, 1905, she made out her last will and testament, directing that after her last expenses were paid and bequests were made to the churches she supported, her household goods and real property should be distributed among her four surviving children. (Probate Office, Wyandotte County Court House, Probated Wills, Vol. G, pp. 86-89) On 28 June 1905 she passed away with her last audible prayer in the musical Delaware Indian Language. (J. W. Payne, Anna Marshall obituary, clipping from an unidentified newspaper dated probably late June or early July, 1905.) Jane Zolotor (RonaldPZolotor@aol.com) , grand-niece of Elizabeth Grinter, said of Annie's smoking: At one time the Grinter House was a restaurant and we took Aunt Lou (Leah) there and had dinner in Elizabeth's bedroom and she told us stories of Cam's mother smoking a clay pipe in a rocking chair in front of the fireplace."
Anna first shows up in earliest surviving Delaware documents that we can find, the 1842 Roll or Census of the Delaware Tribe of Indians within the Fort Leavenworth Agency for the Year 1842, under No. 101, as Anna Grinter with one male under 10, one female under ten , and one female of ten and under female under 40, that is, Anna. Incidentally, her mother, Betsy Wilaquenaho appears nearby on the roll under No. 104 as Mrs. Marshall with one male of 10 and under 40, two females under 10, two females of 10 and under 40, and one female (Betsy) over 40. Anna next appears in the Delaware Payroll of the Delaware Reserve on 18 April 1857, under No. 94 as Mrs. Anna Grinter, 1 woman, 3 children, Distribution Share $230.00. Then, on the Delaware Payroll of 1 January 1958 under No. 45, 1 woman, 3 children, Distribution Share $380.00. (Full Delaware Roll data for the years cited can be found in Fay Louise Smith Arellano, Delaware Trails: Some Tribal Records 1842-1907. See the Standard References in the Bibliography for the full citation and ordering information.) In 1856 she and three of her children received money "due the heads of W. H. Marshall." [Maxwell M. Gaskin's ? Letter of 14 April 1858 to the Osage River Agency. In ____, she is listed in "Abstract of Stock Stolen by Whites from The Delaware Tribe of Indians under Claim No. 123 for the loss of one ox and three head of cattle. The claim for the ox was approved.
In the Allotment of Indian Lands in Kansas under the Under the Treaty of 1860 "Annie" Grinter Anna No. 127 (No. 232 on the 1862 Census Roll) was allotted 78.xx acres of land in Lots 7 and 8 in the Southeast ¼ of Section 21, Township South 11, Range East 24 . Her mother, Betsy Marshall, was allotted 56.30 acres in Lot 6, SW/4 in 21-11-24 and 41.65 acres in Lot 5, SE/4 in 21-11-24. Anna Grinter appears in the Census of the Delaware Tribe of Indians within the Delaware Agency (Kansas) taken February 15th, 1862 No. 232, 12-15-1862 Allotment Number 127 at age 40 with No. 233 William Henry, 1862 Allotment No. 128, age 20; No. 234 Martha, 1862 Allotment No. 129, age 5; No. 235 page 27. In the 1862 Roll, she was No. 245. In the 1862 Census on the Delaware Reserve of 15 February she is listed under No. 232, Allotment No. 27, at age 40 with William Henry No. 233, age 20; No. 234 Martha, age 5; No. 235 Rosanna Marshall, 1862 Allotment No. 131 [a niece], age 12]; and, No. 236 John Marshall [a nephew], age 9, orphan, the niece and nephew being the children of her deceased brother. In a document entitled: Delaware Dwelling Structures, Crop Products and Livestock of 1 October 1865, "Annie" Grinter is listed with 1 frame house, 6 acres wheat, 25 acres corn, 2 ½ acres potatoes, 7 acres hay, 2 horses, 25 cattle, 50 hogs. Was this land with the house the land of another Delaware who chose to go to Indian Territory? And did Anna manage property other than that which she and Moses owned or occupied jointly? Her mother, the "Widow Marshal," is listed as having a log house, 12 acres of wheat, 7 acres of corn, 1 1/2 acres of potatoes, and two horses. One wonders if Anna and her mother were neighbors?
In the Delaware Semi-Annual Payment for October 1865, No. 158 Anna Grinter is listed with a family of 1 man, 1 woman, and five children and received a payment of $240,00. In the Delaware Semi-Annual Payment for 1866, No. 3 Anna Grinter, is listed with 1 woman, and 4 children and received $200.00 by W. H. G. [William Henry Grinter ]. Anna Grinter was one of the 26 adult Delaware who elected to remain in Kansas and become citizens of the United States. In the Delaware Treaty with the United States of 4 July 1866, she is listed under 1862 Allotment No. 127, with four minor children and with the entry "Annie Grinter age 45 elected to become a citizen of the United States." [Weslager, The Delaware Westward Migration, p. 516]
In the 1885 Census for Wyandotte County, on page 4, she is listed as Annie Grinter, born in Indiana, at age 50 or 58. In the 1875 Kansas Census for Wyandotte County, Anna 55 is listed with Moses, age 66, and children Mattie 17 [who is?], Rose Marshall 25, Polly 17, and Cunningham 11. [Film 1541, Roll 29]. She was not found in the 1880 Federal Census for Wyandotte County, so she may be listed under someone else. On 9 January 1882, Annie Grinter conveyed to Wyandotte County a strip of land in 21-11-24 for a road, [Quit Claim Book 16, p. 263. In the Kansas State Census for Wyandotte Township, Wyandotte County, Anna is listed with her son-in-law, Henry C. Kirby. As can be seen, she was a wealthy woman for the time. He was married to her daughter, Martha Vashtie, The land that her son-in-law was farming, [p. 219 or 229, was the land/former land of Annie Marshall. Line 24. Dwelling 335, Family 552. Henry C. Kirby age 37, born Miss, from Tenn., Minister.
Line 25. Martha, age 37, born Kans, housewife
Line 26. Hendricks, age 4, born Neb, from Mo.
Line 27 Charles, age 2, from Mo.
Line 28 William, age 4, born Kans [check this]
Line 29. Mrs. Annie Grinter, age 75, widow, born Oh, from Mo.

Agricultural portion: 200 acres, 90 acres under cultivation, 200 acres under fence, 480 rods wire fence, farm value $10,000, 20 acres corn, 25 acres oats, 20 acres Irish potatoes, 35 acres timothy grass, 30 acres Blue grass. Garden products sold $30. Poultry and eggs sold [amount not copied], 300 lbs of butter produced. 4 horses, 2 milch cows, 2 other cattle, 2 swine, $50 of animals slaughtered, 125 bearing apple trees. 1 dog.
The 1900 Census for Wyandotte County has not yet been checked.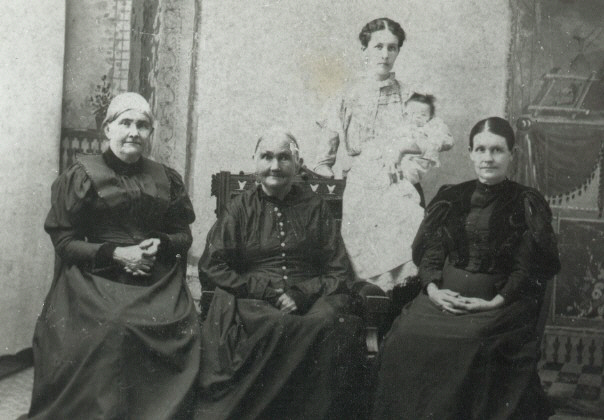 Five generations of Anna (Marshall) Grinter about 1898: Left-to-right seated: Her daughter Frances Catherine Grinter age 59; Annie (Marshall) Grinter age 78; Annie's grand-daughter Mrs. Mary (Grinter) Mooney age 41; and, standing, Annie's great-granddaughter, Ora Mooney Sweasey, age 21, holding Annie's great-great granddaughter, Baby Sweasey, who was possibly later Alta (Sweasey) Martin. The identifications were made by Martin Weeks ( Hahn Collection)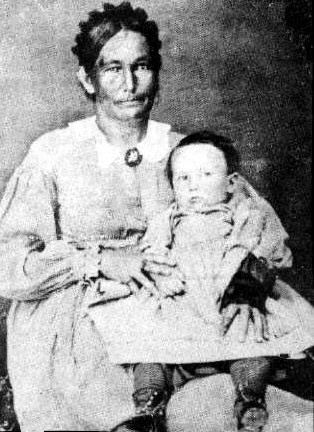 Anna (Marshall) Grinter Holding her Son, Cunningham Read Grinter (Hahn Collection)

This Anna Marshall Painting by Laura Grenier in 1975 was based on the photograph above. It was questionably "Indianized" a bit. The blanket or wrap is decidedly not Delaware but "Southwestern." ( Hahn Collection)




Annie Grinter with Book (Courtesy of the Wyandotte County Historical Society Museum)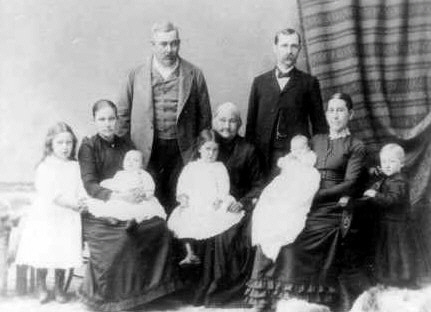 Anna Marshall Grinter seated in the center) holding her Baby grand-daughter, Kate Grinter, the daughter of Anna's son, Cunningham (Cam) Read Grinter, who is standing in the rear to her right. Cam's wife, Elizabeth (Shirley) Grinter, seated to his right, is holding their daughter Baby Jewell Grinter Their daughter, Anna Grinter, is standing to her right. Standing in the rear is Henry Clay Kirby withy his wife Martha Vashtie (Grinter) Kirby with two of their children. Martha Vashtie is one of Anna Marshall's and Moses Grinter's daughters. (Provided by Kansas Delaware Mary Jane Leiter)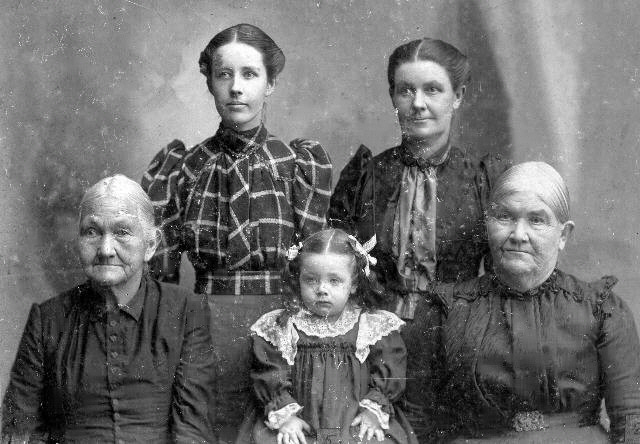 Five Generations of Moses Grinter and Annie (Marshall) Grinter
Left-to-right, front row: Mrs. Annie (Marshall) Grinter; Catherine "Kate" Grinter daughter of Annie and Moses and wife of James Grinter, a cousin of Moses Grinter; Mollie Grinter, daughter of Kate Grinter, married to Robert T. Mooney. Back row, left-to-right: Ora (Mooney) Sweasey, daughter of Mr. and Mrs. Robert T. Mooney and wife of Jesse Robert Sweasey; Alta Sweasey Martin, daughter of Ora Mooney Sweasey at age 3 when this photograph was taken in 1898. A note accompanying the photograph, provided by Martin Weeks, says: "This photo presented to the Wyandotte County Historical Society 6-8-58 by Mr. and Mrs. Stanley Gordon Martin, through Mr. E. A. Benson, Jr. Alta Sweasey Martin was the only living person from the photograph in 1958.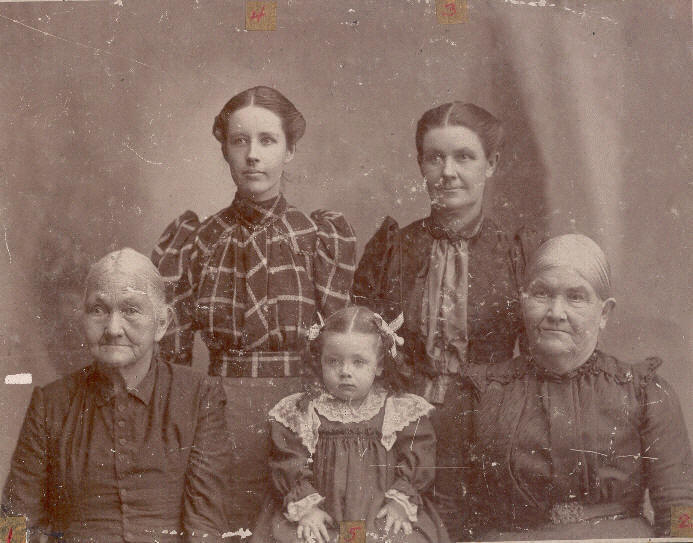 I am working at trying to "restore" this image. Anyone else want to give it a try? Editor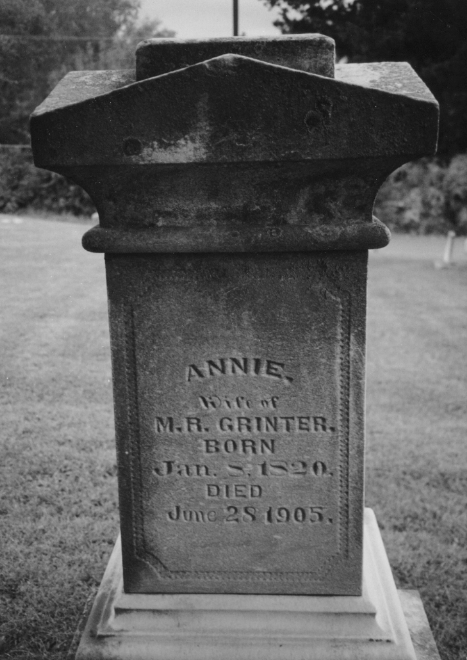 [Grave marker photo needed]
Anna Grinter died 28 June 1905 at the age of eighty-five in Wyandotte County, Kansas and buried 29 June in that county in the Grinter Chapel Cemetery, Wyandotte Township, Kansas City, on the land that she and her husband have given to the Methodist Church some forty years earlier. Her funeral service was held in the Grinter Chapel. Her grave marker reads "Annie Wife of M. R. Grinter Born Jan. 1820 Died June 28 1905 85. She is buried next to her spouse, Moses Grinter. Her obituary in the Kansas City, Kansas Press said that she died near Stony Point. One account said that she was "supposed to be the last of the immigrants that came from Ohio in 1932." At the time of her death, she had four children who survived her, twenty-one grandchildren, thirty-six great grandchildren, and five great great grandchildren. [The Delaware Mission, Kansas Historical Collections].
BIOGRAPHY OF ANNIE [MARSHALL] GRINTER (Goodspeed: 1890, pp. 622-624)
Mrs. Annie Marshall, subject of the present sketch, is the widow of Moses R. Grinter, who departed this life in the year 1878. His remains rest in Grinter's Chapel Cemetery, and his grave is marked by a beautiful and costly monument, which was erected to his memory by his loving and devoted widow. Mr. Grinter was a Democrat in politics, and a strong supporter of Jeffersonianism, casting his first presidential vote for Gen. George B. McClelland. Both Mr. and Mrs. Grinter were devout and faithful members of the Methodist Episcopal Church [p. 623] South, and have at all times and in every possible way aided religious causes. They passed about forty years of married life together. and were equally popular and highly respected in the community where they resided. Since death has deprived her of the loved companion, Mrs. Grinter resides in her elegant brick residence. and being in good financial circumstances lives happily and quietly. surrounded by a host of admiring friends and her children. She is generally held in high esteem, and loved for her kindly disposition and beautiful character. Her present residence is in Wyandotte Township, Wyandotte County, Kas. She was a member of the Delaware tribe, and was born on January 8, 1820, in Miami County, Ohio. Her father was a trader in Indiana, and to her parents were born eight children --four sons and four daughters--viz.: John M. (deceased), Anna (the subject of this sketch), Jane (deceased), Samuel (deceased), Polly (widow of H. Tiblow, and lives in Indian Territory), Samuel (who died in early infancy), William (who died in early manhood), Rosanna (who makes her home in Perryville, Kas., and is the wife of James C. Grinter, a farmer by vocation. She is the youngest child of the family. The subject of this sketch received her education in the Osage Mission, but is exceedingly liberal in all her views, and a ready supporter of all schools, and a willing contributor to public matters of merit. She was married to Moses R. Grinter in January, 1836, and to this union were born ten children--four sons and six daughters--six of whom are dead. Those living at the present writing are Frances C. (wife of John C. Grinter, and resides in Wyandotte Township; they have seven children, two of whom are dead, and five living), Mary Jane (widow of A. [Audley] P. [Paul] Defries, and who makes her home in Wyandotte County), Martha V. (resident of Nebraska City, Neb., and wife of H. C. Kirby, who is a Methodist minister), C. R. Grinter (who married Miss Elizabeth Sherly, of Penn., and is a farmer by occupation, and resides in Wyandotte County), W. William] H. [Henry] H. [Harrison] (who is dead); he served in the late war, being at first a private, and belonging to Company E, Fifteenth Volunteer Cavalry; he served his country faithfully and well and was discharged after fighting nobly for Uncle Sam). Mrs. Grinter lives upon a historical spot of ground. Her husband and his brother, J. C. Grinter, were Kentuckians, and kept the ferry that was the place of crossing for the immense amount of travel between Kansas City and the mountains. It was at this point that Gen. Fremont crossed on his forced march across the plain. They kept here a store and blacksmith shop for the Indians, [p. 624] and it was also a voting precinct. At the time when Mr. and Mrs. Grinter settled in Kansas it was nothing more than a wilderness, there being no trace of civilization to be seen. The great bustling scene of enterprise, Kansas City, Mo., was then only a steamboat landing, and Kansas City, Kas., was indeed a dreary spot, without even one log cabin to indicate the great popularity it was afterward to attain.
* * *
U. S. District Court, October Session, Term A. D. 1867
Tuesday January 14th 1868 Court met pursuant to a adjournment Present as before
Be it Remembered that on the Fourteenth day of January A. D. 1868. personally appeared before the Honorable Mark W. Delahay, Judge of the District Court of the United States of America for the District of Kansas in open court at Topeka in said District, Logan Zeigler, George Zeigler, William Henry Grinter, and Lewis Ketchum male persons and Melinda Wilcoxen, Mary Ann Tiblow, Mary Jane Defries, Francis C. Grinter, Annie Grinter, Rosanna Grinter, Elizabeth Ketchum, Mary E. Ketchum, Sarah A. Ketchum, Ellen Swisher, female persons, adult members of the Delaware Tribe of Indians and whose names appear on the certified copy of the Register of the names of all said Delaware Indians, who have elected to dissolve their tribal relations and to become citizens of the United States, made by the Secretary of the Interior, as provided by the treaty herein after mentioned , and made proof to the satisfaction of the Court here in accordance with the requirements of several acts of Congress here before passed for the naturalization of aliens that they have resided in the United States for more than the space of five years _____ preceding this application, and for one year last past, within the State of Kansas, and that during the whole of that time they have conducted themselves as persons of good moral character, _____to the good order and happiness of same: And having made further proof to the satisfaction of the Court. in accordance with the provisions of the Treaty made with said Delaware Tribe of Indians and approved July 26, 1866, and proclaimed August 10, 1866, that [they] are sufficiently intelligent and prudent to conduct their own affairs and interests, and that they have adopted the habits of civilized [Ha!. Editor] life , and have been able to support, for at least five years, themselves and family, and having declared on oath that they will support the Constitution of the United States, and renounce and abjure forever and allegiance and fidelity to every foreign power, prince, potentate, state and sovereignty whatever and particularly that they will renounce and abjure ; membership with said Delaware Tribe of Indians; Thereupon it is Considered, Ordered and adjudged by the Court that full proof has been made in accordance with the provisions of said laws and treaty, and that the said Logan Zeigler, George Zeigler, William Henry Grinter, Lewis Ketchum, Malinda Wilcoxen, Mary Tiblow, Mary Jane Defries, Francis C. Grinter, Annie Grinter, Rosanna Grinter, Elizabeth Ketchum, Mary E. Ketchum, Sarah Ann Ketchum, Ellen Swisher, are competent persons to become Citizens of the United States. and to be admitted to all and singular the Rights, Privileges, and _____ of a naturalized citizen of the United States, and that the same be certified by the Clerk of the Court under the seal of said court accordingly.
Ordered that the Clerk issue in usual form Venires for 23 Grand Jurors and 24 Petit Jurors to serve at the next term of the Court, Ordered that Court stand adjourned Sine dir.
WILL OF ANNIE GRINTER
In the name of a Benevolent Mother of all: I Annie Grinter of Wyandotte County, Kansas, do make and publish this my last will and testament, viz.-
Item 1. I will that after my decease and burial that my funeral and burial expenses be the first items paid out of my estate or effects.
Item 2. I will that after my burial and funeral expenses are paid that the care of my last sickness and death with the doctor's bill shall be the next items paid out of my estate.
Item 3. I will or authorize the executor of this my last will and testament that he cause or have the proper inscription made of my birth and death on the monument erected at the grave of Moses Grinter at the Grinter Cemetery and that the expense or cost of such inscription be paid out of my estate.
Item 4. I will that if there shall be any evidences of indebtedness in existence of any of my children, namely Francis C. Grinter, Mary J. DeFrice, Mattie V. Kirby, or C. R. Grinter owing me at my death on account of or note in my favor that there shall be no interest charged on the said account or note owing me, but the principal of said account or note owing me shall be accepted by said child or heir of my estate mentioned in this will as a part of his or her distributive share of my estate or effects.
Item 5. I will that the executor of this my last will pay to the treasurer of the Building Committee of the M. E. Church South at White Church, Wyandotte Co., Kansas, the sum of twenty-five ($25.00) dollars for building and furbishing church or building is now being erected at White Church, Kansas.
Item 6. I will that the executor of this my last will, pay to the treasurer of the trustees of the M. E. Church South at Grinters Chapel, Wyandotte County, Kansas, the sum of twenty-five ($25.00) dollars the said money to be applied in keeping church and grave-yard in proper condition: money to be equally divided between church and grave-yard.
Item 7. I will that the executor of my will pay all my church dues at Grinter's Chapel M.E. Church, South, whatever they may be for the present conference year.
Item 8. I will that my household goods, beds, bedding and wearing apparel be equally divided between my daughters Frances C. Grinter, Mary J. DeFrice and Mattie V. Kirby, they (my daughters) dividing all the household goods, beds, bedding, and wearing apparel between themselves.
Item 9. I will that the executor of this my last will and testament be authorized and empowered to cause my real estate (being the west one half (1/2) of the southeast quarter (1/4) of section Twenty (20), township eleven (11) range twenty four (24) to be equally divided between my children Mrs. Frances C., Mary J. Defries, Mrs. Mattie V. Kirby and C.R. Grinter. but if the executor of this my last will and testament cannot cause the real estate above mentioned to be divided satisfactory to the heirs or legatees of my estate at either public or private sale (at his discretion) without an order of the probate court and execute deeds for same and to divide the proceeds equally among my heirs or legatees after my debts and expenses of administration are all paid and the various bequests have all been carried out have all been carried out by the executor of my will and that Item 4 be carried out whether the realty be divided and deeded or sold and the money divided.
Item 10. I will or appoint John Caskey to be act act as my executor of this my last will and testament hereby authorizing and empowering him to comprise, adjust and discharge in such manner as he may deem proper and right all debts and claims due me, and that he the said John Caskey as executor may be invested with authority to carry out all and the various provisions contained in this my last will and testament.
In testament whereof I have hereto set my hand and seal this sixth day of May bin the year of our Lord one thousand nine-hundred and five (1905). Annie Grinter, her x mark
Signed and acknowledged by the said Annie Grinter as her last will and testament in our presence and signed by us in her presence the date and year above written, at her request. D. J. Caskey, Jas. W. Moore, Ben S. Smith
At her death, Anna Marshall Grinter left the following real estate: "The South one half (1/2) of the East one half (1/2) of the South East one fourth (1/4) of Section Twenty (20) Township Eleven Range Twenty four (24) containing Forty (40) Acres. Also the South one-half (1/2) of the West one half (1/2) of the South West fractional[?] one fourth (1/4) of Section twenty one (21) Township Eleven (11) Range Twenty four (24). Excepting lands sold to the Union Pacific Rail Way and also lands sold to Wyandotte County for Road Purposes amount to about five acres (5) acres leaving a balance of said described tract of land of thirty five (35) acres More or less and comprising in both tracts sold Seventy five (75) acres more or less after deducting land sold for road purposes." John Caskey was the executor. The land was sold to Henry C. Kirby for $4500. (Executor's Deed, Annie Grinter to Henry C. Kirby, Wyandotte County, Kansas, recorded 8 August 1907 and entered on Transfer Deed 8 August 1907.) Henry C. Kirby's estate in the spring of 1940, passed to his children Wilbur Hendrix Kirby, Charles Galloway Kirby, William Clay Kirby, Mattie Jewell Kirby, and Annie Teresa Kirby. (Final Account of Executrix Annie T. Kirby of the Estate of Henry Clay Kirby, in the Probate Court of Wyandotte County, Kansas, 16 April 1940) Henry Clay Kirby bequeathed to his daughters Mattie Jewel Kirby and Annie Teresa Kirby all his live stock, poultry, implements, household furniture, goods and supplies of the Grinter Place a joint tenants. (Last Will and Testament of Henry Clay Kirby) Researcher and descendant swiftwater@lenapedelawarehistory.net
Times New Roman 14 point. Laser copy 9 November 2004. Photo check A. TH